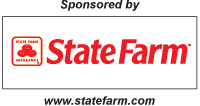 AUTO REVIEW:
Perky Dynamo: 2011 Ford Fiesta


A new car and a new way to introduce it. U.S. automaker held a special test drive for its perky Fiesta, and Siliconeer was there.
---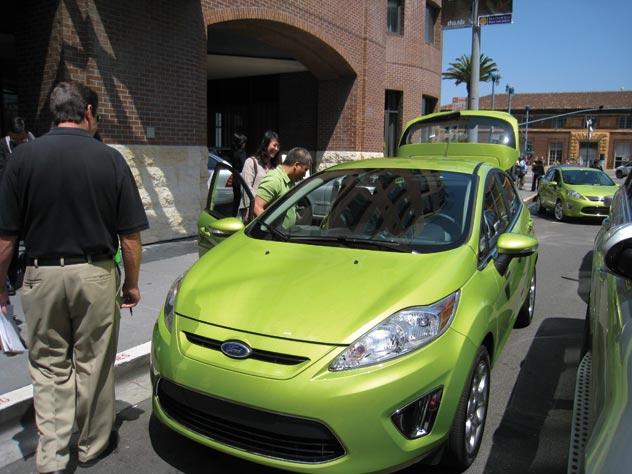 (Above): The 2011 Ford Fiesta lined up and ready for our test drive outside Hotel Vitale in San Francisco. [SILICONEER photo]

---
A specially organized test drive of the Ford Fiesta was held at Hotel Vitale off the Embarcadero in San Francisco in April.

Ford executives said the Ford Fiesta would stand out from the competition. Of an impressive array of attributes they reeled out for a small and below $15,000-segment car, the most appealing was the 40 mpg that the Fiesta promises and a slew of modern and tech-savvy innovations.

Then came the exciting part. I was about to test drive a car that had not yet hit the dealership. We headed out of the hotel and were quickly escorted to a colorful fleet of brand new test cars. Bright metallic finish Fiestas were lined up and members of the press were asked to take it on a drive from Hotel Vitale to Candlestick Park. We boarded one of the cars and as I was from India, I could not resist trying a manual transmission car after all these years of driving an automatic.

As we embarked on the journey, my counterpart from a Korean paper decided to try it out first, so off we went. As we made our way through the streets of San Francisco, I admired the interior and the electronics that this car offered. I worked on the bluetooth and Microsoft SYNC. The radio sounded great. The car was exceptionally quiet and the ride was smooth even while we were crossing bumps.

---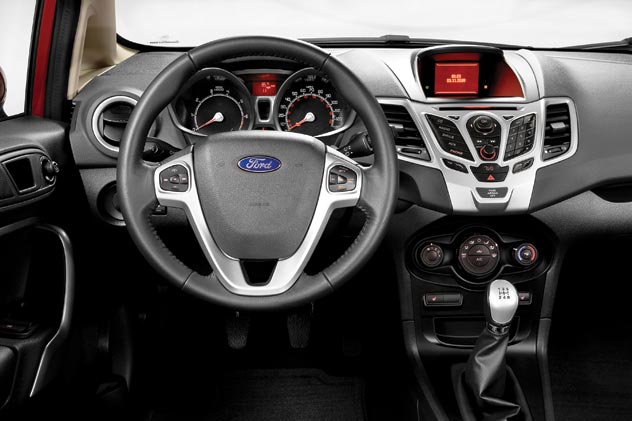 (Above): Interior view of the 2011 Ford Fiesta. This small car has a lot of features like bluetooth, Microsoft SYNC.

---
We switched drivers at Candlestick Park. My Korean friend now took over as the navigator and tech explorer, while I decided to give the car a serious test. After all, how many times do you get to do this?

I felt the steering, adjusted it to my preference and revved the engine. The car purred and off we went. The adrenalin came rushing is as I drove it back to the hotel, frequently changing the manual gears and feeling the car respond well. No wonder this small stylish car did so well for Ford in Asia and Europe.

This is a car for a small family or the young at heart who are looking for more punch and value for their dollars. We desis are part of both segments and looks like Ford is right on target.

Ford's new Fiesta will deliver more than just great looks and top fuel economy in its segment when it goes on sale in North America in summer 2010. The 2011 Fiesta – available in four- and five-door body styles – also will set a new small car benchmark for safety, connectivity and powertrain technology.

---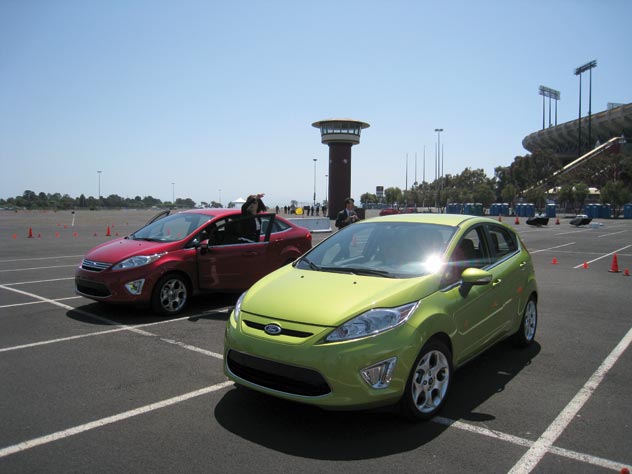 (Above): The 2011 Ford Fiesta at the Candlestick Park, where we switched drivers. [SILICONEER photo]

---
Kinetics and Aesthetics. Kinetic design imparts a sense of movement – even while standing still – harmonizing character elements to reflect global Ford identity, enabling Fiesta to project an air of confidence, style and individuality. Fiesta targets a youthful "design-progressive" mind-set, a consumer group that values style and diversity.

"These influential, prospective Fiesta customers relate to the design philosophy of 'energy in motion' because it reflects their personal outlook and lifestyle," said Kevin George, Fiesta design manager.

Adding eyes to the Fiesta face are sweeping, elongated headlamps that frame and connect the hood to muscular, sculpted front fenders. Available in sporty five-door hatchback or four-door sedan body styles, Fiesta provides ample space for occupants and their gear.

At the rear of the car, many design elements merge, including the chamfered liftgate glass, the low roofline sweeping into a spoiler, and dramatic tail lamps with honeycomb detailing mounted high in the five-door's corners. Muscular rear quarter panels, wrapped tightly, draw the eye to the wheels and Fiesta's confident stance.

The Fiesta design is further enhanced with a choice of nine vivid new colors.
Inside Fiesta. Boldly sculpted surfaces, contrasting colors and comfortable, supportive materials make the interior as individual as the driver. The instrument panel centerstack – focal point of the new Fiesta interior – was designed to feel as useful and familiar as the keypad on a mobile phone.

The North American Fiesta features first-row bucket seats with a 60/40 split second-row seat. Cloth or leather seating surfaces vary by trim level offering comfort, style and individuality. High series Fiestas also offer leather with sporty contrast accent color piping. Soft, sculptured surfaces and the centerstack layout provide the Fiesta with a sense of harmony.

Intuitive switchgear placement, comfort zone seating and available ambient lighting allow a driver to maximize the mood with seven complementary colors – switchable among three levels of intensity – for interior accent lighting.

---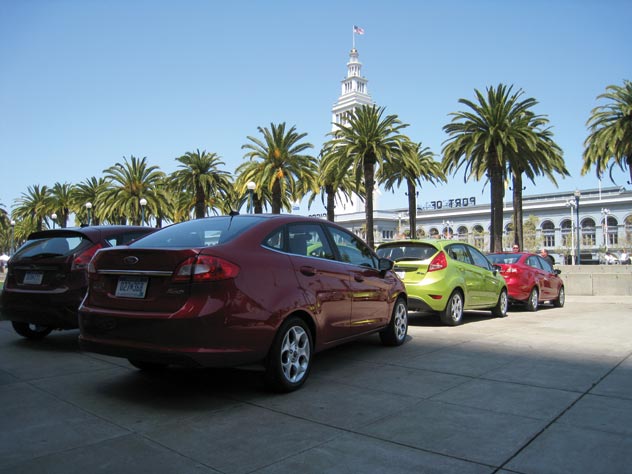 (Above): Our test cars on display in San Francisco after the test drive. [SILICONEER photo]

---
Fun and Fuel Efficient. Fiesta's flowing sculpted hood covers a 1.6-liter DOHC I-4 engine with 120 horsepower at 6,350 rpm and 112 ft.-lb. of torque at 5,000 rpm. Spirited performance and fuel efficiency are signature attributes, with Fiesta delivering projected best-in-class highway fuel economy of up to 40 mpg.

Fiesta's advanced 1.6-liter engine features Twin Independent Variable Camshaft Timing (Ti-VCT) allowing it to be downsized for fuel economy while continuously optimizing camshaft phasing for throttle response, performance and flexibility.

Fiesta features a standard five-speed manual transaxle with gear ratios selected to offer spirited off-the-line performance and exceptional fuel economy for drivers who desire three pedals and a stick shift to maximize the driving experience.

Specially tuned front struts, bushings, dampers, stabilizer bars and a rear twist-beam axle keep Fiesta sure-footed and firmly planted. Sporty, European driving dynamics prevail.

An available all-new North American industry-exclusive PowerShift six-speed automatic transmission combines the responsive performance and fuel economy of a manual with the convenience of a traditional automatic in one advanced, dual dry-clutch package.

Conserves Fuel. For confidence-inspiring on-road dynamics, Fiesta features Electric Power Assist Steering (EPAS), which reduces complexity while saving weight and fuel. This advanced system is speed-sensitive – providing optimized assist based on speed, cornering forces and acceleration or deceleration.

EPAS also includes Pull-Drift Compensation to help Fiesta track true regardless of road crown or side wind conditions. In addition, Active Nibble Cancellation helps detect and compensate for tire balance irregularity. Both features – enabled by EPAS – are class exclusives.

---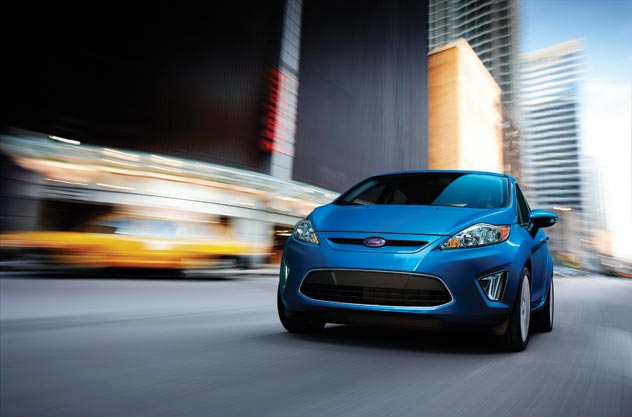 (Above): The 2011 Ford Fiesta in action.

---
Strength, Safety. More than 50 percent of Fiesta's welded body structure is made from high-strength steel, with ultra-strong boron steel used in several critical areas. This rigid body shell contributes to Fiesta's confident road-holding, best-in-class occupant safety and quiet composure.

Fiesta safety is enhanced by an array of features including dual-stage first-row airbags, a class-exclusive driver's knee airbag, side airbags and side curtain airbags. AdvanceTrac with ESC (Electronic Stability Control) is standard on Fiesta, along with seat belt pre-tensioners and rear door child safety locks.

"For North America, the global Fiesta was tweaked, not redesigned or redeveloped," said Steve Pintar, chief engineer. "We built on the success of the European Fiesta and are really proud of how little has changed."

Fiesta NVH (noise, vibration and harshness) control is taken to a new level of quiet for this segment, helped in part by a specially laminated, class-exclusive windshield that was chosen to help absorb and contain noise. Engine noise is subdued by a hood blanket, with enhanced door seals keeping wind noise minimized.

Special padding behind the instrument panel and foam baffles mounted inside the pillars keeps Fiesta quiet. Even the headliner material was specified for its sound-deadening qualities.

Features and Functionality. Fiesta offers a number of standard and available features that increase convenience and add connectivity. Among them is Ford SYNC, integrating a driver's mobile phone with Fiesta's onboard, voice-activated communications and entertainment system.

Fiesta also offers keyless entry and push button start, a feature unique within the segment. Fiesta also features Ford's Easy Fuel Capless Fuel-Filler System, a North American industry exclusive, as standard equipment.

For a small family or the young-at-heart it is well worth a test drive if you are in the market for a small, stylish and fuel-efficient car but don't want to spend a lot or compromise on modern-day hi-tech convenience.