RECIPE:
Desi Chinese: Sweet & Sour Stir Fry Vegetables


There's something nostalgic about Chinese food the way it's served in India. Chef Sanjay Patel offers a recipe to rekindle those memories.
---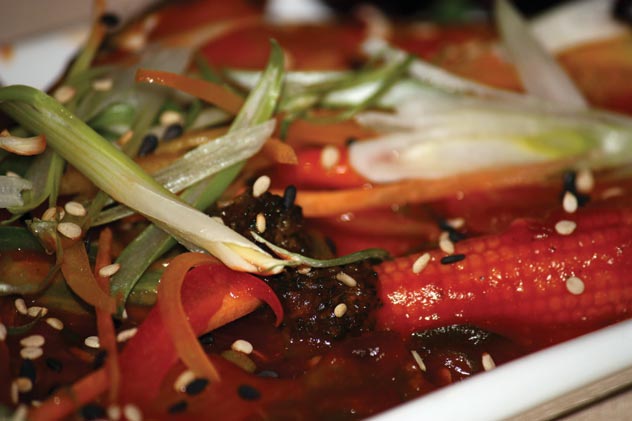 (Above): Sweet & Sour Stir Fry Vegetables. [SILICONEER photo]

---
Ingredients

For the sauce

Reserved pineapple juice from canned pineapple (see below)

2 tbsp reduced-sodium soy sauce

3 tbsp rice vinegar or white wine vinegar

2 tbsp honey or maple syrup

2 tbsp cornstarch


1 1/2 tbsp light olive oil

1 medium onion, chopped


1medium broccoli, cut in small florets

1 medium red bell pepper, cut into 1-inch squares

1 medium green bell pepper, cut into 1-inch squares

8 to 10 slender asparagus stalks, bottoms trimmed, cut into 2-inch lengths

16-ounce can diced tomatoes

16-ounce can unsweetened pineapple chunks, drained, juice reserved

16-ounce tub extra-firm tofu, well drained and finely diced


Cooked brown rice or other hot cooked grain

Method:

Combine the ingredients for the sauce in a small bowl and stir until the cornstarch has dissolved. Set aside until needed.

Heat the oil in a stir-fry pan or large skillet. Add the onion and sauté over medium heat until golden. Add the green and red bell pepper, broccoli and the asparagus, turn up the heat, and stir-fry for 5 minutes. Add the tomatoes and pineapple chunks and continue to stir-fry for 5 minutes longer. Stir in the tofu and sauce. Cook until the sauce has thickened, just another 2 to 3 minutes.

Taste, and if desired, adjust the sweet/sour balance to your liking with additional honey, vinegar, and/or soy sauce. Serve at once.

Serve with brown rice or hot cooked grain.