CINEMA
The Desi Experience: Bicycle Bride

Dr. Hassan Zee held the premiere of his motion picture Bicycle Bride at the Embarcadero Center Cinema in San Francisco May 16. Siliconeer's Ras H. Siddiqui was there, and he filed this report.
---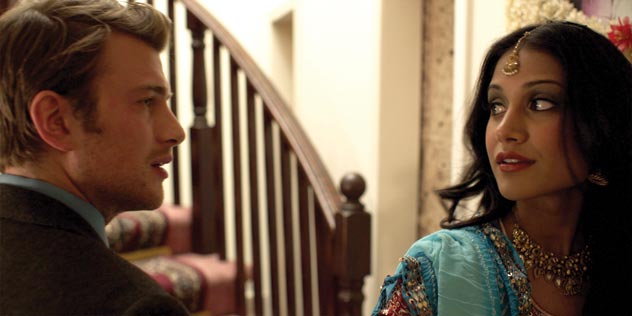 (Above): Andreas Wilson and Melanie Kannokada in "Bicycle Bride."

---
Writer and director Dr. Hassan Zee's motion picture Bicycle Bride held its red carpet premiere at the Embarcadero Center Cinema in San Francisco May 16. Hassan was personally on hand to greet his 400 plus guests and members of the media to share his film, and to gauge the reaction of the attending South Asians and members of the mainstream community who were curious about this comedy. Bicycle Bride, for the lack of any other description could be called a parody of our Indian-Pakistani-Bangladeshi life here in the U.S. Hassan has previously directed Night of Henna (2005) and Destination Love (2007).

The theme is serious, one which dwells on girls from families originating from the Indian sub-continent growing up here in America, the culture clash and (hopefully) a compromise. But can this complex and often painful reality be made into something we can all laugh at? That could be the million dollar question here. The younger generation of South-Asians may think so, but their parents may not find any humor in this. We decided to ask Dr. Zee a few questions about himself and the movie to find out where he stands. Excerpts from the interview follow.

Why do you like to make movies?

Everybody has a calling. Film is my calling from God. Since I was 4, I was passionate about films, poetry, music, literature. When I was a kid I thought I would be an actor. Then I started writing stories when I was 7. I also took singing lessons (which none of my family knows about) in high school. I joined radio when I was 15 and then television. And after finishing my medical school and coming to the U.S., I pursued film.

---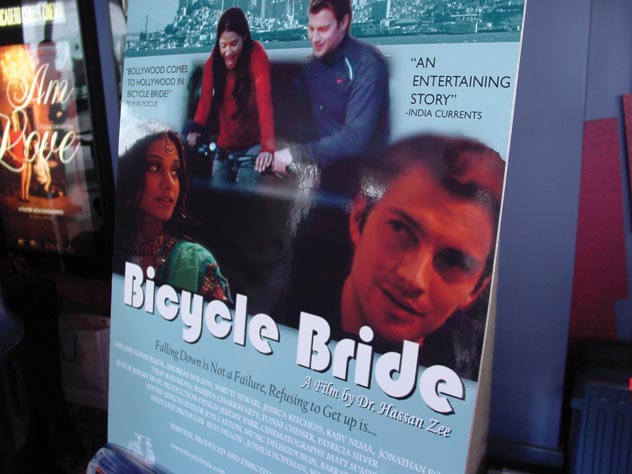 (Above): A poster of the film "Bicycle Bride."

---
Was Bicycle Bride a simple comedy or a parody of South Asian movies and in turn our lives too?

Bicycle Bride is about freedom and pursuing your dreams. As Muslims, we are very protective of our daughters. What I want to tell the world is that you have to give women a chance to do what they want to do in their lives. The film has a very deep message. I just did not want to make a serious film about arranged marriages. You keep laughing throughout the film while watching the goofy characters but when moments of realization come, like the father's character, it really moves you. Bicycle Bride is written and directed through an American perspective.

How were you able to find support for this effort in these lean times in America?

I put a lot of my own money and my brother's money and some friends invested into the film. When you have to create something in this world, it doesn't matter if the times are lean or fat, you just got to do it. Nothing stops me from making films and telling the stories.

Who is your target audience in this movie?

Women are the target audience for the film. The film has sub-themes of women's liberation, freedom and pursuing your dreams. It is a story of a woman who is born in an Indian Muslim family which moved to the U.S. years ago. They have to deal with their cultural values, the obstacles of living in a new world and accepting realities.

How long did it take you to make Bicycle Bride?

I wrote the screenplay in 2007 and we were doing casting in the last part of 2008. We shot the film in San Francisco in January-February 2009 and then edited it with my editor Jeremy Huff for one whole year. We finished Bicycle Bride in April 2010.

How did you choose your lead actress for the role of Beena?

I needed an actress who was born and raised in the U.S. I was looking at headshots and resumes of a lot of women. Even some actresses from India were interested in the role. There was a very good Indian actress who was selected and she was doing phone readings with me. She was recently married but when her husband read the script, he told her that she cannot do the film. He just could not handle his actress wife delivering love dialogues to someone else other than him and be in someone else's arms. I kept looking and ultimately found Melanie Kannokada who was very outgoing. She was hosting a TV show at that time for TV Asia and I saw her reel and invited her to do a phone reading. Then auditions were set up for her and ultimately she was selected. She did a wonderful job.

---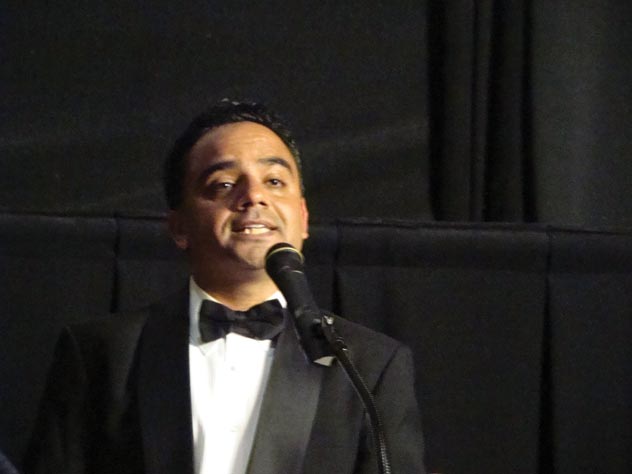 (Above): Dr. Hassan Zee, a medical doctor by profession, and a filmmaker by passion.

---
Now getting back to the event itself, hosts Bud Dillon (PBS Filmmaker) and Pooja Jain (former Miss San Francisco India) made the introductions. An Indian classical dance was performed by the duo of Nadja Haas and Sanjay Kumar Patel followed by an East-West fusion dance by Sajana Shukla before Bicycle Bride was presented to the packed theatre. After the showing Hassan Zee shared his thoughts about the film and individually introduced members of the cast present. An after party was held at Gaylord India Restaurant to end a very colorful evening.

The movie has the very pretty Melanie Kannokada as Beena (move over Frieda Pinto) and the strong silent type Nordic, Andreas Wilson as James Dean. Much of the focus of the film was on mother Billo played by the energetic Shruti Tewari. Beena's friend Mary Jane (Jessica Kitchens) also had a strong supporting role. Other important characters included grandma Latifa (Ranjita Chakravarty), Beena's father Rashid (Vijay Rajvaidya) and the role of Bart played by Jonathan Bock.

Bicycle Bride is about a Indian girl growing up in America and making some very difficult life choices. South Asian parents will not think much of the movie and some will frown at its liberal message and overindulgence of clichés. There is also some very bad acting by characters playing minor roles, but then again one wonders if this was also a part of a well-planned spoof? The American-desi kids and the majority community in the audience seemed to enjoy Bicycle Bride.

But for us parents of teenagers who originate from that part of the world the theme was as troubling as its execution.

---

Ras Hafiz Siddiqui is a South Asian American writer who lives in Sacramento, Calif.
---