BOLLYWOOD | Guftugu | AUGUST 2014


Big B: Manages "Shamitabh" Within A Heavy Schedule
Akshay Kumar: Talks About Junior, Tamannaah and Sonu
Priyanka Chopra: There's Always Resistance When You Try Something Different
Tia Bajpai: Creates a Record with Mistress Hat Trick
Arjun Kapoor & Sonakshi Sinha: "Tevar" 2015's First Big Release
---
BIG B: Manages "Shamitabh" Within A Heavy Schedule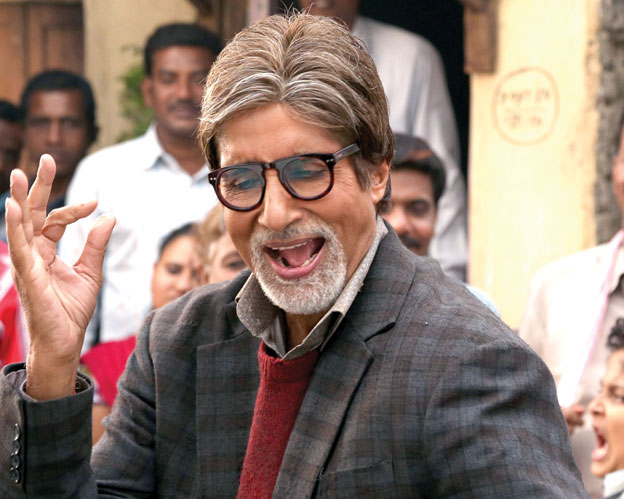 Amitabh Bachchan in "Bhoothnath Returns."
Impeccable time management is doing the trick yet again for Amitabh Bachchan. The man, whose tales of professionalism have been nothing less than legendary, is continuing to add to his four-decades-plus of experience with his current set of assignments being the latest add-ons.
"Even as he is super busy with Yudh, which is currently on air, and KBC, which would be beginning its newest season on television soon, Amitabh Bachchan continues to have his enthusiasm intact for Shamitabh," informs our source, "Yes, he is picking up lesser films now, considering he has so many other avenues to explore. However, he is always super charged when he is on the sets shooting for a film. Shamitabh happens to be one such film."
Produced by Eros and Balki (who is also directing the film), Shamitabh features Big B along with Dhanush and Akshara Haasan. While the film doesn't follow the beaten path and is said to be boasting of a unique storyline, Big B's get up from the film has raised curiosity too. Considering the fact that he is donning a different look in Yudh while being himself in KBC, there is a lot of jugglery on the platter for Amitabh Bachchan. More so, since he would soon be beginning shoot of Shoojit Sircar's Piku and there are talks of another major film in the pipeline as well.
Guess the man, who is the only one in his 70s to have delivered a solo success in the form of Bhoothnath Returns earlier this year, would soon be visible more than ever before on the big as well as the small screen.

|TOP|

AKSHAY KUMAR: Talks About Junior, Tamannaah and Sonu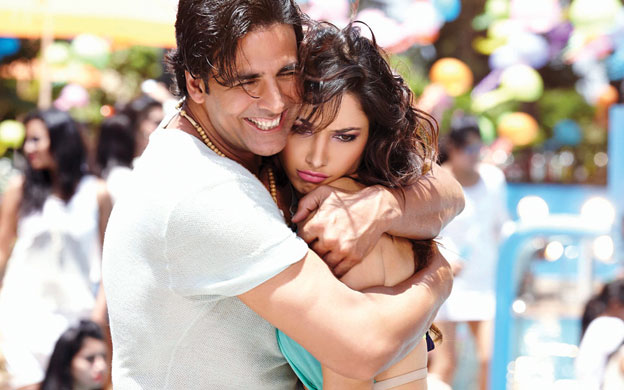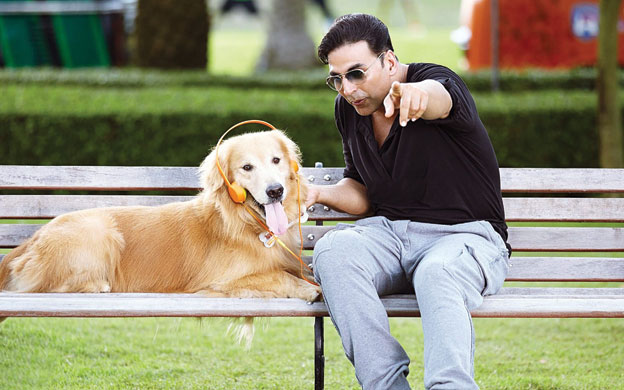 Akhsay and Tamannaah (top) and Akshay with Junior (bottom) in "Entertainment."

The new big release for Akshay Kumar is Entertainment, who would be returning in a comic avatar a couple of months after Holiday turned out to be a 100-crore success with him in a relatively serious action avatar in the movie. This time around though there is fun of a different kind in the offering, with debutant director duo Sajid-Farhad bringing a canine as a parallel lead along with Akshay Kumar.
"Well, it is said for a reason that dogs really are a man's best friend. I realized it firsthand too as I have two German Shepherds in Bombay who live with me. Then I also have a Golden Labrador who looks after my little Portuguese Villa in Goa. Seriously, my son and I can never imagine coming home and not being licked and loved by them," says Akshay who is a dog lover.
This love was pretty much extended on the sets with Junior (real name of the canine in Entertainment) too as Akshay shared a special bond with him right through the film's extended shoot.
Laughs Akshay, "I had to bow down and surrender to being 'the secondary hero' on the sets when my furry co-star was around. Entertainment is not just his name, he is also most definitely entertaining by nature and absolutely the real hero of this film."
As for a "secondary hero," Akshay is doing well for himself in the film, with Tamannaah Bhatia as his co-star, with whom he is jiving away to glory on the beats of "Johny Johny."
"Oh this little lady has a charismatic confident spark that's going to woo audiences across India for sure," says Akshay, "Tamannaah was absolutely the perfect family heroine for this film. She has this innocent warmth about her that is very endearing on screen. With me and Tamannaah, I must say that this is a jodi very well matched."
And how about the jodi of Akshay Kumar and Sonu Sood, reuniting after Singh Is Kinng? While they were on warring ends in the Anees Bazmee-directed film, there is a faceoff expected between the well-built Punjabi men in Entertainment as well.
"It's been so nice shooting with Sonu again and there are deadly encounters between the two of us for sure," reveals Akshay, "But then since this is family film, there won't be any bare-chested shenanigans across the screen. What you would see is just some good old fashioned hero and villain a$$-whooping to get your fists crushing into your popcorn buckets."
We would definitely like to munch in more than just a bite!

|TOP|

PRIYANKA CHOPRA: There's Always Resistance When You Try Something Different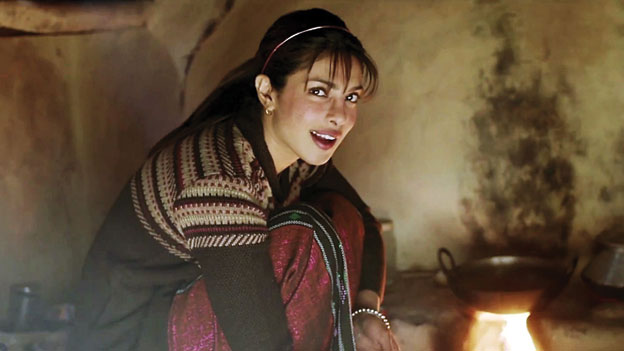 Priyanka Chopra in "Mary Kom."

The theatrical promo of Mary Kom has done the trick. Priyanka Chopra looks ferocious and vociferous with her boxing gloves on. No wonder, the entire Bollywood clan is waiting to see what the actress has to offer.
For the young woman who made a romantic beginning with Andaaz a little over a decade ago, it has been a journey indeed as she awaits the release of the most important film of her career, Mary Kom.
"It is thrilling to see reactions from people. I always let my work speak for itself and I am grateful that to see that it is paying off," says Priyanka who has been enjoying a good run, first with Krrish 3, then Gunday and now Mary Kom keeping her in the headlines.
She is also been in the news for taking a different path when compared to the journey of other leading Bollywood actresses of her bracket. One major milestone that she has accomplished in this journey is turning into a professional singer who has reached out to the international audience.
While she has released multiple singles last year, her video with Pitbull for "Exotic" continues to be in circulation till date, with an astonishing 43 million online views already. However there was a time when not many encouraged her to take the plunge and even termed it a drastic and desperate step.
"But doesn't that always happen when you try to do something different," asks Priyanka who has battled personal as well as professional challenges to turn the tide in her favor, "There will always be resistance, no matter what, and the mantra is to go with what your conviction has to offer."
However, back then it was being insinuated by rumormongers that Priyanka was heading West so that she could compensate for the apparent lack of opportunities in Bollywood. Though all of that proved to be untrue, with the actress continuing to be at the top of her game in the upmost bracket of most saleable heroines around, there was a tinge of disappointment that she felt when such remarks were made.
"Well, I truly believe that you need to be little bit more encouraging about our own people. I am not somebody who just goes by what a handful of mischief-makers may suggest. As I said, when the results are there to show, you feel really empowered and only want to cross bigger barriers," she says.
True indeed, and one looks forward to Mary Kom to be one film that allows Priyanka to achieve further highs in an eventful career so far.

|TOP|

TIA BAJPAI: Creates a Record with Mistress Hat Trick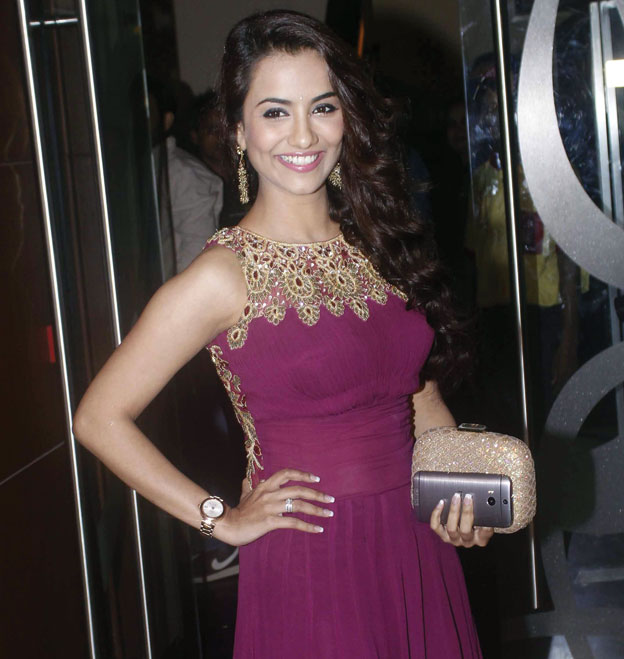 Tia Bajpai

For Tia Bajpai, it is an unusual record in the making. For the third time in her short career so far, she would be enacting the part of a mistress. This is for her upcoming film Desi Kattey where she finds herself trapped in an abusive relationship with a villain's henchman, before being rescued by one of the leading men in the film, Akhil Kapur.
Incidentally, she had played Manoj Bajpayee's mistress in Vikram Bhatt's production Lanka with Arjan Bajwa coming as her rescuer. Before that in her debut flick Haunted, which was produced as well as directed by Vikram Bhatt, it was her spirit that was kept captive by the evil ghost of a professor (Arif Zakaria) who raped her every day, until the film's lead hero (Mahakshay Chakraborty) went back in time and rescued her from the villain's clutches.
"Well, it is quite uncanny, isn't it? I never realized that and I don't know whether Tia too is conscious of this fact," smiles director Anand Kumar who has called the shots for Desi Kattey, "Yes, Tia is playing a keep of Ashutosh Rana's henchman in the film. The love story between her and Akhil plays quite well too since in the film she is shown to be 10-years-elder to her current age. Akhil grows up in the gang of Ashutosh Rana and sees how Tia has been held captive. He falls in love with her in the childhood itself, which is also the purest form of love. When he grows up, he safeguards her and later proposes to her as well."
Though Desi Kattey is as macho as it gets with Suniel Shetty heading the cast, Anand was sure that he wanted a matured actress to play this part.
"I have seen Tia in 1920 - Evil Returns as well and she is such a delicate personality that playing someone vulnerable comes naturally to her," says Anand, "In fact when anna (Suniel Shetty) saw her portions in the film, his immediate reaction was that of amazement. She has delivered exceedingly well in the film and anna wondered where did she come from."
Guess after showing her mettle as an actress in some of the sad outings as a mistress, even Tia would like to step into the mainstream and have some fun with song and dance routine to her name.

|TOP|

ARJUN KAPOOR & SONAKSHI SINHA: "Tevar" 2015's First Big Release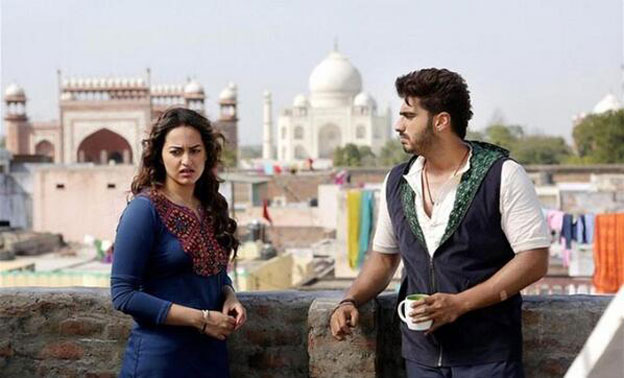 Arjun Kapoor and Sonakshi Sinha

This year Arjun Kapoor had started his campaign with a very successful Gunday, which had released on the Valentine's Day. Now in 2015, he would be arriving a lot earlier with Tevar slated for an early January release. This would also make it the first biggie to kick-start the New Year.
Confirms the spokesperson from Eros, which is producing the film along with Sanjay Kapoor, "Tevar would be arriving on Jan. 9. It would be a good way to begin the year. It has a strong appeal for the youth and what better way to pull audience into theaters than give them a young romantic action drama as the first film to watch out for in the New Year."
With no notable film slated for the first Friday of the year (2nd January), Tevar would begin the campaign for Bollywood which has some very interesting films already lined up for 2015. While the month of January itself has an Akshay Kumar starrer all set for release (at least Baby or Gabbar would arrive on Jan. 23), then there is Emraan Hashmi's Mr. X, Sonam Kapoor's Dolly Ki Doli, Sushant Singh Rajput's Detective Byomkesh Bakshi, Ranbir Kapoor-Arjun Rampal's Roy and Riteish Deshmukh-Vivek Oberoi's Bank Chor slated to arrive within the first quarter of 2015.
Meanwhile, the makers of Bipasha Basu's Alone have confirmed their release plans for Jan. 9 as well and it would be interesting to see how the outcome of clash between the horror flick and an out and out masala flick like Tevar.
|TOP|