(Above): Documents of the General Budget 2014-15 being brought in the Parliament House premises under tight security, in New Delhi, July 10. [Press Information Bureau]
---
India eagerly watched the unveiling of the first Annual Financial Statement or the Union Budget 2014, also the 84th in the history of Independent India, of the National Democratic Alliance government led by Prime Minister Narendra Modi of the Bharatiya Janta Party.
In the recent general elections, Modi's overwhelming victory was undeniably based on his continuous harp of ensuring "achche din" (good days) and ensuring 7-8 percent growth instead of current 5 percent by turning around the economy.
On July 7, the new finance minister Arun Jaitley began the 42-day-long presentation of the voluminous Budget to the Parliament. Here are the salient features of the 2014 Budget.
The state of Delhi was saved from any new taxes but its budget of Rs. 367.76 billion received more funds for expansion of pension scheme for old persons, low floor buses, improvement of sanitation, sewage treatment plants, fifty dialysis centers and a multi-specialty hospital and power subsidy for small power consumers.
In the hitherto unorganized real estate sector of special interest were proposals for establishment of Real Estate Investment Trusts, a successful concept abroad, via a tax pass-through status, substantial allocations for urban and low cost housing industries and rebates for housing loan on self-occupied property. On the anvil are 100 smart cities to ease out burden on urban settlements.
For improved capital infusions in defense and insurance sectors raising the limit of Foreign Direct Investment (FDI) from 26 percent to 49 percent via the Foreign Investment Promotion Board route was declared. The country being the largest defense equipment procurer in the world is expected to witness enhancement of indigenous manufacturing capabilities.
Defense outlays were upped 12.4 percent to Rs. 2,290 billion with proposals for upgrading facilities for soldiers and modernization of the army, railway system in border areas, socio-economic development of villages along the border, implementation of 'one rank one pension' scheme, streamlining of procurement process and a separate fund to encourage private entities to support research and development.
The banking sector would get six debt recovery panels to ensure cutting down of non-performing assets and to make citizens direct shareholders.
Allocations for higher education were hiked by 13 percent with proposals to establish new centers for excellence in learning, humanities, Indian Institutes of Managements and Indian Institutes of Technology, and improving skill development. An increase of 9.93 percent in funds was made for the department of school education and literacy. Increase in Internet connectivity in villages through "Digital India" initiative would be ensured.
To promote growth greater thrust was reflected in provisions for sectors of power and infrastructure. This included proposals for expansion of high-speed rail projects, metros, and roads, and modernization through public-private participation models and dispute resolution mechanisms. The government aimed for more FDI and Foreign Institutional Investments with extension of tax holiday for power sector to improve the investment climate and help kick-start the capital expansion cycle. Quick resolution of coal impasse promotion of cleaner and more efficient thermal power through "Ultra Modern Super Critical Coal-based Thermal Power technology" and 24x7 access to electricity were also key targets.
---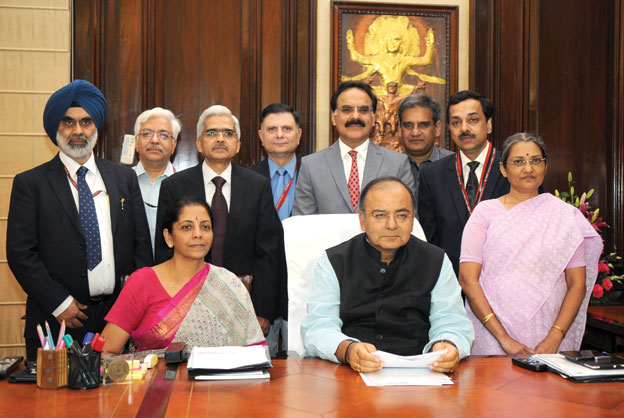 (Above): India's Minister for Finance, Corporate Affairs and Defence, Arun Jaitley (seated, 2nd from r), giving final touches to the General Budget 2014-15, in New Delhi, July 9. The Minister of State for Commerce & Industry (Independent Charge), Finance and Corporate Affairs, Nirmala Sitharaman (seated, 2nd from l), and the Secretaries of the Ministry are also seen. [Press Information Bureau]
---
The Railways Budget proposals were in line with a reforms agenda and opening up for FDI.
Substantial increase in share of solar energy in the power basket and for confrontation of climate change through a National Adaptation Fund would be made along with a dedicated program to clean and preserve the sacred river Ganges.
In the healthcare sector proposals were for four more AIIMS-like institutions and 12 government medical colleges to enhance affordability. Two key initiatives -- free drug service and free diagnosis service -- would be taken up on priority as part of move towards "Health for All" and government assistance to states in drug regulation and strengthening of laboratories would be started. Also, two National Institutes of Ageing for early quality diagnosis and treatment to TB patients at AIIMS, Delhi, and Madras Medical College, Chennai, and a national level research and referral Institute for higher dental studies, besides rural health research centers would be set up.
In private healthcare sector certain measures to boost investment in biotechnology would be initiated.
For more liberalization of $13 billion e-commerce sector there are proposals for allowing foreign retailers who manufacture products in the country, to sell via e-commerce platforms and retail chains without any additional approvals. This is expected to benefit local units of retailers such as Marks & Spencer, Nike, Puma and Benetton among others, who currently sell online in India through local franchisees or licensing agents.
Jaitley announced raising of Rs. 454.71 billion from communication services and introduction of e-Visa and tourism circuits in tourism industry. Agriculture growth target was set at 4 percent and he promised a technology-driven second Green Revolution.
As for subsidies on diesel, fertilizer and cooking gas, Jaitley verbally committed for better targets in future and detailed efforts to raise £7.5 billion by selling state assets and unification of all 29 states for tax reforms.
The budget comprised proposals for hiking of income tax limits and cheaper loans aimed at large segment of population and hiking of duty free allowance to Rs. 45,000 that will gladden the hearts of Non Resident Indians.
The Budget has elicited a general sense of welcome from the industry stalwarts and NRIs who termed it progressive, realistic and one that wishes to include initiatives for all sectors and sections, and with an eye on fiscal consolidation, without falling into a populist mode.
The government's desire to partner with private bodies for innovative technologies and business models was applauded by Morten Karlsen Sorby, CEO of Uninor.
Similarly Sunil Lalvani, managing director, BlackBerry India, found the government vision to be progressive and aimed at boosting investor confidence and propelling economic growth.
"Though no big-bang announcements were made, the new government seems to have made a good start by presenting a balanced budget and there are clear indications of much more to come," said vice president of Associated Chamber of Commerce & Industry of India, and chairman & MD of Monnet Group, Sandeep Jajodia.
However some experts hold a contrary view despite Jaitley's efforts to have brought some clarification to several tax-related issues, promise of not destabilizing tax regime and laying down a new fiscal road map to target lowering of deficit to 3 percent of GDP by 2017.
They felt there is little relief for investor sentiment in respect of retrospective indirect transfer tax provisions, amendments that were put into effect when government's charge of non-payment of tax by Vodafone for purchase of an offshore firm was quashed by the Supreme Court. It is still unclear if new and existing litigation for transactions would invite equal treatment.
Dr. R.K. Pachauri, director general, TERI opines that the Budget fell short of addressing issues of energy security, and would therefore negate the fight against environmental pollution and global climate change.
Noble intentions of covering every household by total sanitation by 2019 are laudable but like every other initiative it is dependent on implementation, adequate provisioning of funds, efficient mechanisms for delivery, coordination between state governments and center, and good monitoring systems.
Eventually it will be the health of economy that will determine the achievement of targets and consequent corrections in monetary policy, all of which will impact investments and growth.