Thirty minutes into the film and I could see it coming … the signature shot by Mohit Suri. This one is set on a ferry, where Sidharth Malhotra covers a distance, walks almost nonchalantly, beats the pulp out of 20 odd goons who come to attack him, and meets the villain of the piece. All of this happens in a single shot where at times the camera overtakes Sidharth and on a cue, allows the actor to take over.
Though in the larger context of the film this solitary high decibel action sequence may not be too relevant. However, when it comes to establishing the director's prowess, when it comes to extending a single shot scene in as dramatic a manner as possible with a sad song playing in the background, as was the case in a similar set up for a scene in Awarapan and Kalyug to name a few, this one does wonders.
---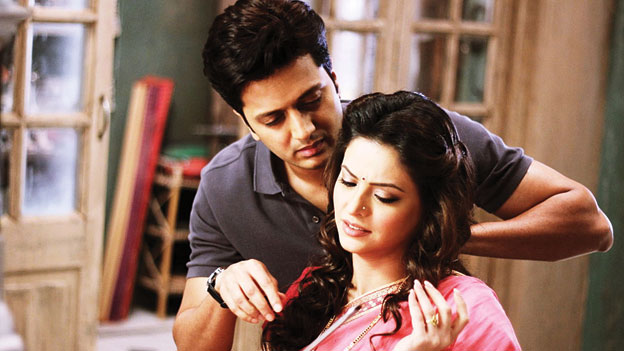 (Above): Riteish Deshmukh and Aamna Sharif in "Ek Villain."

---
For me, personally, this was one 'paisa vasool' scene of 'Ek Villain', albeit the fact remains that it had nothing to do with the core plot of the film.
As for the core plot, it does light up whenever Riteish Deshmukh and Sidharth Malhotra come face to face. Frankly, though the latter too is evil with at least five murders to his name (on last count), it is pretty much established that former is more of a villain. Both are looking for redemption of sorts, one of them has killed for business, another for psychological reasons.
It is conveyed loud and clear in the first five minutes of the film who is the psychopath here, no guessing games here.
Now this is where we feel the film could have been a lot more intriguing if there was a much stronger suspense element running throughout. Instead, it is the love story that rules the roost.
Frankly, while the songs did convey that Ek Villain, despite its heavy-weight title, would actually have a love story running, one still wanted that it is a lot more about high drama, thrills and a bit of gore and violence too. Well, it is all there, in little doses.
---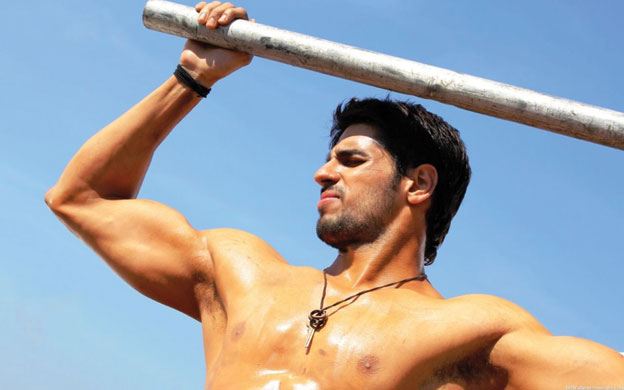 (Above): Sidharth Malhotra in "Ek Villain."

---
Spoilers ahead. Instead, the love story takes over the film for a good part, especially in the first half and while one would have liked to see a more compelling dil ki baatein between Sidharth and Shraddha, the film lights up every time one is exposed to evil with Riteish standing on the frame. His backstory with wife Aamna Sharif is interesting, his modus operandi, chilling (though not as brutal as the one that featured Prashant Narayanan in Mohit's own Murder 2), while his theory around cause and effect is engaging.
This is the reason why one watches the film with good interest as the two villains come face to face around the interval point. It is well structured and narrated that makes one believe that a game is about to begin. In fact the plot only gets engaging further as a couple of major scenes follow with Sidharth and Riteish in a bloody face-off.
However, the proceedings wobble a little around the middle of the film when the whole saga of "let me leave him, catch him, kill him … let him kill me" episodes begin.
Frankly, one wonders where it's all headed.
---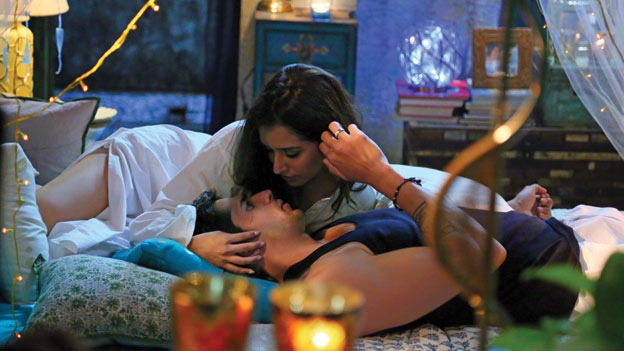 (Above): Sidharth Malhotra and Shraddha Kapoor in "Ek Villain."

---
Fortunately, Mohit holds the proceedings well in the last 20 minutes of the film by tightening these ends. From the time Kamaal R. Khan (who by the way just plays himself and brings on some good fun on screen) understands Riteish's true character and advices him to go for a kill instead of being hunted, the film takes a good turn with a relentless pace towards the finale. This is also the time when both Riteish and Sidharth get a good platform to demonstrate some histrionics without going overboard, a trap they could have easily got into.
Meanwhile, the love story element keeps making appearances right through the end, a little less of that and a little more of blood and violence would have made Ek Villain an even more intriguing affair.