BOLLYWOOD | Guftugu | JULY 2014


Pink Invasion: Leading Ladies Set to Prove Their Mettle
Thumbs Down: Top 10 Bollywood Flops at Mid-Year
Thumbs Up: Top 10 Bollywood Grossers at Mid-Year
---
Pink Invasion: Leading Ladies Set to Prove Their Mettle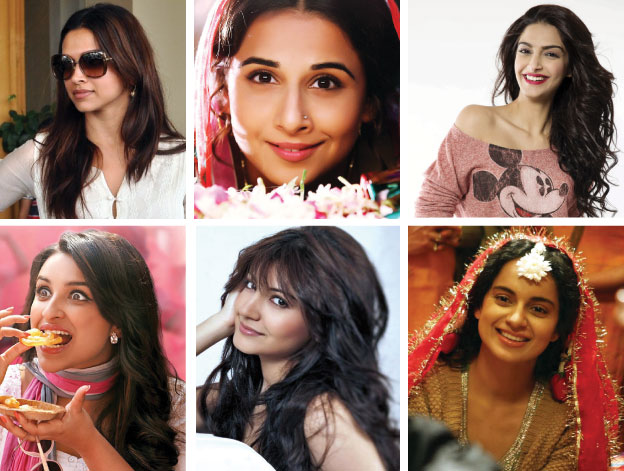 (Above, clockwise from top left): Deepika Padukone, Vidya Balan, Sonam Kapoor, Kangna Ranaut, Anushka Sharma and Parineeti Chopra.

Bollywood is going gulabi as female power play takes a full swing at the box office come September of 2014.
Kangna Ranaut showed the way with Queen earlier this year and Vidya Balan is expected to hit back after Kahaani with Bobby Jasoos. Meanwhile other leading ladies are not far behind with close to half a dozen arriving with a major film of their own where they are leading the show.
Interestingly, for strange reasons, all of this is happening in the month of September with as many as five films with a female as a central protagonist releasing one after another.
These are Parineeti Chopra (Daawat-e-Ishq), Deepika Padukone (Finding Fanny), Anushka Sharma (NH10) and Sonam Kapoor (Khoobsurat).
A lot is riding on each of these leading ladies to attract the audience. Though Daawat-e-Ishq and Finding Fanny do have Aditya Roy Kapur and Arjun Kapoor respectively, the rest are entirely heroine driven.
In a similar situation earlier, Kareena Kapoor (Heroine), Bipasha Basu (Raaz 3), Sridevi (English Vinglish), Preity Zinta (Ishkq In Paris) and Rani Mukerji (Aiyya) had arrived in quick succession. While each of these females have been around for at least a decade and three of them were making a comeback of sorts, it is a different ballgame altogether for the younger lot.
Each of them now has a biggie coming up soon after with a superstar. 
Deepika would be seen in Happy New Year (Shahrukh Khan), Tamaasha (Ranbir Kapoor) and Bajirao Mastani (Ranveer Singh). Anushka Sharma has Bombay Velvet (Ranbir Kapoor) and P.K. (Aamir Khan) lined up before the end of 2014. Sonam Kapoor would be seen in Dolly Ki Doli followed by Prem Ratan Dhan Payo (Salman Khan) early next year. On the other hand Parineeti is expected to star in Karan Johar's next directorial affair with Ranbir Kapoor.
With the future already going bright for each of these female stars, the month of September would decide the kind of force that they are to reckon with as a female central lead, before they are seen in biggies with major male superstars.
|TOP|

Thumbs Down: Top 10 Bollywood Flops at Mid Year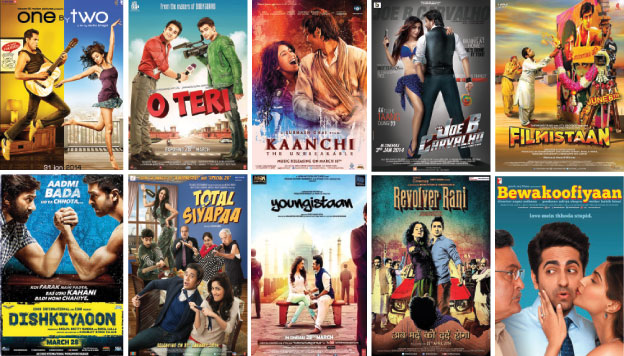 Fortunately for Bollywood, it hasn't seen a major disaster so far. None of the high profile films failed to bring in moolah while quite a few inconsequential films, which had flops written all over them, couldn't even register a good release for themselves (and hence they don't get featured here). Here's a look at 10 films from which a lot more was expected but they failed to make the cut.
One By Two [2.5 Crores]: With Abhay Deol turning producer, we expected a film that would be different from what Bollywood churns out in dozens and would truly hit the roof. Unfortunately, in case of One By Two, there was no buzz at any stage of its making, be it the launch, production, promotion or release. It was further marred by lack of a music release. The result was a film that was given cold shoulders by everyone.
O Teri [4 Crores]: When the name Salman Khan is involved with a film, one expects a quality outing that would be reasonably entertaining to say the least. Sadly, in case of O Teri, the very element of comedy was missing, something that just made the audience look the other way. This mish-mash of 80's hit Jaane Bhi Do Yaaron was disappointing for Pulkit Samrat too who couldn't get a second consecutive success to his name after Fukrey.
Kaanchi [4 Crores]: There was an element of denial that came in from Subhash Ghai when his Kaanchi was ripped apart by a majority of the audience. However, by the time the weekend came to a close, it was crystal clear Kaanchi hadn't been accepted by the audience. Despite some decent promotion and presence of veterans Rishi Kapoor and Mithun Chakraborty, the film couldn't generate any interest. An outdated treatment didn't help either.
Mr. Joe B. Carvalho [4 Crores]: How could this one actually fail? And that too in such a major way! Mr. Joe B. Carvalho released and saw near empty houses greeting it. With Arshad Warsi at the helm of affairs, one expected a good entertaining outing, especially since the man is famous for his impeccable comic roles. He did well too but then the film as a whole couldn't cover the distance. Result - a rejected film.
Filmistaan [6 Crores]: This is one of the most unfortunate flops of 2014. The promos were good, pre-release feedback was good, reviews were good and audience feedback was good. Still, straight the faceoff with Akshay Kumar's Holiday proved to be very costly for this well-made film that just couldn't find any breathing space for itself. Though it tried through its stint at theaters, this Sharib Hashmi-starrer had to finally give up.
Dishkiyaoon [6 Crores]: Many years in the making, one just felt that Dishkiyaoon would spring a surprise after all. Touted as a comeback vehicle for Harman Baweja, the film was marred in a few controversies but eventually found its way in theaters. Producer Shilpa Shetty was enthusiastic around its arrival but the audience wasn't, as a result of which there were no takers, whatsoever. Sunny Deol's presence couldn't muscle things up either.
Total Siyapaa [6 Crores]: With release delayed by almost a year, this Indo-Pak love story proved to be a yawn-inducing affair instead of turning out to be a rip-roaring comedy. Despite two very good-looking actors, Ali Zafar and Yami Gautam, with a director (E. Niwas) who has shown his knack for making quirky comedies (Love Ke Liye Kuch Bhi Karega), Total Siyapaa just couldn't entice the audience enough. The film simply failed.
Youngistaan [7 Crores]: The film was Jackky Bhagnani's first stint with a serious role and the end result wasn't bad after all. Releasing at the time when the country was going through preparations for the next electoral mandate, the timing was right given the film's subject. A song or two turned popular as well while Late Farooque Sheikh's presence helped. Still, the audience gave it a cold shoulder and just didn't venture into theaters.
Revolver Rani [11 Crores]: Fortunes change, come Friday! The adage, albeit clichéd, turned true with Kangna Ranaut seeing the high of Queen and then the low of Revolver Rani, another delayed film. The film was flawed and with mixed response coming its way from the audience as well as critics, it crashed very soon. One still wonders why even Tigmanshu Dhulia couldn't save it!
Bewakoofiyaan [14 Crores]: A little bit of energy, some more effervescence, a few more genuinely comic moments and Bewakoofiyaan could have turned out to be a Hollywood-style romcom. There were some moments of fun elements in this Ayushmann Khurranna-Sonam Kapoor-starrer, many of them coming due to Rishi Kapoor. Still, the overall product was just about decent while not quite fetching Aditya Chopra the desired results.
|TOP|

Thumbs Up: Top 10 Bollywood Grossers at Mid-Year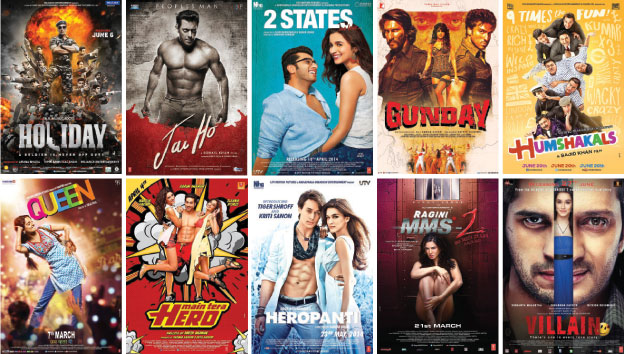 It has been a decent first half in 2014. With three centuries and six half centuries, there has been reasonable momentum at the box office with many bigger films to follow in the second half of the year, as is the tradition. Though one still waits to see a film each from Shah Rukh Khan, Aamir Khan, Ajay Devgn or Hrithik Roshan, seniors like Akshay Kumar, Salman Khan, Saif Ali Khan and Priyanka Chopra have kept the audience engaged.
On the other hand, youngsters like Arjun Kapoor, Alia Bhatt, Ranveer Singh, Kangna Ranaut, Varun Dhawan, Ileana D'Souza, Nargis Fakhri, Tiger Shroff, Kriti Sanon, Sunny Leone, Riteish Deshmukh, Sidharth Malhotra and Shraddha Kapoor have ensured that the ball continues to roll in Bollywood.
Here is a look at top 10 grossers of the year so far.
Holiday: 110 Crores (Expected 118 Crores): For Akshay Kumar, the film has come as a huge shot in the arm, with Holiday en-route to be the biggest grosser of the year so far. The film started on a reasonable note and though one wasn't sure if it would hit the century mark, some very good feedback kept the audience engaged. The film continued to be very stable at the box office and is also A.R. Murugadoss' second 100 Crore film after Ghajini.
Jai Ho [116 Crores]: There were huge expectations from this film considering the fact that the Salman Khan-starrer was coming more than a year after Dabangg 2. It opened well, though not as euphoric as other Salman flicks. It did cross the century mark, but just about it, as the collections started sliding. Still, the film ended up being Salman's sixth century in a row, a record for any Bollywood hero.
2 States [102 Crores]: A surprise century of 2014. Just like Ranbir Kapoor's Barfi! and Farhan Akhtar's Bhaag Milkha Bhaag, even Arjun Kapoor's 2 States didn't give any indication of a 100-crore film in the offering; not even after the weekend of its release. Still, the film soared, and how, with the audience falling in love with this jodi of Arjun and Alia. The film sustained really well and ended up with a century in its coffers.
Gunday [78 Crores]: When the film was launched, there was curiosity. During its making, there was buzz but not the kind to make it a must watch. However the first promo changed it all and suddenly the film was very hot. The songs turned into chartbusters, hence making the film a solid contender for the 100-crore mark. The opening gave it that chance too but some mixed reviews meant that it had to settle for less.
Humshakals: 60 Crores (Expected 70 Crores+): When Humshakals was released, there was a strong backlash from a majority of critics. It seemed that the film would meet similar feat as Himmatwala. However that was not the case to be as the audience ensured a reasonably good opening week for the Sajid Khan-directed film. For Saif Ali Khan, the film has acted as a respite after Bullett Raja and Go Goa Gone while Riteish has received all around good feedback.
Queen [61 Crores]: This is the biggest surprise success of the year so far, and is also the highest grosser ever for a female centric film, especially after crossing another well made film Kahaani. After a tepid start, no one would have expected Queen, a film that was waiting to be completed and picked for long, would actually even break even, leave aside emerging a success. However, the audience made this Kangna film a superhit no less.
Main Tera Hero [55 Crores]: Everything went just as planned for Main Tera Hero. The film was designed as a quick-fire entertainer and this is what this David Dhawan-Varun Dhawan affair turned out to be. Some good songs, feel good factor, dhamaal entertainment and presence of beautiful ladies (Ileana, Nargis) did the trick for Main Tera Hero which comfortably sailed past the half century mark to emerge as a good success.
Heropanti [53 Crores]: When the film was launched, it was in news for being Tiger Shroff's launch. The makers went ahead with the film silently before unveiling the promo in style. It got decent reactions, though Tiger Shroff was targeted, especially on social networking. As it turned out, the audience at large was curious to check him out and returned suitably impressed with him as well as Kriti. The film is a highest grosser for a solo lead.
Ragini MMS 2 [50 Crores]: Well, sex does sell after all. No one else but Sunny Leone has proved that, and that too twice. If her debut film Jism 2 boasted of a huge opening, Ragini MMS 2 worked on the power of sustenance by virtue of being a better product too. With a powerhouse number "Baby Doll" turning out to be a top chartbuster of the year, the film had everything going in its favor. This Long Island Iced Tea Bollywood flick with a heavy dose of sexy Sunny and horrific Sunny worked, and how.
Ek Villain: 50 Crores (And Counting): It has been an eventful year for Ekta Kapoor and her team so far with three of her films in Top 10 already. In fact Ek Villain takes the cake for breaking into the list in the opening weekend itself, a record. The film was much awaited during its making and turned hot with every passing day ever since its first teaser was out. Hype over last two months resulted in this Mohit Suri film enjoying one of the top openings of 2014.
|TOP|