---
The stage for this therapy of beauty is the 2014 edition of the internationally famed Pebble Beach Concours d'Elegance. A trip to Automotive Mecca, if you will. Classic and vintage automobiles, one-off concept originals, motorcycles and international vintage racecars, all lovingly restored to their pristine state. However, as they say, the destination is only as good as the trip getting there. To fulfill this world of mechanical fantasy that awaits you, we begin at the little burg of Pacifica just south of San Francisco on Highway 1. Famous in its own right for heart-stopping surfing extravaganzas at the nearby internationally notorious Maverick as monster-sized waves roar in from the oxymoronic-named Pacific Ocean.
Until last year, as your sojourn begins on California's glorious Highway 1, there would lie before you the spine-chilling experience of dancing the curves of Devil's Slide. A curvaceous macadam of tight curls overlooking a long, menacing drop into crashing waves below. For drivers of sensuous machinery and responsive hands on the steering, this double-edged sword of fear and exhilaration is no longer open. All this once drama has been replaced by a tunnel, as bracing to a motorhead's intensity as commute time on a freeway.
---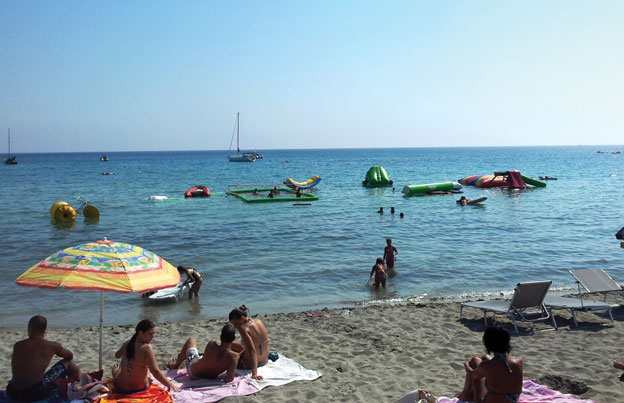 (Above): San Gregorio Beach.
---
But, fear not, for there is so much more awaiting you. Just down the road is San Gregorio Beach, sitting far below the roadway. Here you will find a bit of European sexuality where clothing is optional. Naked and semi-naked well-tanned bodies cavorting under the watchful eyes of the voyeurs hanging over the perilous edge of the cliffs above, binoculars and cameras at the ready.
More natural beauty awaits as you enter the overwhelming bucolic splendor of Big Sur. The Pacific is now composed and at peace, placidly embracing large, sculptured rock formations. On your left, country of seemingly impenetrable forestry. A countryside made famous by legendary authors such as Henry Miller, Jack Kerouac, Hunter S. Hunter and poet Lawrence Ferlinghetti. And, of course, you will cruise across the gently curving bridge featured in hundreds of automobile commercials.
---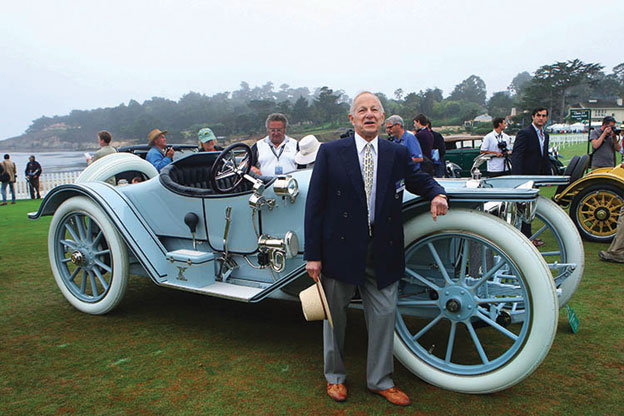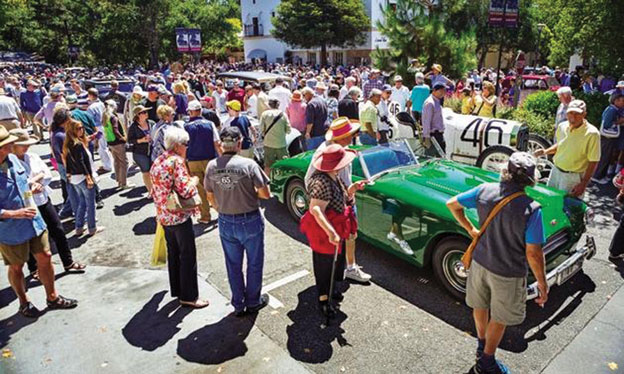 (Above, top): 1914 American Underslung 642 Roadster. Second Place Antique Car Class at 2013 Pebble Beach.
---
Hopefully you began your trip early enough to allow a lunch break in Castroville, where time seemed to have stopped. And be sure and leave with a large bag of artichokes plus a collection of the seemingly hundreds of epicurean green olives. This is the country and the people made famous by local author John Steinbeck with his vivid stories of Tortilla Flats, Cannery Row and so many others.
(Above, bottom): A mass motoring love affair.

It's now 9 a.m., Sunday, August 17 at Dawn Field and you're here. Over the 63 years (hard to believe), Pebble Beach has reinvented itself many times. Today it ranks as one of the most popular, respected and imaginative concours d'elegance in North America. With that thought, let's step back and re-shuffle our agenda. Begin your sojourn at Pebble Beach earlier to watch how all this magnificent kinetic art on its palette of metal, rubber and glass wends its way to the concours stage. August 13-17 is five days of the Gooding auction watching high rollers from around the world spend their lunch money on these exotic and unforgettable machines. Millions of dollars of discretionary income will change hands for legendary monikers as Packard, Duesenberg, Bugatti, Lamborghini, Ferrari, Maserati, Porsche, et al.
---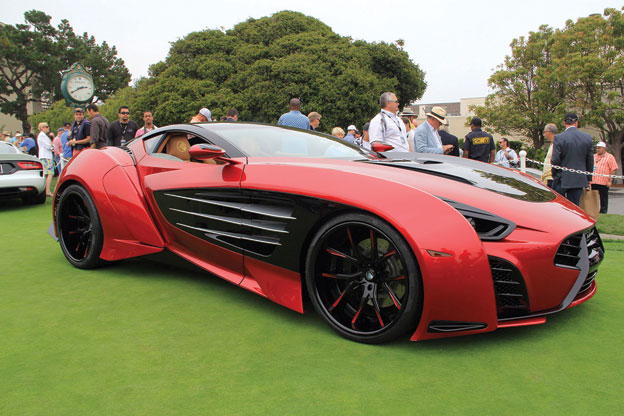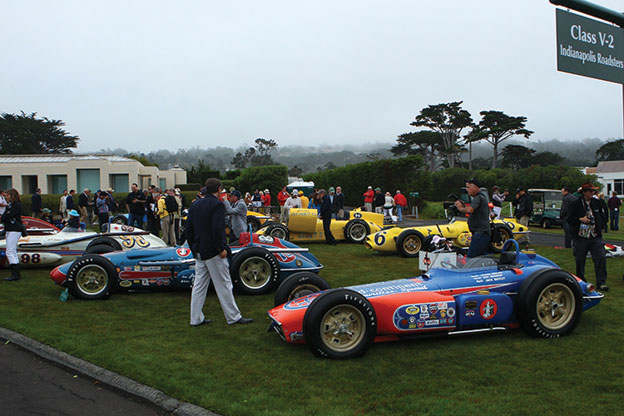 (Above, top): Laraki Motors Concept
(Above, bottom): Vintage race cars on parade.
---
On the main stage, the marques to be featured include a number of names that roll off the tongue. Maserati, Ruxton, a Ferrari Testa Rosa, a one-of-a-kind Fernandez et Darrin Coachwork, early steam cars and a unique collection of Eastern European motorcycles. The rules of restoration and judging are writ in stone. I remember a beautifully restored Jaguar of the 1930s as the top car of another concourse a few years ago in Northern California. A judge, a connoisseur of the marque ended the hoped-for entry into motorcar history. Jaguars of the time all came with undercarriage bolt notches in line; unfortunately, the classic English machine was found with three out of alignment.
The history of the concours d'elegance (French meaning a competition of elegance) began in the 17th century by the French aristocracy. According to Wikipedia, the upper-crust paraded their horse-drawn carriages in the parks of Paris during Summer weekends and holidays. With the advent of the automobile, the pride of ownership and exclusivity of custom bodyworks and maintenance became an international event where the notables socialized and glorified in the limelight.
---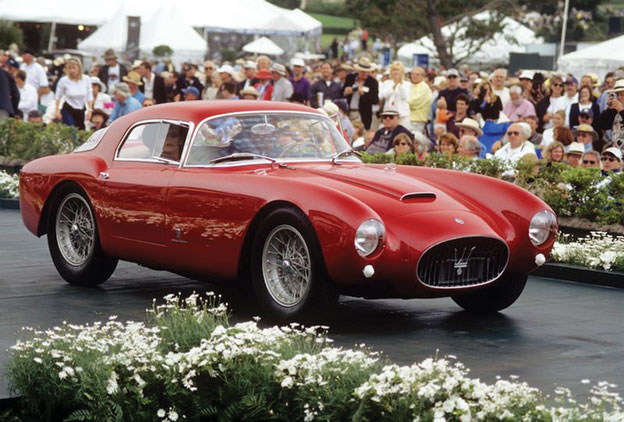 (Above): 1954 Maserati A6GCS Farina Coupe - a member of 2014 Pebble Beach feature marques.
---
Those were days when the gentry strolling the green acres of glittering machinery, dressed to the nines in knickers, sipping champagne in fluted glass held sway. A male-dominated world, the women, flaunting the latest finery from Paris and London, relegated to the outer rim setting out the cuisine and fine wines.
For the first time visitor, Pebble Beach is a kaleidoscope of emotion-stimulating effects, from the pristine beauty of the site to the plethora of internationally motorized history and to see a time when America was equal to the best from Europe, both in mechanical wizardry and sculptured loveliness. Pebble also reaches out to the fringe elements that are not only a measure of the imagination and creativity of car-lovers, but how much of this individual artistry can affect the automobile down the road. A back-to-the-future moment.
Bask in the sun with the rest of the hoi polloi with an alfresco basket stuffed with fine wines, cheeses, crunchy sourdough baguettes and tasty treats. Around you are the radiance of layer upon layer of immaculate paint. Mirror your appreciative smile in the highly buffed chrome and glass; but please don't touch. This is the altar of devotion to a time and enchanted relics of its era when our parents bought a Model T and the upper crust cruised in their customized and hand-tooled chariots around the world (see sidebar for a list of the various events of Pebble Beach Automotive Week).
---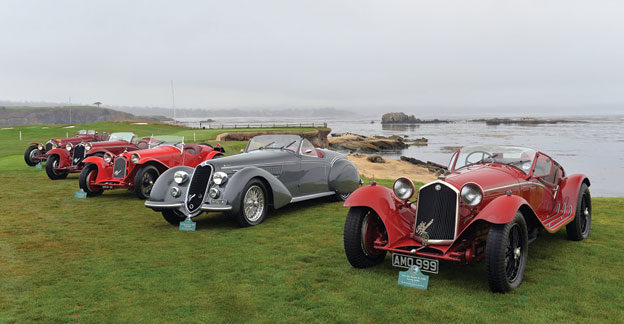 (Above): A classic lineup of vintage English motorcars.
---
While the competition is passionate between owners and the artists who create these brilliant expressions of kinetic talents, the camaraderie is just as ardent. They rally round others if needed, offer advice to newbies on the circuit and always have their alfresco victuals available to friends and competitors.
Pebble Beach is a one-of-a-kind experience surrounded by the some of the most stunning landscape in America. Take time to discover these pockets of delight, such as the quiet aura of Carmel village, 17-Mile Drive, bucolic Carmel Valley, The historic Mission San Carlos, Monterey's legendary Cannery Row, and so much more.
Enjoy.