AUTO REVIEW:
Safer, Techier, Stylish: 2014 Chevrolet Malibu 2LT


The mid-sized sedan segment is jam-packed with potential candidates for families, empty nesters or commuters. It's a challenge to winnow down the competition, even if all you're going by is price point, writes our automotive editor Sally Miller Wyatt.
---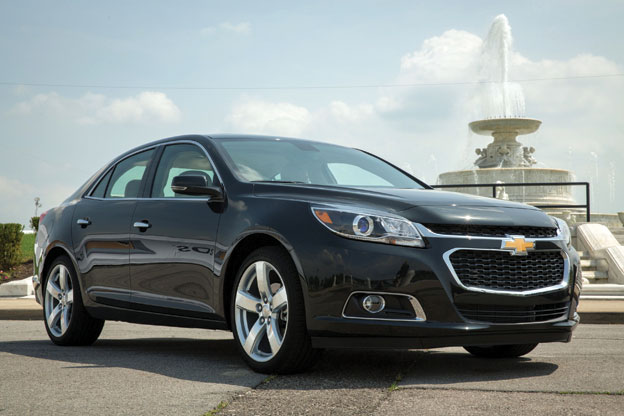 (Above): Exterior view of the 2014 Chevy Malibu.
---
Some things start to stand out, such as an impressive list of safety features. That's where the 2014 Chevrolet Malibu starts to capture my attention. If I'm shuttling my precious cargo around from venue to venue all day long, I'm feeling way more confident if I know the car has the latest in safety features packed not only into the vehicle's structure, but from front grille to trunk, from tires to roof. The Chevrolet Malibu has such a list, starting with 10 standard air bags, and the option of adding two more – side impact air bags to protect the head and thorax of rear seat passengers.

The car can also be equipped with Side Blind Zone Alert and Rear Cross Traffic Alert, new features for 2014. These, working with Forward Collision Alert and Lane Departure Warning, use radar to help avoid crashes, with visual and audible signals to identify potential threats. It's nice to have, especially if you have younger, less experienced drivers, but if you get annoyed by all the chiming if you drift in the lanes or tailgate, you can turn some of the alerts off.
---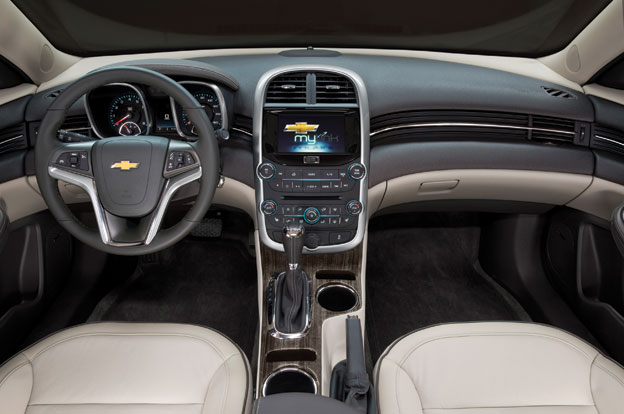 (Above): Interior view of the 2014 Chevy Malibu.
---
In addition to those safety features, there are several other notable features on the 2014 models. The Chevrolet Malibu is the first mid-sized sedan in the U.S. to offer stop/start technology, which is a fuel saving enhancement. It shuts down the engine in certain driving situations, such as when you're at a stoplight, to reduce fuel consumption. The system monitors vehicle speed, climate control system usage and other factors to determine if shutting down the engine is feasible. In stop-and-go driving, it will not shut down, for example. There is a driver-selectable mode that allows you to choose between maximum stop/start efficiency or maximum air conditioning performance. I'm sure those of us who know how Solano County can be in the summer will appreciate this. The stop/start engine increases EPA-estimated fuel economy by 14 percent for city driving. The actual EPA- fuel economy rating is 29 for city driving, and 36 for highway driving.

Also new for 2014 is an increase in rear knee room, a revised front-end design that has been influenced by the all-new Chevrolet Impala, improvements to the chassis and suspension, and a redesigned center console with slots for two cell phones and a longer armrest.
---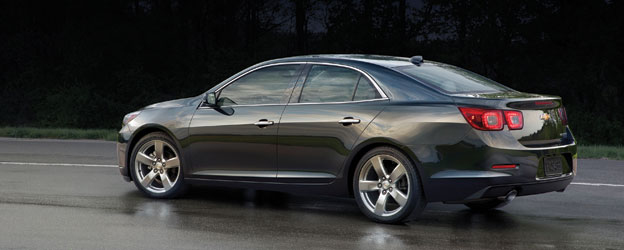 (Above): Exterior view of the 2014 Chevy Malibu.
---
The 2014 Chevrolet Malibu also boasts new Siri with Eyes Free Mode that allows users to access their iPhone with voice commands, and new Text-to-Voice feature to allow messages to be read over the audio system. While some might find those features to be nifty, I do not. Hands-free or not, it's still a potential distraction.

The new front grille makes a strong visual statement, with its prominent grille and headlamps. Sloping rooflines have an aerodynamic look.
---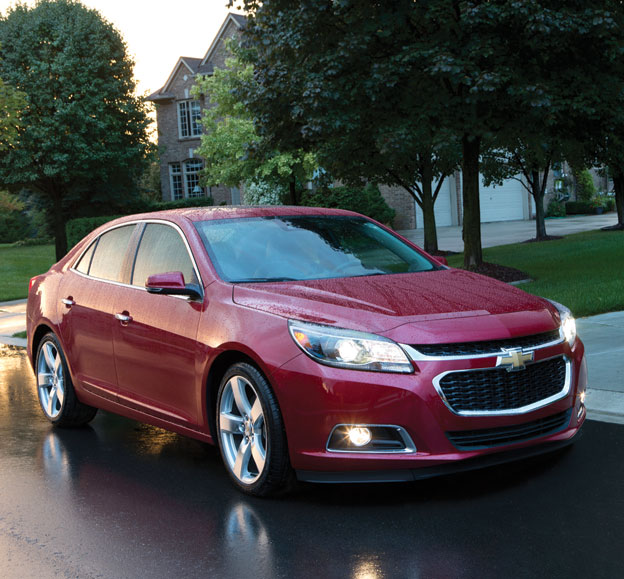 (Above): Exterior view of the 2014 Chevy Malibu.
---
Behind the wheel, you'll find sporty-looking seats for driver and front passenger, and a cockpit-like dashboard. The rear seat is good sized for the outboard passengers, but foot room is compromised for the rear middle position. Visibility for all is very good.

The trunk is very deep, with a trunk lid that opens up and away.

On the road, you'll find the Malibu offers a spunky and highly responsive driving experience.

The 2014 Chevrolet Malibu offers families a safety-packed ride, very thrifty fuel economy and a large enough trunk to handle all the trappings of family life. And, it isn't bad looking, to boot.