---
Alphonso is a variety of mango that commands a premium price for its most aromatic and buttery appeal. The villains of this culinary ban are fruit flies found infesting mango consignments from India that arrived at Brussels and thus invited the wrath of the European Union that banned import of Alphonso along with some Indian vegetables from May 1, 2014 to December 2015.
The heartbroken Indian diaspora numbering around 1.4 million out of a total population of about 60 million has made a case with the House of Commons for a review of the ban.
Endorsing the appeal for a review, prominent British lawmaker, Keith Vaz notes that for a country that consumed 12 million mangoes in 2013, the ban could face prospects of a loss of over $16.8 million.
Indian exporters too have dubbed a total embargo on import of the fruit as unfair as it clubs all exporters as non-compliers of EU regulations when it was not so and airing this sentiment is Kaushal Khakhar from Kay Bee Exports, a firm that exported 400 tons of mangoes to the EU in 2013 alone.
Federation of Indian Export Organization's General Secretary, Ajay Sahai reveals that, "The issue came up in March and an appeal for a review was promptly made by the body and India's Trade Ministry."
"Although Europe is not a major market for Indian mangoes, any ban typically weighs on prices, hitting farmers' incomes. And local prices have fallen about 15 percent in the past few days," he added.
The latest development is that the British Parliament has agreed to review the controversial prohibition but Khakhar says that with only about three to four weeks remaining of the total mango season, lifting of the ban is expected to positively impact exports starting December 2015.
However not all are unhappy with the ban, as consumers back in India are getting to enjoy Alphonso as never before.
With its cost falling to unbelievable low prices of just about Rs.150-550 ($2.50-$9) per kilogram, the Alphonsos have found a new pride of place in the aam aadmi's (common man) refrigerators and buckets of ice cold water which were previously piled with the regular Malhiabadi Dussehri, Totapari, Langda, Chausa, Malika, Sindoori, and many more such local produce.
India produces 60 percent of world's mangoes and only 2 percent (60,000 tons) is set aside for export according to the Indian Horticultural Research Institute.
Agricultural experts say that farmers in certain mango belts like Surat, Navsari and Valsad areas in south Gujarat have begun adding value to their produce and economy by adopting organic methods and discarding unhealthy ripening techniques to up the credibility of their output in UK markets.
Though such measures will take some time to yield good results, export of mangoes to other offshore markets like the U.S. is said to be on the rise.
Mango shipments to the U.S. are likely to increase by 42 percent to 400 tons from 281 tons last year as per the country's Agricultural and Processed Food Products Export Development Authority.
Meanwhile the EU ban has also brought glee to Pakistan's exporters who traditionally compete with India in export of fruit to the EU and also counter India's claim of ownership of Alphonso and resort to diplomatic culinary-duels!
---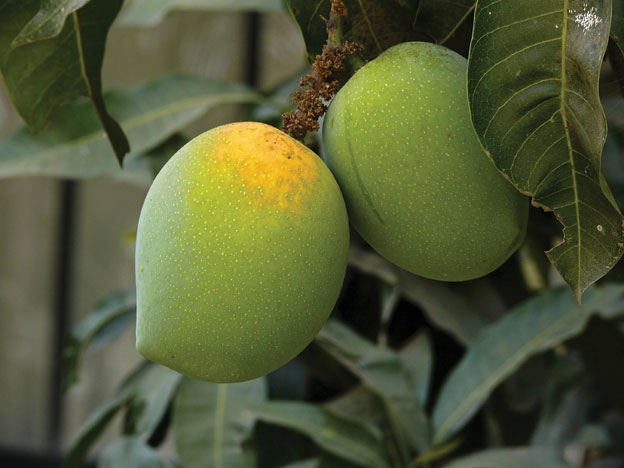 (Above): The delicious Alphonso mango from India will not make it to dinner tables in Europe through 2015.
---
On a humorous side Indian mango nationalists take pride in recounting the story of how the 'irksome' yearly gifts of Anwar Ratol, a mango variety considered to be Pakistan's national pride, by Pakistani embassy to Indian Prime Minister were once for all given a fitting reply when the Indian origin of this variety was established.

It was a century ago when a certain Ratol, an Indian migrant to Pakistan, had planted the first mango tree of Anwar Ratol (Anwar being his father's name) they state.

A country that already exports around 100,000 tons (accruing revenues of $48.6 million) and has initiated a massive awareness campaign to enable its produce to become hot favorites for foreign buyers, the recent ban gives the country a chance to cut into the share of India's export markets.

A little departure from this development shows the sweet tidbits of the mango whose tree fulfills every aspect of an Indian life both ritualistically and materialistically and has been in cultivation for last 4,000 years and is known to have been growing wild in Indo-Burmese jungles.

It belongs to the scientific group of Mangifera indica and derives its name from Tamil word of mangai and brought to the Western world by the Portuguese.

Ayurveda declares each part of the tree and fruit to be of immense medicinal value and used for remedy of countless problems like pimples, asthma, digestive and laxative disorders, diphtheria, rheumatism, abscesses, snakebite, stings blisters, oral wounds, indigestion, bacillosis, bloody dysentery, liver disorders, excessive urination, tetanus, etc and being rich in carotenoids, polyphenols, and omega-3 and -6 polyunsaturated fatty acids and low in glycemix index.

The spectrum of influence of the timeless mango is evidenced in the cultural reverence accorded to it as Vedic texts denote it as "food of the gods" and associated with ideas of fertility, fecundity, powers to fulfill wishes, and symbolizing love.

Images of Hindu God Ganesha are depicted holding a ripe mango as a symbol of attainment of potential perfection and mango blossoms are essential items used in the worship of Goddess Saraswati.

During marriage ceremonies water from a karo (pot) is slowly spilled through mango leaves on hands of the bridegroom by the father of the bride, saying that, "I am giving my daughter to you, take proper care and maintain her self respect" and during every celebratory instance, toran (mango-leaf bunches) are hung on roofs and entrances of homes.

The great sage, Gautama Buddha was also said to be fond of meditation in mango groves and an image of Ambika, a Jain Goddess, sitting under a mango tree is to be found in the famous Ellora Caves.

Mango inspired paisley design is a popular expression in embroidery, textile styles and jewelry styles and Paul Gauguin, the French impressionist was also found to use the mango as a focus of some of his popular paintings.

It would be worthwhile to acknowledge the contribution of the great Mughal rulers for taking first steps towards serious experimentation and systematic development of new varieties and nurturing of old ones.

Emperor Akbar (1556-1605 AD) is said to have planted a mango orchard having 100,000 trees in Darbhanga, Bihar, and his grandfather, invader and founder of the dynasty, Babur declares in his memoirs, Baburnama that though the melons of Samarkand, his home land in Central Asia, could not be paralleled by the mango, the latter was the most popular fruit of India.

But with the later Mughals mango became the new edible yardstick of Mughal civilization and its cultivation and appreciation became a significant indication of civilized Mughal culture and underlined the indigenization and connect of the Mughals with India and their subjects.

The Mughal love for the mango passed on to the British rulers and in present day India mango parties make ideal political settings for probable alliances and networking.

If this be the mesmerizing influence of the fruit then it is only a matter of time when the sight, smell and taste of Indian Alphonso is brought back to the European palate albeit with a little push by its lovers and connoisseurs!