BOLLYWOOD | Guftugu | JUNE 2014


Akshay and Vipul: Friends with Benefits
Tiger Shroff: Joins Select Club with Debut Hit
Sonakshi Sinha: Each Film with Akshay is a Fresh Start
Priyanka Chopra: Holding Up Without Khans
"Ek Villain" Makers Deny Similarity with "I See The Devil"
---
AKSHAY AND VIPUL: Friends with Benefits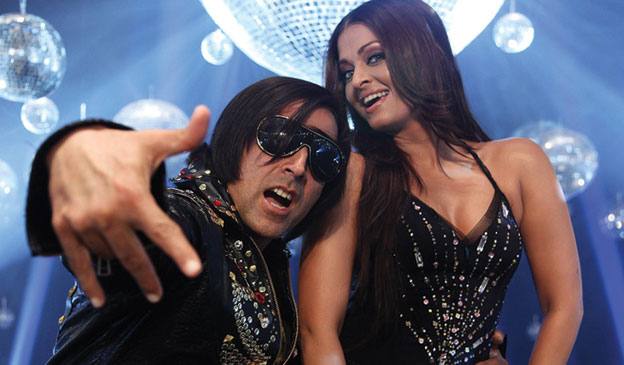 Akshay Kumar and Aishwarya Rai Bachchan in Vipul Shah's "Action Replayy."

It's time for Akshay Kumar and Vipul Shah to take their relationship forward, both personally and professionally. With Holiday being their fifth film together after Waqt, Aankhen, Namastey London and Action Replayy, this is one "jodi" which is pretty much for keeps.
"Well, I wouldn't call us a jodi as we are more like lifelong friends with business benefits, if you can get what I mean," winks Akshay who has explored various genres with the filmmaker ever since he made his transition from theater to films with Aankhen.
"We make lovely films together and have this passion to go all the way and create some beautiful and memorable cinema. I have probably made more of my absolute favorite films with Vipulji, than any other," Akshay gets nostalgic.
What's more noticeable about Holiday is that Vipul has gone all out in marketing the film. So much so, that active promotion of the film has been going on for four months now.
"That's what I love about Vipulji," promptly says Akshay, "He has a brilliant business sense, which is why he is such a good producer and filmmaker. He knows how to sell his product and treats every film that he makes with a different perspective. This is the way it should be and he does it perfectly well."
With A.R. Murugadoss coming on fold as a director, one hopes that this perfection indeed shows on screen too.
|TOP|
TIGER SHROFF: Joins Select Club with Debut Hit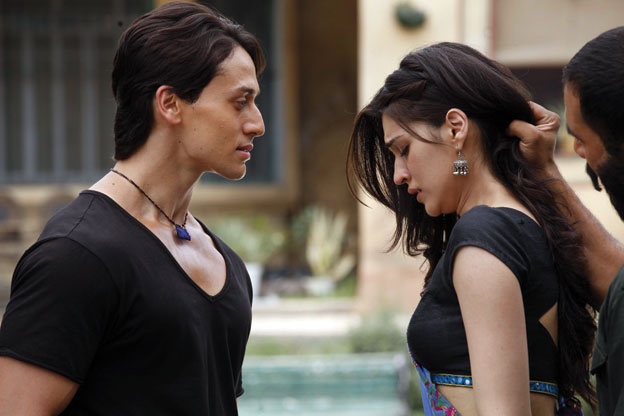 Tiger Shroff and Kriti Sanon in "Heropanti."

Generation Y is making inroads into Bollywood. It's good news for the industry that otherwise was relying on a handful of big names for last many years. Tiger Shroff, after scoring a hit with Heropanti, now marching towards the 50 crore mark, is set for being the only debutant to find a place in this club with a solo hero launch.
With Arjun Kapoor scoring a huge success in 2 States, Ranveer Singh already in the big league after Ram Leela and Varun Dhawan as well as Sidharth Malhotra already consolidating their place after Main Tera Hero and Hasee Toh Phasee, respectively, Tiger is indeed in the company of a young and energetic batch of newcomers.
"Well, it is a good time for newcomers to be accepted. Audience want fresh flavor now and our acceptance is a very good change happening in the industry. It should help us all eventually in the journey going forward," says Tiger in a calm and stable tone.
He acknowledges the fact that a number of newcomers in his age bracket are establishing themselves fast in Bollywood.
"They deserve that because they are all so talented. It is so much inspiring to just see them perform so well. Look at Ranveer, Varun, Arjun, Sid - these guys are fantastic. They have their own plus points and I hope after Heropanti, the audience knows that I too have something new to show. I would always be striving to be accepted by them and the industry," he says.
Coming from someone who at one point was not so confident about his launch, it is a big turnaround for Tiger.
"Honestly, sometimes it all became a little too overbearing," confesses Tiger, "I was in stress all the time that how would people think about me. Moreover, being my father's son, it was all the more pressure ki kya main kar paoonga. Ultimately it was my sportsman mentality that kept me going. I knew that I had to prove myself and also show the truth that I am very different from my father. Guess that worked after all."
|TOP|
SONAKSHI SINHA: Each Film with Akshay is a Fresh Start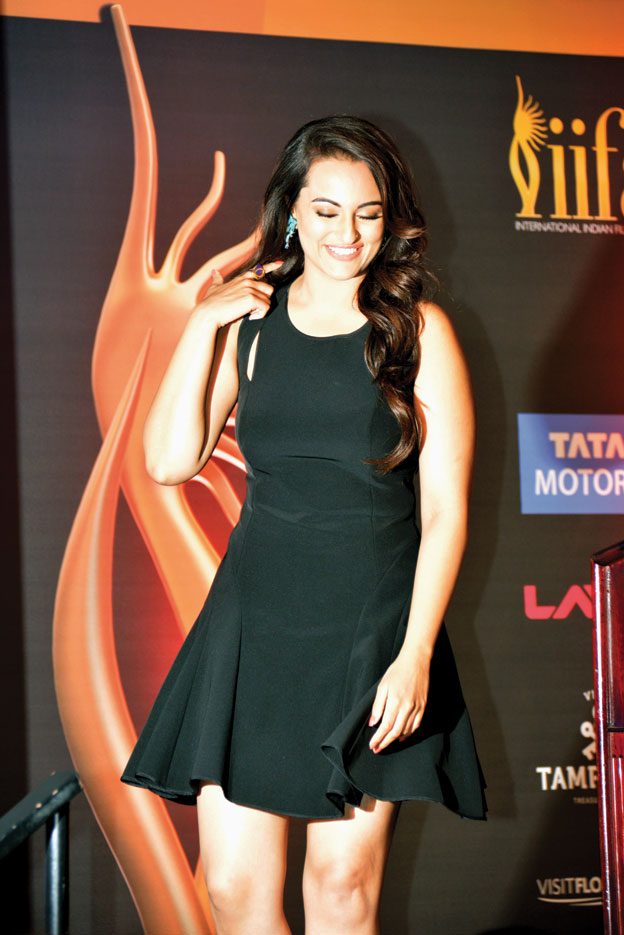 Sonakshi Sinha at 2014 IIFA celebrations held in Tampa, Fla. [Amar D. Gupta | Siliconeer]

Rowdy Rathore, Joker, Once Upon Ay Time In Mumbaai Dobaara, Holiday and a special song-n-dance number in Boss – Sonakshi Sinha has paired with Akshay Kumar more than anyone else, ever since she made her debut opposite Salman Khan in Dabangg. Though she has done films with the likes of Ajay Devgn, Ranveer Singh, Saif Ali Khan and Shahid Kapoor in the interim period, there is something special about her sharing screen space with Akshay.
So is there a definite comfort feel when it comes to doing a film with Akshay? Are there some fun moments indeed?
People have appreciated our pairing and this is the reason why they have cast us together time and again. It happens every time a good and possible jodi is seen on screen. Still, it is always a fresh start because the premise of every film is different. Rowdy Rathore was different and now Holiday is in a different space. As for Akshay, he hasn't changed and hence there is a comfort feel that comes in. As a result of that, it is easy to create certain chemistry on screen. That is something that has been consistent in all our on screen appearances together.
One expects certain fun element too in "Holiday," considering it has been pitched as a commercial entertainer after all.
It is quite thrilling in its own way, and of course quite entertaining. It has some great music as well as light moments, even though the main essence of the film is very serious. I love the core plot of the film that is about an officer always being on duty. Also, the central protagonist character played by Akshay is very interesting as he goes all out to stop a crime from happening. A concept like this has never been tried before in Bollywood.
The film has you working with director A.R. Murugadoss for the first time. How has that turned out to be?
He is a very sorted director. What is really impressive about him is that he is always very thoroughly prepared. When it comes to his core work, he knows what he is doing. He is very intelligent too and that has helped in driving the intelligent plot of the film. Actually, when we started shooting for the film, he was quiet and in his world. (Laughs) However, Akshay has now changed him completely. Today, he can be seen laughing all the time.
|TOP|
PRIYANKA CHOPRA: Holding Up Without Khans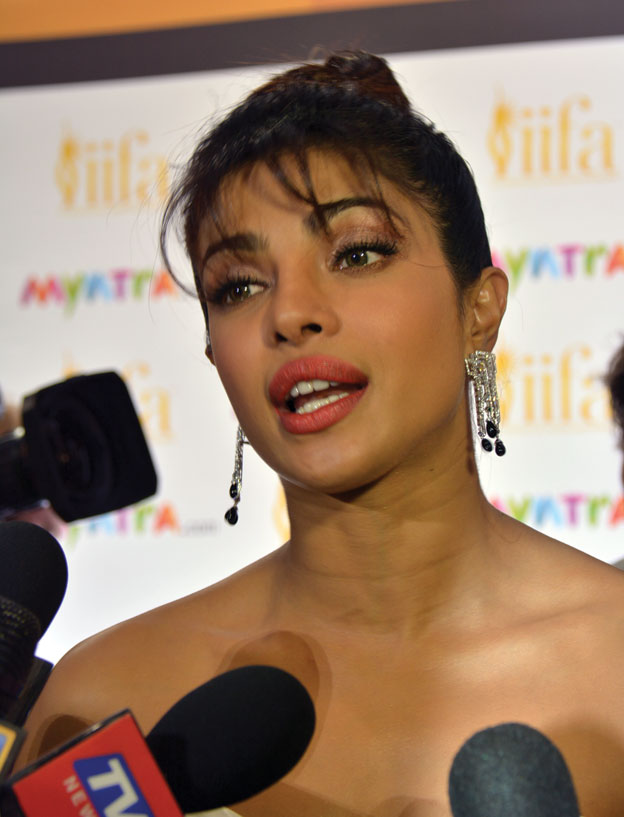 Priyanka Chopra talking to media at 2014 IIFA celebrations in Tampa, Fla. [Amar D. Gupta | Siliconeer]

Notwithstanding the controversial news making rounds (around a biopic being made on her life) and the "disturbance" it has caused to her, Priyanka Chopra is in a happy space. Her Gunday stays on to be one of the bigger earners of the year while her Mary Kom is being keenly awaited. Meanwhile, she is only one of the few major heroines to be ruling from the top without being seen with a Khan for long, and no new films with them on the anvil either.
"The last film that she did with a Khan was Don 2 (2011) where she was paired with Shah Rukh. That was more two and a half years ago. Since then she has worked with many other actors, including superstars (Hrithik Roshan), rising stars (Ranbir Kapoor) and newcomers (Ram Charan Teja); however, there hasn't been any outing with a Khan for long," remarks an observer.
Priyanka isn't minding that though and is treading her own path with a film with relative newcomers (Gunday) turning out to be a success and a female centric Mary Kom coming next. Moreover, her next Dil Dhadakne Do is a multi-starrer affair, with her Gunday lover Ranveer turning out to be a sibling in the film.
Experimenting being the name of the game, one wonders whether in near future one would hear an announcement of Priyanka and one of the top Khans coming together.
"Well, I have no idea," smiles Priyanka, "I do films which come to me. I am fortunate that I have done some good films over the last few years. As for who are my co-actors, that has never been the reason for a film of mine doing well or not."
She does hold Khans in good regard though.
"I am very fortunate that I have worked a couple of them. In fact, I did a film at the very beginning of my career with one of them (Salman Khan - Mujhse Shaadi Karogi). I would love to work with them again," hints Priyanka, "Having said that, I don't think films are made from casting; they are made from hearts. At least this is how I have worked, and intend to do the same in future too."
|TOP|
"EK VILLAIN": Makers Miffed, Deny Similarity to "I See The Devil"

Scene from "Ek Villain."

The makers of Ek Villain are perplexed. For unexplained reasons, there is a small online faction that has suddenly started alleging that the Mohit Suri-directed film is similar in certain parts to the Korean film, I See The Devil. The assumptions began after the official new trailer of Ek Villain was released online recently.
However, it is apparent that there is not even an ounce of similarity between the two films.
"If the presence of a serial killer in both the films makes the script a candidate for plagiarism then even Kamal Haasan's Vettaiyaadu Vilaiyaadu could fall in the same bracket. Oh yes, add Rajesh Khanna's Red Rose to the list too. Weren't the central antagonists in each of these films deriving pleasure out of killing? By that logic, each of these films is lifted," says a senior crewmember in an irate tone.
The suspicion around Ek Villain being similar to I See the Devil also arose when the poster of the former was revealed. With Sidharth Malhotra and Riteish Deshmukh shown in a face-off position, it was assumed that a poster of I See The Devil was a reference point.
When contacted, Tanuj Garg, CEO of Balaji Motion Pictures, said, "This is not even worthy of a conversation."
|TOP|