DHARMENDRA: "I Feel Shy When People Compliment Me For My Looks"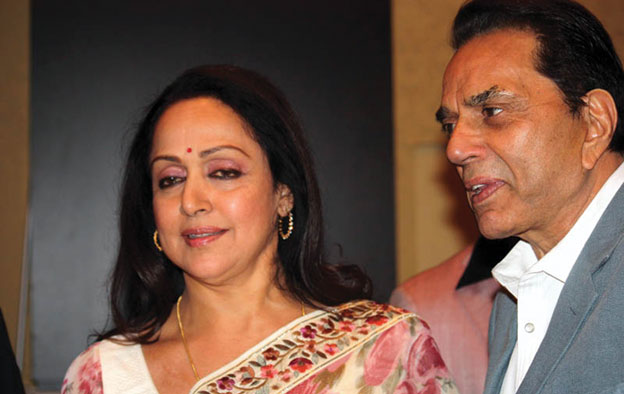 Dharmendra seen here with Hema Malini (l) at IIFA Awards in Toronto, Canada. [Photo: Siliconeer]

He is regarded as one of the most handsome actors in Hindi cinema but yesteryear star Dharmendra says he gets shy when his co-stars or fans compliment him for his good looks.
The 78-year-old actor credits his healthy lifestyle and being content with his life behind his charming looks.
"I am a shy person and I actually get embarrassed when people compliment me for my looks. But when I think about it later, I feel good. I don't have any regrets in my life. I am happy with whatever God has given me be it personally or professionally. I get up early in the morning and do yoga to stay fit. I don't go to gym and all," Dharmendra told PTI in an interview.
The Chupke Chupke star is going slow on films and doing what has been coming on his way. His last release Yamla Pagla Deewana 2, which also starred his sons Bobby and Sunny Deol, did not do well at the box office.
Dharmendra says he is an artist first and not a businessman.
"I am not a greedy human being. I only wished that I should have films and a Fiat car. I am doing films which are coming my way. I am not in the rat race to be associated with the films that earn 100 crores or 500 crores. I am not that business-minded. I think to adapt this quality one needs to have shrewd brain, which I don't have," he said.
The Padma Bhushan awardee started his career in films as a romantic hero. But he established himself as an action star with his tough image in Dharam Veer, Charas, Azaad and Sholay among others.
Dharmendra is all set to try his luck in Punjabi film Double Di Trouble and says if he gets good scripts in regional cinema, he is open to doing them.
"If I get a good story, I will continue doing Punjabi films. I did a Bhojpuri film, which was a hit. I might also do a Marathi film. Camera is my beloved. I can't live without it," said the actor, who did many cameos in Punjabi films in the past.
Asked if he would return to TV as Bollywood celebrities are venturing into it, Dharmendra said, "TV is like a 9-to-5 job. I never thought I will do a routine job. I did India's Got Talent and I got appreciations for it. But I won't do it again because I used to get tired after that."
The father of six is all set to reunite with his actor sons in his next Bollywood outing Ishq De Maare. The film is directed by Neeraj Pathak, who earlier wrote Apne. The script is written by Subhash Ghai.
– Nanda Das
SHAH RUKH KHAN: Performs Stunts for His Kids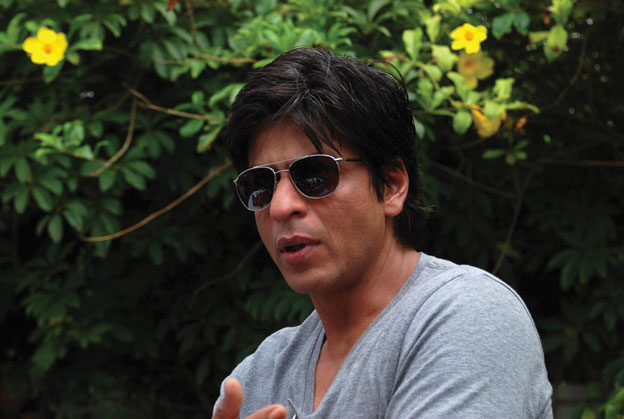 Superstar Shah Rukh Khan, who will be seen performing stunts in his upcoming film Happy New Year, says he does all the heroic things on screen for his children Aryan and Suhana.
"I have two children who tell me I should do more stunts so I listen to them more than I listen to her (wife Gauri). I like doing it. I have fun. I feel if I don't do something challenging then I am succumbing to that injury," Shah Rukh told PTI in an interview in Mumbai, Aug. 27.
The 48-year-old actor is also prone to injuries.
"I have made myself stronger to overcome the shoulder, back injury. As an actor it's important physically, emotionally mentally to be always challenged and try to do the best I can. The stunt is difficult going down the building. But it's on a wire. It is safe but scary," he said.
Though everyone would love to see how a superstar acts before camera, his children do not like attending shoots.
"They get bored coming to shoots so they don't come too often. When I shoot in Mumbai they don't come ... They hate shooting. When I shoot abroad they can't come always as they are studying now but sometimes they do," Shah Rukh said.
The Chennai Express star is in a profession where he has to be away from family most of the time but he does try to make up for it by going on holidays and being with them when he is not working.
"Whenever I am shooting I finish work and go back home. The day I don't shoot, I am at home. I have become more reclusive ... I am more unsocial now. I get bored going to parties. But we have to go for work, launch events etc.," he said.
"I do one film a year since last few years. Doing one film at a time leaves you with time for family," he said.
When asked if it is deliberate to slow down on work, SRK said, "No nothing like that. In the last five-six years I have realized that I can do one film at a time if I want to make it bigger and better. I can afford to sit at home and think of other things. Time has come where I need to give my best."
"I feel guilty if I divide and do things. People love me so much and watch my film so I need to give proper attention to a film. I want to give the best," he said.
SRK is looking forward to the release of Happy New Year directed by choreographer-director Farah Khan. He will be next seen in a Yash Raj project, Fan, followed by Farhan Akhtar's
home production Raees.
AAMIR KHAN: 'PK' Poster was Approved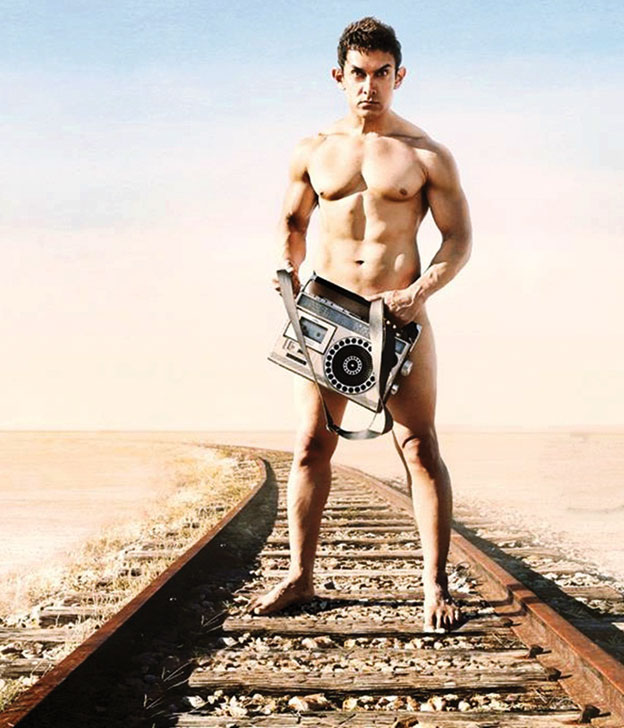 Bollywood actor Aamir Khan and director Rajkumar Hirani questioned the stand of the social activist who had sought a ban on their forthcoming film PK for its widely-publicized poster, saying he had not been able to prove that it was vulgar and constituted nudity.
The court is hearing a suit filed by Hemant Patil, in which he has sought a ban on the film and the poster in which Aamir Khan is seen in the buff standing on the railway tracks with a radio, unless the objectionable scene was removed.
In a reply filed in a civil court, the duo said that the poster had been duly approved by the Film Publicity Screening Committee, a government body, which screens film posters to check obscenity and depiction of women in derogatory manner or highlighting violence.
Hence, by virtue of the approval given by the publicity screening committee of films to this impugned poster, the suit was not maintainable in law and should be dismissed, Hirani and Khan stated in their reply.
They also argued that the suit was premature as the film was not yet complete and there were some portions of the film that were yet to be shot. Since the film was not completely shot, the question of Central Board of Film Certification examining it (the film) for grant of certificate did not arise.
"It is ludicrous for the plaintiff to commence an action on such a flimsy ground, especially when there is a quasi-judicial authority that is authorized to deal with such issues," the reply filed by the duo said.
Further, such a suit infringes upon their right to make films and hence should be dismissed outright, they contended.
They also argued that a similar issue was raised in another petition filed before the Supreme Court which had dismissed it. Hence, this suit also was liable to be dismissed.
The judge asked the plaintiff's lawyer to satisfy the court whether a case of obscenity and vulgarity was made out against the actor who allegedly posed nude.
The suit, filed by activist Hemant Patil, prayed for a permanent injunction from the court from releasing the film all over India with a ban on publicity and advertisement of the nude picture of Aamir Khan until such time the objectionable scenes are removed.
The defendants are Censor Board office bearers, actor Aamir Khan, film's producer Vidhu Vinod Chopra and director Rajkumar Hirani.
According to the suit, the nude poster which has been circulated all over is vulgar and obscene and has the tendency to corrupt the minds of the people. This poster is being shown in newspapers and television and also on Internet since last one month, the plaintiff claimed.
The plaintiff said that Aamir is a good actor and the host of Satyamev Jayate, a popular TV show. He has a good and clean image in the eyes of public. However, by appearing nude in this poster for the sake of publicity, the actor had done a "shameful" act and hence he should withdraw such obscene images immediately.
PRIYANKA CHOPRA: "Mary Kom" is My Guru Dakshina on Teachers Day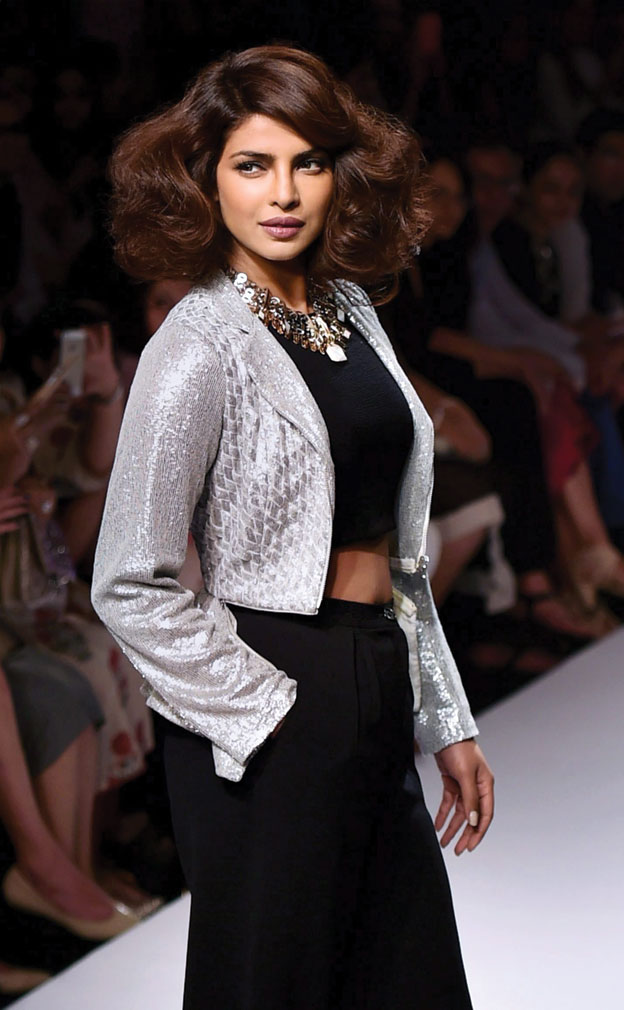 Bollywood actress Priyanka Chopra walks for designer Varun Bahl during the Lakme Fashion Week Winter/Festive 2014, in Mumbai. [Photo: Santosh Hirlekar | PTI]

Bollywood superstar Priyanka Chopra hopes that her portrayal of M.C. Mary Kom in a biopic would prove to be a milestone in her film career.
"The portrayal of the character was very challenging and this film can prove to be the milestone in my career.  Since the film is releasing on Teacher's Day (Sept. 5) and as Mary Kom has taught me the nuances of boxing, I am desiccating it to Mary Kom as my guru dakshina," said the 32-year-old actress at a promotional event for the film in Lucknow, Aug. 29.
The former Miss World however did not approve of the film being referred to as a women-centric movie. "Instead of Mary Kom being treated as a gender-centric film, it should be taken as a normal one," she said.
On her preparations to play the Olympic bronze medal winner, Priyanka said that the training imparted to her to fit into the personality of a dedicated women like Kom was difficult.
"Mary Kom is a lefthander but I use my right hand more ... It was difficult to adopt her techniques in front of the camera," she said.
Priyanka advocated making sports compulsory in schools, saying that it would help promote more players like Kom.
SALMAN KHAN: Missing Case Documents Found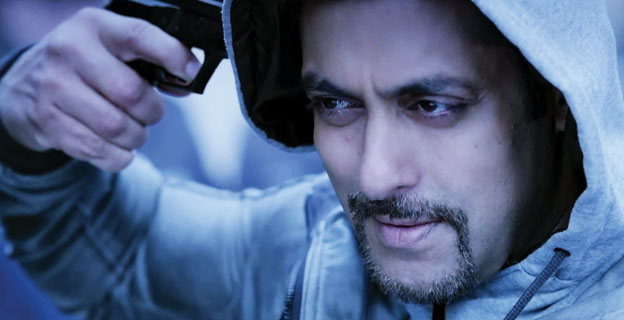 Mumbai Police heaved a sigh of relief with the missing documents pertaining to the 2002 hit-and-run case against actor Salman Khan being found at Bandra Police Station.
The documents were found, Aug. 26, at Bandra police station, Mumbai Police Commissioner Rakesh Maria said on Aug. 27.
"We have initiated an inquiry as to how the papers went missing. Action will be taken against policemen because of whom the documents had gone missing for a few days," he said.
The documents contain important information relating to the case, the case diary and statements of witnesses, police said. Somebody might have shifted the documents from the record room during the renovation of the police station after which they were not traceable, sources said.
On Aug. 21, Bandra Police had informed the Sessions Court holding a fresh trial in the case that the documents related to witnesses' statements and the case diary had gone missing. The court had directed the police to locate the documents by Sept. 12.
On September 28, 2002, the actor's car had run over a group of people sleeping on the pavement outside a Bandra Bakery, killing one and injuring four.
PARESH RAWAL: Big Fan of Con Films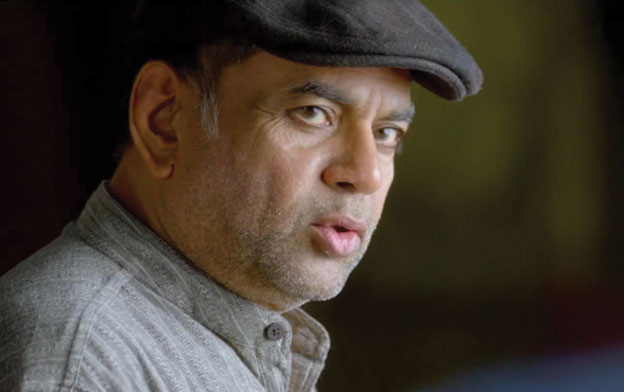 Bollywood Actor-turned-politician Paresh Rawal, whose latest release is Raja Natwarlal says con-films are intelligent and interesting.
The film has Emraan Hashmi in the lead and Rawal plays the role of his guru, teaching him tricks of the trade.
"I liked the script and this genre of con. I am a big fan of con-films like Sting, Matchstick Men and others. It (this genre) is not an assault on your senses. It has intelligent material, there is logic and scientific way to do it (to do the con)," Rawal said in an interview to PTI in Mumbai, Aug 27.
"I was also working on one of these subjects (on con). I will definitely do it but it will take time. In the meanwhile, I got this offer and found it interesting so accepted it," he added.
"There is fun in doing both, you getting conned and conning others. In this film, I train him (Emraan) and make him aware about this art. Conmen are artists," he says.
In real life, the 64-year-old industry veteran has been conned twice but not money wise.
"One can con you in relations ... con you with emotions the best example is of American Hustle. It is a superb film," he said.
Rawal is all praise for Emraan and feels he is grossly underrated.
"I found him to be a good and balanced actor and later I learnt that he is related to Mr. (Mahesh) Bhatt. It was nice working with him I had no problem working with him. He is a very good actor... he is a highly underrated actor," he said.
The film also stars Pakistani actress Humaima Malick, and Kay Kay Menon.
On playing the role of Prime Minister Narendra Modi in a biopic, the BJP MP said, "The scripting is still going on ... almost 70-80 percent work is over. It is a tricky one as biopics are often made on those people whose career has ended or there is a full stop (to their career) but this man has just begun his innings.
"So what to do and how to take it ahead ... is where we are having difficulty."
RAM GOPAL VARMA: Triggers Uproar Over Remarks on Ganesha, Apologizes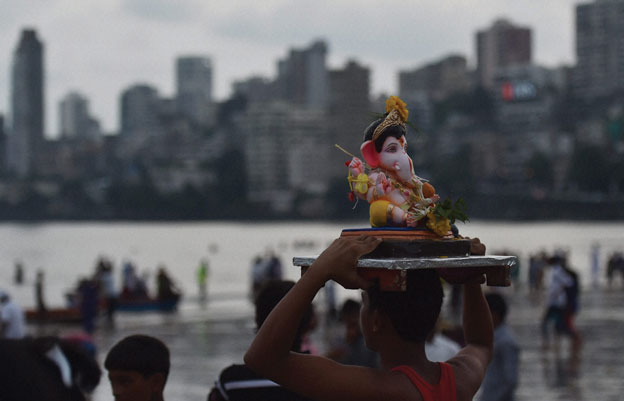 Devotees carry an idol of Lord Ganesha during a ritual before immersion at the Girgaon Chaupati beach in Mumbai during Ganesh Chaturthi. [Photo: Santosh Hirlekar | PTI]

Filmmaker Ram Gopal Varma stirred a controversy Aug. 29, the first day of the 10-day Ganesh Chaturthi festival, with a string of tweets about the elephant God, drawing condemnation for his "blasphemous" remarks and provoking demands for police action against him.
As his twitter posts triggered an outrage, Varma took to the microblogging website to tender an apology.
The 52-year-old producer and director, who apart from questioning the ability of Ganesha to remove obstacles from the path of his devotees, made fun of his physical attributes.
Varma's comments drew strong reactions from leaders across the political divide.
While Shaina N.C. of the BJP called it "blasphemous and insensitive," Congress' former MP from Mumbai Sanjay Nirupam demanded police action against him for violating the law of the land.
"This is blasphemous and insensitive. He should not resort to such cheap sensationalism," Shaina said, calling the tweets "incredible absurdity" and seeking an apology from Varma.
"Ram Gopal Varma has not been able to give a hit film in a long time. He wants to remain in the news and so is making such statements. As he has violated the law of the land, police must take action against him," Nirupam said, adding "he (Varma) is known for such publicity stunts."
Prem Shukla of the Shiv Sena described Varma's twitter comments as an "insult" to the "cultural and religious ethos" of Maharashtrians at a time when they were celebrating Ganesh Chaturthi.
He also questioned the timing of the tweets. "His comments at this time are intentional and merit criminal action against him. This is a cheap and dirty way to be in the news. This will create social disharmony," Shukla said.
As the director-producer faced an avalanche of criticism, he, in another twitter post said," All tweets I put on Ganesha were in my usual manner but unintended by me to hurt anyone's sentiments ... but if they did I sincerely apologize."
Varma, who gave films like Satya, Shool and Rangeela, had triggered a major controversy when he accompanied the then Maharashtra Chief Minister Vilasrao Deshmukh and his actor son Riteish to the Taj Hotel after the 26/11 terror attacks. He was said to have gone there to plan a film on the terror assault.
The visit had created a nationwide outcry and ultimately led to Deshmukh's resignation.
Varma denied that he had plans to make a film but eventually came up with a movie titled The Attacks of 26/11 in 2013.
RANI MUKHERJI CHOPRA: Wants to Do a Show Like Oprah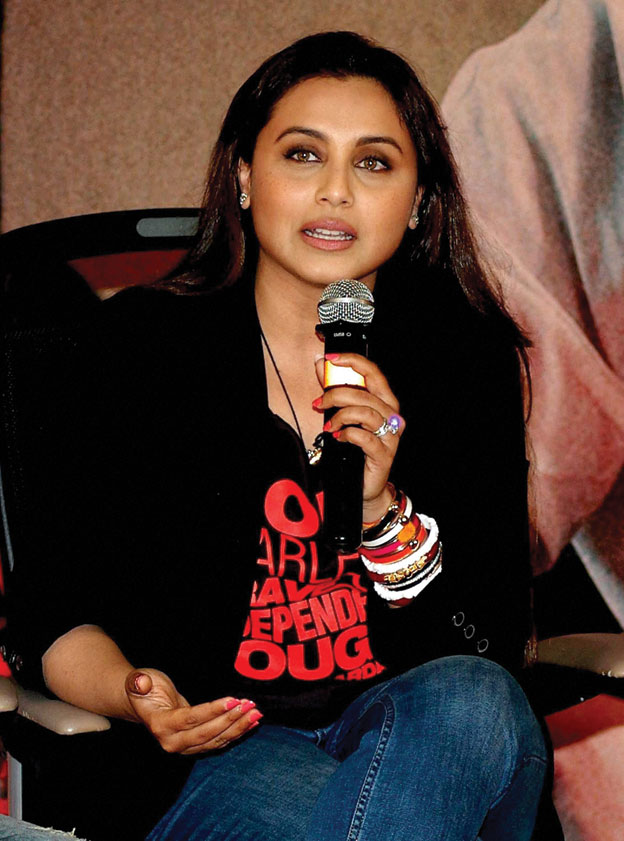 Rani Mukerhji (Chopra). [Photo: PTI]

Bollywood Actress Rani Mukherji Chopra says she is open to working on television and would like to do a show like The Oprah Winfrey Show.
"I am open for anything (on TV). I would like to do a show like Oprah Winfrey who tackles everything ... meets people from different fields, talks on various things. I think it will be a good show," Rani said in an interview in Mumbai, Aug. 28.
The show is highly influential, especially among women, and many of its topics penetrate into American pop-cultural consciousness.
The 36-year-old actress said she does think that it is important to watch TV to known what is happening around.
"I do watch TV whenever I get time. I think it is a stress buster for everyone to watch a film or a TV show. I think it is important to watch TV and known what is happening around," she said.
The newlywed actress said her husband, producer-director Aditya Chopra has a similar taste when it comes to watching television.
"Adtiya and I have similar taste. So that way we are lucky," confided Rani.
ANIL KAPOOR: Thrilling '24' Season 2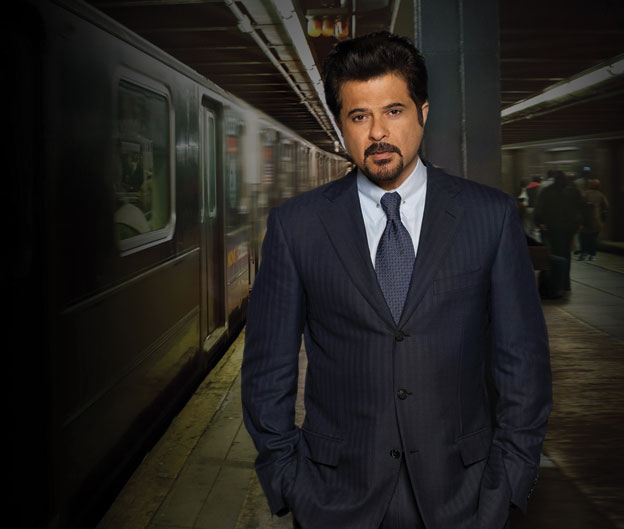 Actor Anil Kapoor says they are working on the second season of his popular TV show 24 which will be as thrilling as the first one.
Kapoor, 57, made his television debut with the Indian adaptation of the hit international TV series 24, which was aired on Colors channel.
"24 is very special to me. The feedback I have received, from viewers across all strata of society and age groups, has been very heartening and truly encouraging. I am excited to share that while viewers once again relish Season 1 of the show, we are already working towards Season 2 which will be as thrilling and edge-of-the-seat as the first season," Kapoor said in a statement to PTI, Mumbai, Aug. 25.
The espionage drama 24 showed ATU chief Jai Singh's (played by Anil Kapoor) journey as he races against time to save Prime Ministerial candidate Aditya Singhania (Neil Bhoopalam) from assassination.
The show featured Anil Kapoor, Anupam Kher, Shabana Azmi, Tisca Chopra, Anita Raj, Mandira Bedi and Neil Bhoopalam among others. It was co-produced by Anil Kapoor Film Co. and Ramesh Deo Productions, directed by Abhinay Deo and adapted by Rensil D'Silva.
The show will now re-run on Rishtey channel and Kapoor hopes the audience enjoy watching it again.
ALIA BHATT: Mocks Her Lack of General Knowledge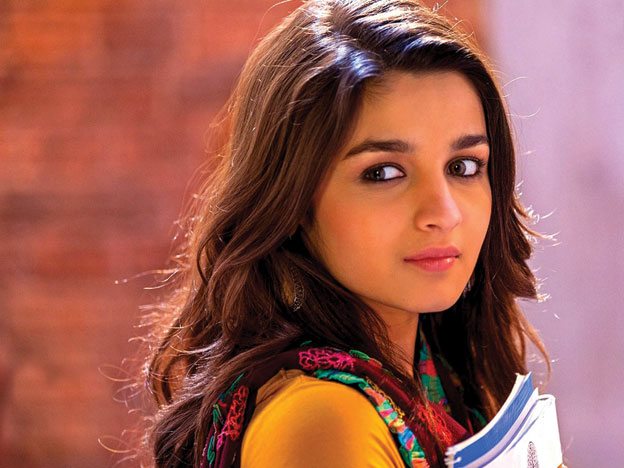 Actress Alia Bhatt, whose stint on Karan Johar's chat show Koffee with Karan turned her into a butt of online jokes, has now indulged in self-mockery by featuring in a parody titled Alia Bhatt – Genius of the Year.
Alia is often teased by fans for her lack of general knowledge after she failed to name the president of India on Johar's show but this is the first time that the actress has joked about the issue.
The video, directed by Shakun Batra of Ek Main Aur Ekk Tu-fame and uploaded by a comedy podcast, shows Alia joining a mental training gym to become well versed with general knowledge.
The 10-minute video also features Alia's filmmaker father Mahesh Bhatt, mother Soni Razdan, 2 States star Arjun Kapoor, actress Parineeti Chopra and Johar.
The end of the video shows the 21-year-old Highway star breaking down after answering all the questions asked by Johar.
Alia has previously admitted she likes the various memes and trolls about her on social networking sites and jokes poked at her.
NARGIS FAKHRI: Denies Dating Varun Dhawan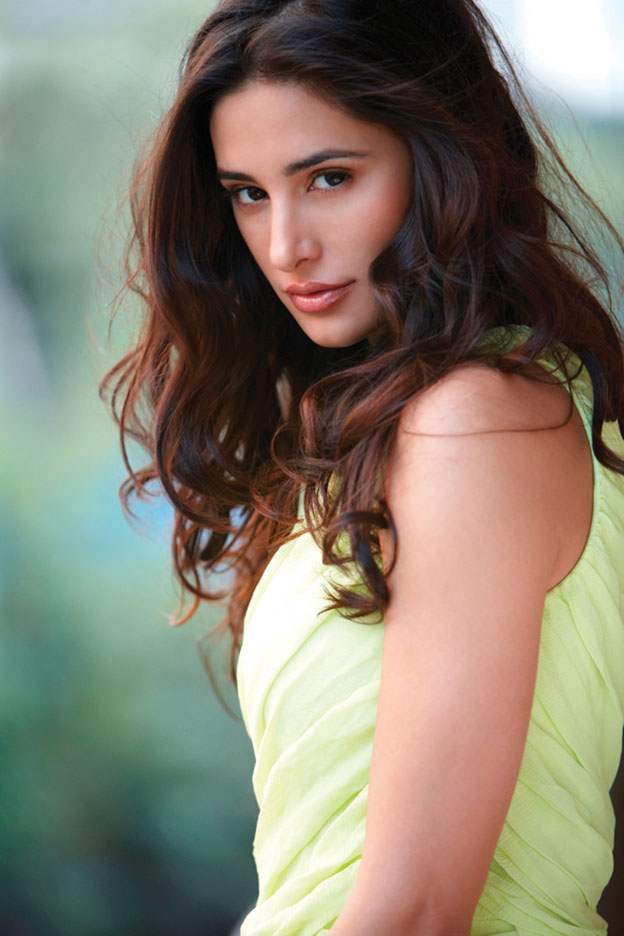 Bollywood actress Nargis Fakhri has denied reports of dating her Main Tera Hero co-star Varun Dhawan, saying she is romantically linked with herself and not anyone else.
"What? No way dude! Oh, really it's been written? I haven't read that. I don't have any idea about that. People just write stuff, right. That's hilarious," Nargis told PTI in an interview on the sidelines of the unveiling of Myntra's style helpline in Bangalore, Aug. 24.
Indirectly blaming the media, the 34-year-old model-turned-actress said such stuff is written out of blues, without any truth in it.
"There was a rumor that I was dancing with another actor all night long in a party when I hadn't even seen that person.  No offense, but people just write stuff," she said.
Asked what was her idea of a good date, she said Indian boys should not be fanciful but creative while dating girls.
"Indian boys should learn to date properly. You needn't have to be fancy but creative. Ask the girl for a date. Do something nice. Don't expect anything. That is the main thing. Never expect anything. Have a nice time. Have conversation," she said.
The same goes for her as well, Nargis said, adding that she keeps that standard and does not go any lower than that. "I had one good date in New York. The person picked me up on my doorstep. Took me to hotels and nightclub and dropped me at my home. Can you imagine? That was the most memorable date I ever had and to me I keep that standard. You can't go any lower than that," she said.
LOHA SINGH: "Electricity Thief" Feared Being Caught
Loha Singh, whose life is the subject of a critically acclaimed documentary on power crisis in Kanpur, says he initially did not want to work in Katiyabaaz as he thought he would end up in jail.
Recalling his first meeting with directors Deepti Kakkar and Fahad Mustafa, Singh said he thought they were media persons who had come to do a sting operation on him for his work as a "katiyabaaz" (electricity thief).
"When I saw them with cameras, I told myself that I will be jailed today because these people will film me and show the footage to the whole country. I was scared to meet them."
"Later they told me they wanted to make a movie with me and about my work so after some thought I came on board. My people too dissuaded me from doing the film as they thought it will bring nothing else but trouble," he told PTI.
Singh, however, is happy to have worked in the movie and has acquired the status of a celebrity among his friends, who were impressed to see his photographs on the posters.
"I went ahead with the film and did not listen to anyone and now after seeing my posters and hoardings everywhere they tell me 'please recommend us too for the next movie you sign' and I laugh. My family and friends are very happy and proud of me," Singh said.
The film came as the biggest surprise in Singh's life as he never thought he would become an actor, given the humble background he comes from.
"I could not believe that people wanted to work with me. I enjoy watching films but it is impossible to even imagine that a small man from Kanpur, who steals electricity will play the lead in a film but it happened."
"Initially, everything used to look alien to me. In fact, I used to finish my work and run back home but slowly we all became close and it started feeling nice," Singh said.
When asked how he prepared himself before facing the camera for the first time, Singh said he kept telling himself throughout the making of the film that he was handsome to avoid feeling nervous.
"I told myself that I looked handsome because otherwise I couldn't have concentrated on my performance. I just followed instructions of the directors and gave my best. I have never done anything like this before but I decided I will do it properly," said Singh, who is yet to watch the film and hence finds all the praise weird.
"It is a nice feeling that people have liked our film but I have not seen the film myself so I don't know how to react to the praise. I want to show the film to my parents, brothers and my friends. It is weird and surreal," Singh said.
The documentary has created buzz for its humorous take on a serious situation and Singh has been praised for his performance but unmoved by the adulation, the young man says he would never leave his high-risk job for a life of glamor.
"I will never leave Kanpur and my work of 'katiyabaazi' for acting but I would not mind working in a film if somebody comes to Kanpur," Singh said.
Katiyabaaz is a National-award-winning documentary.
– Priyanka Sharma
ABHINAYA: Tamil Actress Enters Bollywood
Tamil film actress Abhinaya, who shot to fame with her debut film Nadodigal, directed by
Sasikumar, is making her foray into Bollywood.
 The actress has bagged a role opposite megastar Amitabh Bachchan and National award-winning actor Dhanush in R. Balki's Shamitabh.
"Abhinaya has been roped into play a major role in Shamitabh with Dhanush, Akshara Hassan (daughter of Kamal Hassan) and Amitabh Bachchan," a statement said.
"She is extremely glad. Needless to say director Balki reserves space for the talent in all his films and it is indeed a pride to be introduced by him in Hindi," Abhinaya's father Anand said.
|TOP|