(Above): Army personnel taking position during an encounter with the militants at Baron Gali in Kalaro near the Line of Control (LOC) in Kupwara, Jammu and Kashmir. [Photo: PTI]
---
The talks would have been the first in 18 months. What irked India was the neighboring country's High Commissioner, Abdul Basit's invitation to Kashmiri separatists — Hurriyat Conference leader Syed Ali Shah Geelani, Democratic Freedom Party leader Shabir Shah, Mirwaiz Umar Farooq and JKLF leader Mohammad Yasin Malik — for consultations in New Delhi.
India maintains that there are only two stakeholders; India and Pakistan, in the Kashmir issue.
Syed Akbaruddin, a spokesperson of Foreign Ministry of India expressed India's reaction, "It was underlined that the Pakistani High Commissioner's meetings with these so-called leaders of the Hurriyat undermine the constructive diplomatic engagement initiated by Prime Minister Modi in May on his very first day in office. Under present circumstances, it seems no useful purpose will be served by the Foreign Secretary visiting Islamabad, therefore the visit stands cancelled."
India's Ministry of External Affairs' statement read, "At a time when serious initiative was taken to take bilateral ties forward, invite to Hurriyat leaders raises questions about Pak's sincerity."
However, Indian Foreign Secretary, Sujatha Singh's advice to Basit to either choose between an Indo-Pak dialog or hobnob with the separatists fell on deaf ears as the Pakistani top envoy remained defiant and went right ahead to meet the hardliners.
Now as talks have been stalled India feels that the onus of retrieving relations rests with Pakistan which can contemplate peaceful bilateral engagement as per the Shimla Agreement & Lahore Declaration.
But it appears that Pakistan is unperturbed with the development as it responded, "India should not practice a blame game. It has been a long-standing practice to talk with Kashmiri leaders and then talk with India to facilitate meaningful discussions and resolution in the issue of Kashmir."
Certainly the Indian view is not shared by the Kashmiri hardliners as well who would rather want the Kashmir issue to remain central in both the countries' relations.
For a fact deliberations between past Pakistan Commissioners with hardliners have been a prelude to any Indo-Pak meeting. Not just that, even the National Democratic Alliance government's ex-Prime Minister Atal Bihari Vajpayee had deliberated with the separatists.
India's soft under-bellied approach to the matter was evident in 2005 when Shyam Saran, foreign secretary, had rubbished concerns emanating from ex-Pakistani PM Parvez Musharraf's meetings with Hurriyat leaders in India with a mild retort, "Pakistani leaders come, they meet any Hurriyat leaders ... we are a democratic country, we have no problem with these kind of meetings."
Whether it was the Agra summit between Vajpayee and General Parvez Musharraf, the 2012 Home Secretary talks during the visit of Hina Rabbani Khar as Pakistani Foreign Minister, or the November 2013 visit of Sartaj Aziz, Foreign Policy Adviser to Nawaz Sharif to Delhi during Asia-Europe meeting, India felt that Pakistanis' meetings with separatists were never "productive" to Pakistan and therefore could be easily overlooked.
This time however, the Indian government looks determined to change its stance and stop playing shut-eye. In the recent past both nations had felt positive vibes when in May the new Indian Prime Minister Narendra Modi broke from past traditions to invite his Pakistani counterpart Nawaz Sharif to his oath taking ceremony. Sharif had responded equally well by attending the grand function despite stiff criticism from political rivals, the army and the country's notorious Inter State Intelligence, ignoring separatists during this visit, and omitting the mention of Kashmir in the post-meeting (with Modi) declaration statement.
---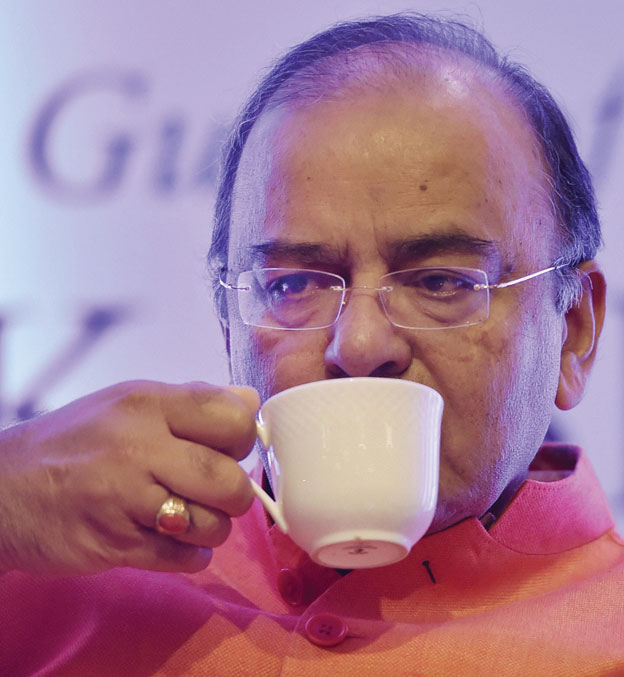 (Above): Indian Defense Minister Arun Jaitley. [Photo: Vijay Verma | PTI]
---
Yet this bonhomie turned out to be short-lived as Modi on his Ladakh-visit accused Pakistan of waging a proxy war in India. Defense Minister Arun Jaitley reasoned that Pakistan's increasing ceasefire violations, unprovoked and indiscriminate firing on and shelling of scores of border outposts, forward posts and civilians areas along the Line of Control and International Border in Jammu and Poonch districts were the causes of India's extreme exasperation.
Official figures talk of more than fifty ceasefire violations in 2014, twelve in August alone, by Pakistan.
Basing their analysis on these facts, experts opine this to be the game plan of Pakistan Army which has forever worked towards sabotaging Indo-Pak diplomatic ties, and justifies its national importance and huge budget by keeping the strife alive.
It is pertinent to note that the nuclear-armed Pakistan is currently facing huge political destabilization which is being surreptitiously managed by the ISI and army. In Pakistan's capital, Islamabad, street protestors led by cricketer-turned-politician Imran Khan's Tehreek-e-Insaaf and Canada-based Sunni cleric Tahir-ul-Qadri have laid siege to the city, blockaded the Parliament and key Ministries and are demanding the resignation of Sharif's government over charges of rigging elections.
Even if the civilian government survives it will be a very weak Sharif government to thwart the army's attempts to pitch an India policy.
With a majority of the U.S. troops expected to withdraw from Afghanistan by the end of 2014, the Pakistani army seems to have started conniving with the Afghan Taliban as it tries to sustain its hold in Waziristan, a region that has become a sanctuary to Arab, Central Asian, Punjabi, Taliban, and other sectarian militants. In light of these developments, India cannot expect any sort of normalization of relations with Pakistan. Instead it should focus on adopting a cautious approach, bolstering its defense, chalking out a well thought out Pakistan policy, and stepping up its presence and ties globally.