BUSINESS | News in Brief:

EMIRATES: Non-stop Service from West Coast to Dubai | PAYMATE: SMS Gift | GLU TV: Internet TV | NISSAN: Center Opens


---
EMIRATES: Non-stop Service from West Coast to Dubai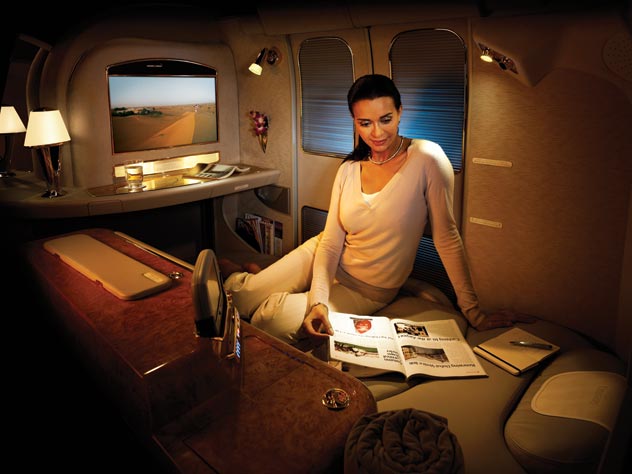 (Above): he luxurious first class private suite, available on non-stop service from San Francisco and Los Angeles to Dubai offered by Emirates Airline. The service will begin in a few months.

In advance of its launch of the world's first non-stop services from Los Angeles and San Francisco to Dubai, Emirates Airline recently completed the final installment of its tour of five West Coast road shows for the U.S. travel industry at an event held at the Fairmont San Jose, Calif.  The star of the shows was the Emirates newly-designed First Class Private Suite.

"The San Francisco Bay Area is undoubtedly one of the most innovative high-tech business centers in the U.S., if not the world.  Emirates' direct route will create a new, highly convenient opportunity for Bay Area companies to do business in Dubai," said Nigel Page, senior vice president, commercial operations, the Americas. "Our new Los Angeles service will connect travelers to the capital of the world's entertainment industry.  Coinciding with the establishment of a growing media industry in Dubai, the L.A. route represents excellent access for growing business connections.  Both services will also expand access for leisure travelers interested in visiting Dubai — one of the most popular tourist destinations in the Middle East."

Emirates will be the first airline to the West Coast and Dubai using its newest, technologically-advanced Boeing 777-200LR aircraft on the route. The aircraft offers 266 seats in a three class configuration. The service will also offer 11 tons of cargo capacity in both directions. The new daily nonstop service between Los Angeles and Dubai will commence Oct. 1 and San Francisco to Dubai will start on Nov. 2.

Visit Emirates online at: www.emirates.com/usa.

|TOP|

---
PAYMATE: SMS Gift


(From l): Ajay Adiseshann, founder and managing director, PayMate; Dhruv Singh, vice president of North America operations at PayMate; and Probir Roy, co-founder and director, PayMate.

SMS has over 2.4 billion active users, world over, of which over 78 percent of all users admit to sending and receiving text messages. An SMS is faster than sending an old fashioned telegram or a long e-mail. It's a way to keep in touch with your loved one or your best friend who lives hundreds if not thousands of miles away.



Now it is possible to SMS a gift by MyGiftMate.com, a Web site that makes it easy to let your loved ones know you are thinking of them.

MyGiftMate.com, launched in May 2008 and a branch of PayMate Online, is the brainchild of Ajay Adiseshann. He founded Coruscant Tec, a successful mobile content developer and aggregator company. He also founded Web Resource, an online applications and design company.

PayMate, the original startup, allows the customer to pay bills, reserve event tickets, shop online and send gifts. He is backed up by cofounder Probir Roy.


PayMate started MyGiftMate.com to facilitate monetary and gift remittances across international borders. It has climbed to Asia's Top 100 successful startup companies since its inception since May 2006. On December 3, 2007, Pay Mate announced its expansion into USA and Canada.

GiftMate is much more versatile than traditional money transfer companies. The recipient can spend the gift voucher at several merchants at any given time. In addition to merchants, several banks including the Bank of Ceylon, have registered with PayMate to help customers pay bills using their cell phones. GiftMate however goes a step further by actually helping people send gift vouchers.

|TOP|

---
GLU TV: Internet TV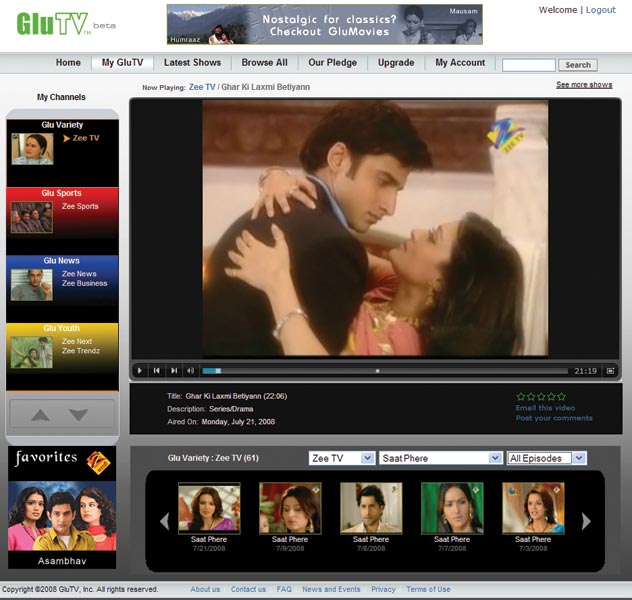 (Above): Screen shot of GluTV Web site. (Right): GluTV founder SG Sangameswara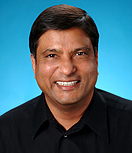 A relative new comer to the Indian internet entertainment scene, GluTV offers television on demand daily from twelve Zee Television network channels.

"When you visit GluTV, the first thing you notice is the video quality," says a press release from the company. "It is significantly better than most Indian sites, and its player size is larger than one usually sees in many Web sites. The quality of video is comparable to standard television in full screen mode." GluTV says it is planning on offering an Internet enabled set top box that will let users watch directly on the television.

"GluTV isn't live television, but perhaps one could say it is even better than live," says the release. All shows are available on the site within a day or two of its airing in India and are available for several months for on demand viewing.

"You can think of GluTV as your satellite or cable TV, Sling Box and DVR all rolled into one. Even better, it is a much cheaper option, with a single channel priced from $4 to $8 as opposed to $15 or more on cable or dish," the release adds. "In addition, you don't need to set up a Sling Box at home, but you can carry your TV programs on your laptop and watch them anywhere with an internet connection. As for the DVR, you don't need to worry about how many more hours are left on your DVR disk, or if you have remembered to record a particular show. GluTV records and maintains all of the shows in its servers so they are available for you instantly."

For more information, visit: www.glutv.com

|TOP|

---
NISSAN: Center Opens

Nissan celebrated the dedication of Nissan Americas July 22 in Franklin, Tenn.  The new center serves as regional headquarters for the United States, Canada and Mexico.

Tennessee Gov. Phil Bredesen and U.S. Sen. Lamar Alexander joined Nissan president and CEO Carlos Ghosn for opening ceremonies. The day-long event included more than 1,500 employees and members of the community.

Nissan Americas is designed to encourage and inspire cross-functional collaboration within the region.  The 10-story, S-shaped facility, designed with numerous environmental features, provides 460,000 square feet of office space.  The construction of the new campus was done in partnership with architects Gresham, Smith and Partners, and construction firm Skanska U.S.A.

 "Nissan Americas is an investment in our future," Ghosn said. "We purposefully designed the building to inspire and enhance collaboration among our employees. The building also is a statement about our confidence in the continued growth of Nissan in the Americas and our unyielding commitment to environmental sustainability."

In May, Ghosn unveiled Nissan's five-year business plan, GT 2012, including an outline of Nissan's commitment to leadership in the design, development, manufacture and distribution of zero-emission vehicles.  The company will launch electric vehicles in the U.S. and Japan in 2010 and in 2012 for mass-market commercial delivery.

|TOP|