EDITORIAL:
A Sikh American in California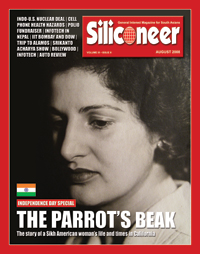 This is the month in which every Indian, no matter where he or she is, will take a moment to pay obeisance to the motherland and its heroes of the freedom struggle. We cast a wider net this month, and decided to pay tribute to Kartar Dhillon, a remarkable California-born Sikh American woman who triumphed despite a hardscrabble childhood with sharecropping parents and living much of her life a single mother.

Of course, she was always a passionate supporter of the Gadar movement, which was a movement of Indian Americans in the West Coast to help free India from British colonial rule. That alone makes her story worthy of remembrance as we celebrate India's independence.

But there's more. Kartar's passion for freedom was not just lip service, it was a value that informed her very outlook. Consequently, she not only supported battles against oppression and injustice in India and elsewhere, she also waged a very personal battle all her life against gender discrimination and the constraints imposed by economic hardship.


---
We Condemn the Terror Attacks
Recently in India, at least 52 people died in 23 blasts in two cities. We believe that regardless of political belief and caste and creed, it is incumbent upon all people to come together to condemn these heinous, cowardly attacks on ordinary citizens. Whether in New York, Madrid, London or Bangalore, the people behind these acts are a threat not only to the rule of law and pluralism, but also to the communities they claim to serve. Our hearts go out to the victims and their friends and relatives.

---
She wrote about her own experience in simple, extraordinarily moving language in an essay entitled "The Parrot's Beak." Kartar died in June this year. We carry her account in this month's issue and dedicate this issue to her memory.

Much hot air has blown over the recent raucous confidence motion in the Indian Parliament that was triggered by the controversy over the U.S.-India nuclear accord. If the debate was less than edifying — and that's a very polite way of putting it — even the broader debate by Indian analysts left a lot to be desired.

Pretty much all supporters appear to agree that the nuclear deal will open the doors to new technology and knowhow that will go a long way towards alleviating India's energy crunch by way of nuclear energy.

Well, it's a completely false premise.

The fact of the matter is that despite lavish budgets, India's Department of Atomic Energy's contribution to the nation's energy needs has been minuscule. Today, after over five decades of sustained and lavish government support, nuclear power amounts to just 4120 MW, less than 3 percent of the country's total electricity generation capacity.

Nuclear reactors are much costlier than thermal plants, too.

On top of that, the DAE's has a penchant for optimistic projections that border on the fanciful.

The current projections are for 20,000 MW by the year 2020 and for 207,000 to 275,000 MW by the year 2052. Even if they are met, nuclear power would still contribute only about 8-10 percent of the projected electricity capacity in 2020, and about 20 percent in 2052.

We carry this month the first installment of a two-part series that offers a thorough analysis of the issue by M.V. Ramana.

Breathtaking mountain vistas. Political turmoil. Guerilla insurgency. It's a safe bet that these are the images that spring to mind when people think of Nepal. A group of committed activists want to change that. The Computer Association of Nepal-U.S.A. recently hosted a two-day conference at the University of California at Berkeley.

CAN-USA has been smart about one thing. It has taken a much broader approach than most ethnic organizations in that the organization is open not just to Nepalis but also to people with exceptional skills of any ethnic group who would like to help Nepal progress.

There is another side of Nepal that many outsiders don't know, but they should, say U.S.-based high tech Nepali professionals. Every Nepali government has shown a keen interest in utilizing information and communications technologies. Nepali universities produce world-class technical manpower. Currently Nepal produces more than 3,500 four-year college graduates in information technology and has laid fiber optic networks from its eastern to its western border.

The CAN-USA conference addressed issues faced by Nepal that can be solved with technology. The conference was attended by Nepali professionals, friends of Nepal from information communication and technology sectors, researchers, aid organizations, and government policy makers.

CAN-USA president Bineet Sharma presents an overview of the conference and the state of Nepal in terms of high tech in this month's issue.