TECHNOLOGY:
Infotech Nepal: Berkeley Meet


The Computer Association of Nepal-USA organized a two-day conference at the University of California at Berkeley, writes Bineet Sharma.

---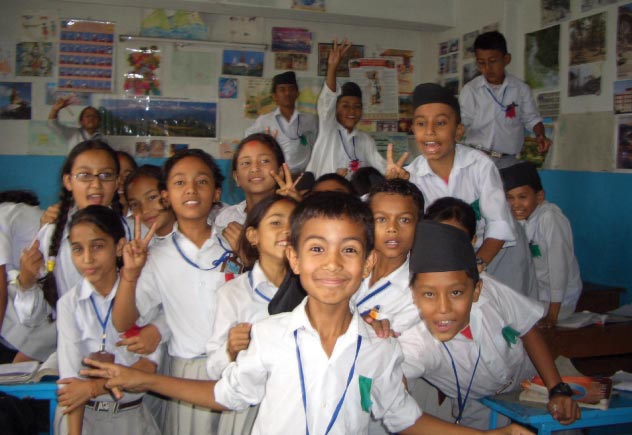 (Above): Schoolchildren in a Nepali school. The Computer Association in Nepal-U.S.A. is keen to assist schools to bring Nepali children up to speed in digital literacy.
---
Nepal is said to be a land of untold contradictions. It is a small South Asian nation, yet it contains seven of the ten highest peaks in the world. It is the birthplace of Lord Buddha, the original proponent of the principle of nonviolence, yet it has recently suffered a brutal civil war in which more than 10,000 Nepalis perished. Its capital, Kathmandu, has more temples per square miles than any other city in the world; Nepal is poised to be led by the government of the atheist adherents of Mao.

Despite this history of contradictions, the Computer Association of Nepal-USA noted a remarkable consistency in all the past governments of Nepal: every Nepali government has shown a keen interest in utilizing information and communications technologies to cope with the many challenges facing the people of Nepal. Even during political instability of the last decade, Nepali universities have produced world-class technical manpower. Currently Nepal produces more than 3,500 four year college graduates per year in ICT sectors ready to compete in global IT market. Nepal has recently laid fiber optic networks from its eastern to its western border. It has also laid fiber from the south across Kathmandu all the way to Lhasa in Tibet. These two backbones are being connected to the world via two different service providers for greater reliability. Nepal is also making world class software and hardware for internal consumption as well as for export, for example, every BMW manufactured today has a radio frequency part made by a Nepali company.

Politically, it's a new dawn in Nepal. The "Tiny Himalayan Kingdom" has recently transformed itself to be the "Republic of Nepal" through democratically elected constituent assembly. In this backdrop, CAN-USA organized a two-day conference to address the issues faced by Nepal that could be solved using the available technologies. The conference was supposed to provide an opportunity to present the progress made by Nepal in ICT sectors. The conference was held at the University of California at Berkeley on July 12-13, 2008, and was attended by Nepali professionals, friends of Nepal from Information Communication and Technology sectors, world class researchers, aid organizations, and government policy makers. Suresh Chalise, the Ambassador of the government of Nepal to the United States, provided the inaugural address for this function.

The sessions were organized around the issues of rural village connectivity, remote health care (tele-medicine), emergency communication infrastructure, e-governance and productivity enhancement in both manufacturing and service industries. Despite the inspiring successes in developing countries, sobering statistics still reminded the participants of the challenges and opportunities that still remain.

---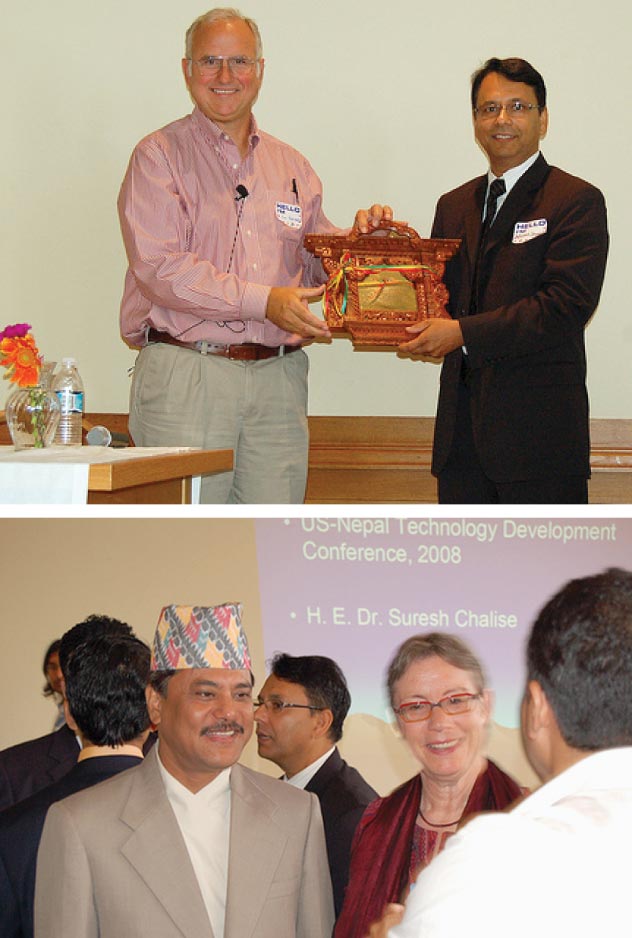 (Top): Cisco Distinguished Engineer Jim Forster (l) accepting an award of recognition from Bineet Sharma, president of Computer Association of Nepal-USA. (Bottom): Nepal's Ambassador to the U.S. Suresh Chalise (in cap) with conference attendees. (Photos by Aashish Jha)
---
Participants included Mahabir Pun who in 2007 was awarded the Ramon Magsaysay Award for community service for his efforts in connecting rural villages using wireless technology. He is credited for connecting 37 rural villages of Nepal with global villages by utilizing discrete equipments in hilltops, trees and roof tops. Currently villagers are enjoying remote education, tele-medicine, e-commerce, and e-governance, thanks to one man.

Jim Forster, distinguished engineer from Cisco Systems, presented some observations on the telecommunication needs of developing regions like Nepal. The City of San Francisco shared approaches to improving disaster telecommunications infrastructures as both San Francisco and Kathmandu share a history of great seismic activity.

This conference also gave the opportunity to highlight some efforts Nepal has recently made towards facilitating ICT growth. There has been substantial progress in formulating Nepal ICT policy to protect foreign investment, copyright laws, and digital signatures. Nepal has also made the business licensing processes easier and has created the High Level Commission on Information Technology as an apex body directly under the chairmanship of prime minister of Nepal. It is designed to provide crucial strategic direction and help formulate appropriate policy responses for the development of ICT sector in the country. HLCIT has been successful in developing a state of the art IT Park 30 km from center of Kathmandu valley.

For various reasons these successes and the opportunities they represent have not gained widespread visibility. CAN-USA believes a key factor to the development of Nepal's economy lies in the development of industries based on ICT. Compared with other traditional industries, these industries can operate even in the environment of a lack of transportation infrastructure such as roads, and thus can circumvent the problems created by the cross-border red tape, or ossified trade and transit treaties. The development in ICT sectors in the long run can stimulate growth in other industries.

Along with the challenges Nepal faces, it also contains tremendous opportunities. It is sandwiched between the two fastest growing economies and two largest markets in the world, namely, India and China. There are significant interests for making Nepal a conduit for trade and transit between these two giants, one of which is booming in service sectors and the other in manufacturing. Nepal is hungry for economic growth. Opportunity is waiting for entrepreneurs to reap the benefits of low-cost, highly educated, English-speaking, and well trained manpower that is abundant in Nepal. One can go to Nepal with a blueprint of a business plan and start a high tech company in state-of-the-art Kavre ICT Business Park within months.

The U.S.-Nepal Technology Development Conference just concluded is a key example of how CAN-USA can assist in bridging the digital divide between Nepal and the developed world. It was an organized approach to utilize the scholarship that is available in the broader American community. Many of the participants in the conference (speakers as well as attendees) have had many different interactions and interfacing with Nepal and other regions of the world facing similar concerns. However this was the first organized effort in the United States to bring the experiences of experts in applying their effort towards Nepal.

CAN-USA seeks to utilize the scholarship, skills, and talents of all South-Asian-American communities as well as all American communities to achieve tangible and meaningful development goals in Nepal. It is possible for CAN-USA to do this because of its affiliation with responsible organizations, government offices and aid organizations in Nepal.

It is not necessary to be a Nepali or even South Asian to be a member of CAN-USA or support its efforts and donation is not only a means to have a substantial impact towards these efforts, ideas and innovative thinking can have a much more profound impact than dollars alone. CAN-USA is happy to receive ideas that can be worked together to produce meaningful results. Please visit CAN-USA website and consider becoming a member (www.can-usa.org).

Together we CAN develop!

---
Bineet Sharma is president of Computer Association of Nepal-USA. He is co-founder of OnTick, LLC which provides technical analysis tools for financial markets.