RECIPE:
Northern Snack: Khasta Kachori


Kachoris are a delicious snack that have a good shelf life, popular all over North India. Chef Sanjay Patel shows you how to make it.
---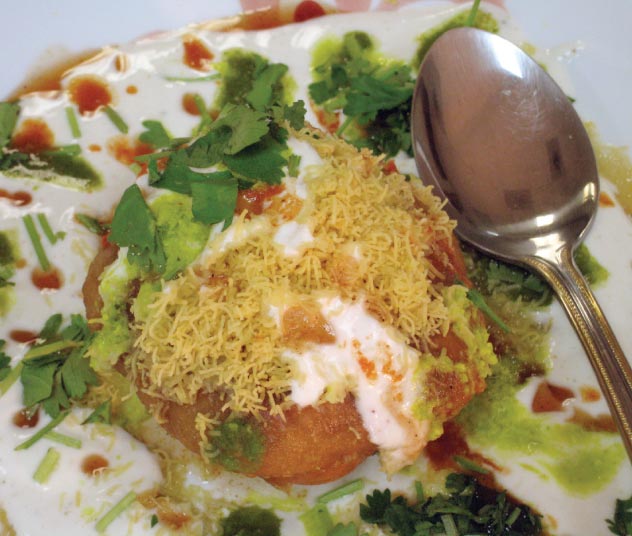 (Above): Pasta Delight [SILICONEER photo]

---
Ingredients

For dough

4 cups plain flour

1cup warm ghee

1tsp salt

Fairly warm water


For stuffing

6 tbsp gram flour

2 tsp saunf (fennel)

2 tsp kalonji (caraway)

1 tsp cumin seeds

2 tsp whole coriander seed

1 tsp red chilli powder

2 tsp amchur powder

2 tsp garam masala

Salt to taste


For serving:

1 cup cooked sprouted moong

Curd from 1 quart of milk

1 tsp cumin powder

½ cup fresh chopped cilantro


For chutney:

½ lb dates

2 ½ oz tamarind

3 ½ oz jaggery (unrefined
sugar)

Salt to taste

Red chilli powder (a pinch)

Cumin powder (a pinch)


Oil for deep frying

Method:

For the Kachories:

Sieve plain flour with salt. Add ghee and mix well. Add warm water to make dough. Knead well. Keep aside for 10 min. Divide the dough into 24 equal parts.

Heat 3 tbsp oil in the vessel, fry gram flour on a very slow flame until it becomes light brown.

Add all spices and mix well. Roll each portion of dough into a small puri.

Take one puri, fill with 1 tsp. spices and make kachori. Press well, again roll and deep fry on a very slow flame until it becomes light brown. Repeat the same procedure for all other kachories

Cool store the kachories in an airtight tin.

For the Sweet Chutney:

Remove seeds from tamarind and dates. Wash and add 1 cup of water and cook in the pressure cooker. Leave it to cool. Blend in a liquidizer and strain. Add salt, chilli powder, cumin seed powder and mix well.

Serves: 6
Prep. time: 45 minutes

---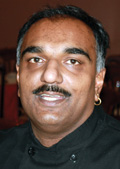 Sanjay Patel has a degree from the Culinary Institute in Birmingham, U.K., and is certified in food and hygiene. He was named 1996 Chef of the Year by Quality Cuisine, U.K. Patel is executive chef at Milan restaurant in Milpitas, Calif.

---