SOCIAL WORK:
Goodbye, Polio: Rotary Fundraiser


The Rotary Club of Cupertino is hosting a fundraising concert headlined by flutist Hariprasad Chaurasia to support its global polio eradication program, writes Mahesh Nihalani.
---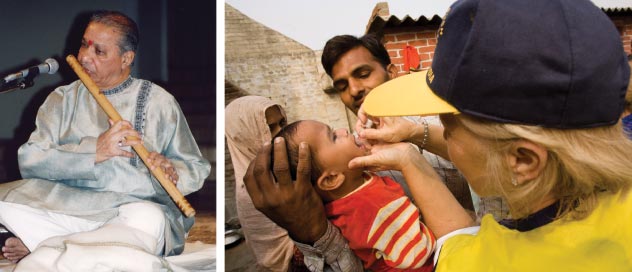 (Above, left): Flutist Hariprasad Chaurasia.
(Above, right):A Rotary volunteer administers a polio vaccine to a child. [Rotary International photo]
---
Did you know that more than 10 million children will be paralyzed in the next 40 years if the world fails to eradicate polio?

Only four countries are left with a trace of this crippling disease...India is one of them.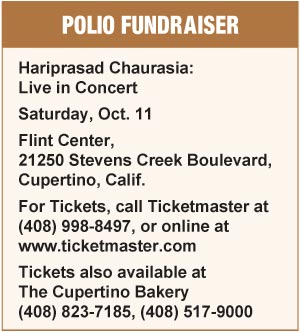 After 20 years of hard work, Rotary and its partners are on the brink of eradicating this tenacious disease, but a strong push is needed now to root it out once and for all.

It is a window of opportunity of Historic proportions. Rotary's US$ 100 million Challenge.

To ensure that we are doing our part, the Rotary Club of Cupertino, is hosting a charity fund raiser event presenting the flutist Pandit Hariprasad Chaurasia and the famous Bay Area sitarist Pandit Habib Khan.

PolioPlus Program

Polio Plus, the most ambitious program in Rotary's history, is the volunteer arm of the global partnership dedicated to eradicating polio. For more than 20 years, Rotary has led the private sector in the global effort to rid the world of this crippling disease. Today, PolioPlus and its role in the initiative is recognized worldwide as a model of public-private cooperation in pursuit of a humanitarian goal.

According to former UN Secretary-General Kofi Annan, "Rotary's PolioPlus program is a shining example of the achievements made possible by cooperation between the United Nations and nongovernmental organizations."

Since Polio Plus began in 1985, Rotary's vast network of 1.2 million members has contributed money, volunteer time, and networking expertise to the polio eradication effort.

Rotary's financial contributions to the global polio eradication effort will reach nearly US$650 million by the time the world is certified polio-free.

Rotary's leadership, beginning in 1985, inspired the World Health Assembly to pass a resolution to eradicate polio, which paved the way for the formation of the Global Polio Eradication Initiative in 1988.

Thousands of Rotarians around the world have volunteered during National Immunization Days to immunize children.

The PolioPlus program helps Rotary fund operational costs, such as transportation, vaccine delivery, social mobilization, and training of health workers, and support surveillance activities.

Rotarians work to encourage both donor and polio-affected governments to commit the political and financial resources needed to eradicate polio.

What Exactly is Polio?

A crippling and potentially fatal infectious disease, polio (poliomyelitis) still strikes children mainly under the age of five in countries in Asia, Africa, and the Middle East.

Polio can cause paralysis and sometimes death. Because there is no cure for polio, the best protection is prevention. For as little as 60 cents worth of vaccine, a child can be protected against this crippling disease for life.

It can cause paralysis within hours, and polio paralysis is almost always irreversible.

In the most severe cases, polio attacks the motor neurons of the brain stem, causing breathing difficulty or even death.

Historically, polio has been the world's greatest cause of disability.

If polio isn't eradicated, the world will continue to live under the threat of the disease. More than 10 million children will be paralyzed in the next 40 years if the world fails to capitalize on its $4 billion global investment in eradication.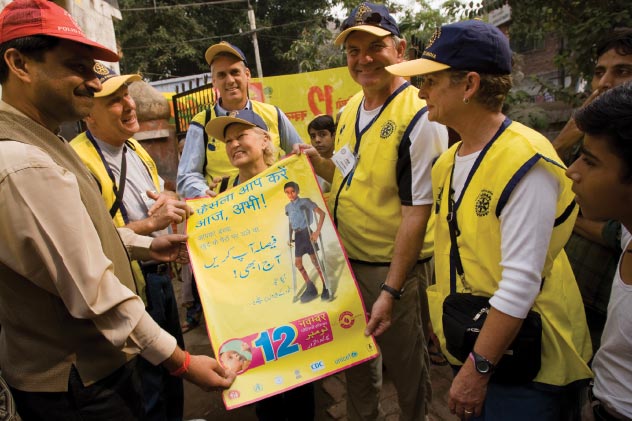 (Above): Rotary Polio Plus volunteers setting up a booth. [Rotary International photo]
---
Polio in India

The World Health Organization and the union health ministry were optimistic about curbing the polio virus. But as the year 2007 drew to an end, India continued to be the hotbed of polio with 590 cases as against 676 cases in 2006.

The government will continue to battle the disease with increased focus on Uttar Pradesh and Bihar as both the states represent 95 percent of the cases.

"If the situation in Bihar and Uttar Pradesh can improve then we will have a different picture of polio," according to Indian federal Health Minister Anbumani Ramadoss.