BOLLYWOOD | Film Review:
Boys' Laugh Riot: Delhi Belly


Directed by: Abhinay Deo
Produced by: Aamir Khan, Kiran Rao, Ronnie Screwvala and Jim Furgele
Written by: Akshat Verma
Starring: Imran Khan, Kunaal Roy Kapur, Vir Das, Poorna Jagannathan, Shenaz Treasurywala, Vijay Raaz.
Music: Ram Sampath
Rating: **** (Superior)

---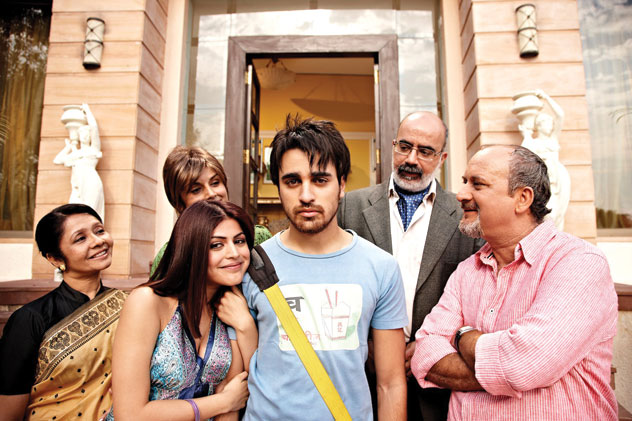 (Above): Imran Khan with his family outside the home of his would-be in-laws in scene from "Delhi Belly."

---
Delhi Belly is a totally unique film from Bollywood.

This comedy-venture draws its zingy flavor of 'now' culture of Delhi from the authentic by-lanes of the national capital where it has been shot and the language used is also of the young and purely colloquial, primarily English with liberal sprinklings of Hindi all over.

The story is about three young professionals and roommates living in a dirty, dusty and polluted lower middle class neighborhood of Delhi and in as disorganized and unkempt a fashion as any set of strugglers would.

This 'normal life' of Tashi Dorjee Lahtoo (Imran Khan), Nitin Beri (Kunal Roy Kapur) and Arup (Vir Das), is disrupted when a package comes into their lives. They are totally unaware of the contents of this parcel (filled with precious diamonds).

Short of time, Tashi's girlfriend Sonia (Shenaz Treasurywala), who is an air hostess and is asked by a passenger to deliver this package to a certain address, hands it to Tashi to courier it.

Tashi passes on the task to Nitin, who in turn asks Arup to do the errand as he suffers from a sudden bout of 'Delhi Belly.' In doing so, Nitin also asks Arup to drop off another package to the doctor's clinic.

---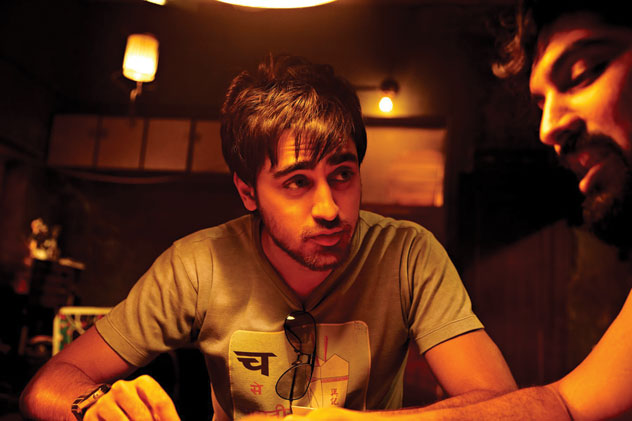 (Above): Imran Khan in "Delhi Belly."
---
And now the mix up. Arup delivers the packages, but in doing so, he unknowingly flips their locations.

What follows is a pandemonium of commotion, laughter, wits and all other masala that Bollywood is all too well known for.

The movie is an out and out boys' filmy laugh riot and the three actors along with the entire star cast could not have been more spectacular.

What is commendable is that the movie is boldly executed and the sheer talent of the young actors imbues a sense of believability.

Delhi Belly remains a Delhi film at heart, characters are also inherently 'desi Dilli' boys and the film has a youth appeal taking after the real mannerisms, thought process, language and movement in real settings but loaded with amusing adventure.

No mushy nothings but verbal litanies. No picture-perfect scenic locales but dusty, polluted and crowded gullies (lanes) of Delhi's underbelly is what you get.

---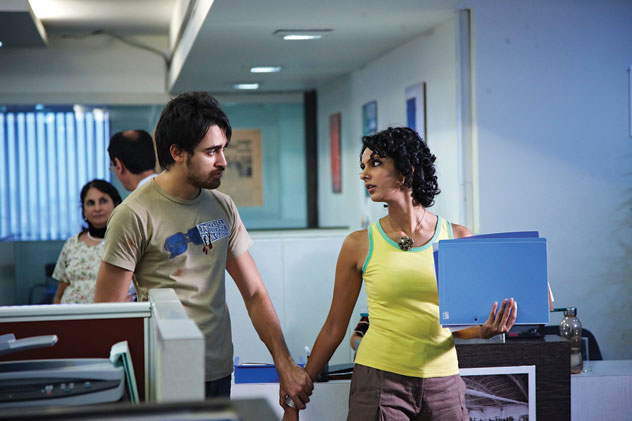 (Above): Imran Khan and Poorna Jagannathan in "Delhi Belly."
---
In no way does the film appear scandalous despite the verbal expletives and potty-mouthed liners that appear integral to the storyline.

For the first time in the history of Aamir Khan Productions a film offers something of a genre of comedy that is something different from his earlier family oriented flicks.

This venture is raucous, brilliant, of super quality, tightly knit, colorful and gutsy, and has potential to become a precursor to many more films to follow on lines of unfamiliar genres and comic styles.

The negatives of Delhi Belly are that it may not be for the elderly, orthodox or for a family outing for the unabashed scatology language and toilet humor that go overboard at times.

However, it must be mentioned that the film does not in any way corrupt sensibilities or morals of the viewer.

The humor is sardonic and quite intelligent, way aside from the 'witty-dollops' churned out at the B-Town factory of late.

---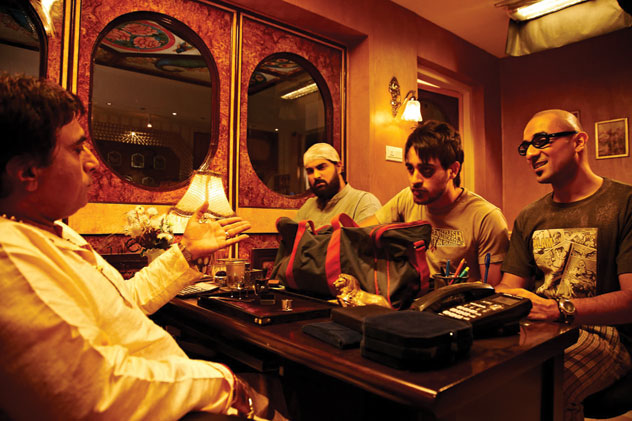 (Above): Kunaal Roy Kapur, Imran Khan and Vir Das strike a deal with a jeweler in "Delhi Belly."
---
Talking about the musical score "I Hate You" is a hilarious attempt by Aamir Khan who croons and gyrates like a good item boy in this trailer item song.

Other numbers: "Luv Ka Tadka" is quite hummable, "Switty Switty Switty" is a fun rap, "DK Bose" is innovative and can be marked as the "anthem of the youth" and "Jaa Chudail" is hugely energetic and hilarious.

All said Delhi Belly is a movie for the strong bellied (read hearted), so go for a 'wide grin' and a 'fun-filled comic adventure.'