COVER STORY: Independence Day Special Issue
Mango of Salem: C. Rajagopalachari


Siliconeer presents a special essay in remembrance of those responsible for India's independence. This year, we take you through the life of a freedom fighter-turned politician Chakravarti Rajagopalachari, whose ways and means are followed even today, though the outcome may not be to his liking.

---
---
Early Life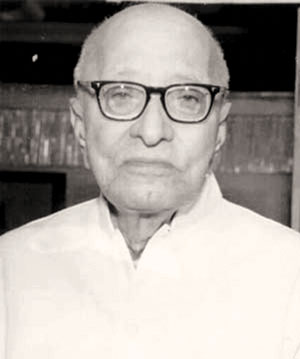 Chakravarti Rajagopalachari fondly known as 'Rajaji' was born to Chakravarti Venkatarya Iyengar, December 10, 1878 into a devout Iyengar family of Thorapalli in the Madras Presidency.

A weak and sickly child, Rajaji was a constant worry to his parents who feared that he might not live long. He was admitted to a village school in Thorapalli and at the age of five he moved with his family to Hosur where Rajaji enrolled at Hosur Government School. He passed his matriculation examinations in 1891 and graduated in arts from Central College, Bangalore in 1894. Rajaji also studied law at the Presidency College, Madras, from where he graduated in 1897.

Independence Movement

Rajaji's interest in public affairs and politics began when he commenced his legal practice in Salem in 1900. Inspired by independence activist Bal Gangadhar Tilak, in the early 1900s, he later became a member of the Salem municipality in 1911.

In 1917, Rajaji was elected Chairman of the municipality and served from 1917 to 1919 during which time he was responsible for the election of the first Dalit member of the Salem municipality. Rajaji joined the Indian National Congress and participated as a delegate in the 1906 Calcutta session and the 1907 Surat session.

In 1917, he defended independence activist P. Varadarajulu Naidu against charges of sedition and two years later participated in the agitations against the Rowlatt Act.

Rajaji was a close friend of the founder of Swadeshi Steam Navigation Company V.O. Chidambaram Pillai as well as greatly admired by independence activists Annie Besant and C. Vijayaraghavachariar.

After Mahatma Gandhi joined the Indian independence movement in 1919, Rajaji became one of his followers. He participated in the Non-Cooperation movement and gave up his law practice. In 1921, he was elected to the Congress Working Committee and served as the General Secretary of the party before making his first major breakthrough as a leader during the 1922 Indian National Congress session at Gaya when he strongly opposed collaboration with the colonial administration and participation in the diarchial legislatures established by the Government of India Act 1919. While Gandhi was in prison, Rajaji led the group of "No-Changers", individuals against contesting elections for the Imperial Legislative Council and other provincial legislative councils, in opposition to the "Pro-changers" who advocated council entry.

When the Indian National Congress split in 1923, Rajaji was a member of the Civil Disobedience Enquiry Committee. He was also involved in the Vaikom Satyagraha movement against untouchability during 1924–25.

In the early 1930s, Rajaji emerged as one of the major leaders of the Tamil Nadu Congress. When Mahatma Gandhi organized the Dandi march in 1930, Rajaji broke the salt laws at Vedaranyam near Nagapattinam along with independence activist Sardar Vedaratnam and was afterwards imprisoned by the British.

Following enactment of the Government of India Act in 1935, Rajaji was instrumental in getting the Indian National Congress to participate in the 1937 general elections.

---

(Above): Rajagopalachari with Mahatma Gandhi (l) during the Gandhi Jinnah talks.
---
Madras Presidency

The Indian National Congress first came to power in the Madras Presidency following the 1937 election and except for a six year period when Madras was under the Governor's direct rule, ruled the Presidency until India became independent on August 15, 1947. Rajaji was the first premier of the Madras Presidency from the Congress party.

He issued the Temple Entry Authorization and Indemnity Act 1939, under which restrictions were removed on Dalits and Shanars entering Hindu temples. In the same year, the Meenakshi temple at Madurai also opened to the Dalits and Shanars. Rajaji also issued the Agricultural Debt Relief Act in March 1938 to ease the burden of debt on the province's peasant population.

He also introduced prohibition, along with a sales tax to compensate for the loss of government revenue that resulted from the ban on alcohol. As a result of the revenue decline resulting from prohibition the Provincial Government shut down hundreds of government-run primary schools, a decision that Rajaji's political opponents alleged deprived many low-caste and Dalit students of their education. His opponents also attributed casteist motives to his government's implementation of Gandhi's Nai Talim scheme into the education system.

Rajaji's tenure as chief minister is largely remembered for the compulsory introduction of Hindi in educational institutions, which made him highly unpopular. This measure sparked off widespread anti-Hindi protests, which led to violence in some places and the jailing of over 1,200 men, women and children who took part in the unrest.

Despite its numerous shortcomings, Madras under Rajaji was still considered by political historians as the best administered province in British India.

Second World War

At the outbreak of the Second World War Rajaji immediately resigned as Premier in protest at the declaration of war by the Viceroy of India. Rajaji was arrested in December 1940 and sentenced to one-year in prison. However, subsequently, Rajaji differed in opposition to the British war effort. He also opposed the Quit India Movement and instead advocated dialogue with the British. He reasoned that passivity and neutrality would be harmful to India's interests at a time when the country was threatened with invasion. He also advocated dialogue with the Muslim League, which was demanding the partition of India. He subsequently resigned from the party and the assembly following differences over resolutions passed by the Madras Congress legislative party and disagreements with the leader of the Madras provincial Congress K. Kamaraj.

During the last years of the war, Rajaji was instrumental in initiating negotiations between Gandhi and Jinnah. In 1944, he proposed a solution to the Indian Constitutional tangle. In the same year, he proposed an "absolute majority" threshold of 55 per cent when deciding whether a district should become part of India or Pakistan, triggering a huge controversy among nationalists.

---
(Right): Premier Rajagopalachari at a rally in Ootacamund, 1939.
---
Governor of West Bengal

When India attained independence on August 15, 1947, the British province of Bengal was divided into two, with West Bengal becoming part of India and East Bengal part of Pakistan.

Supported by Jawaharlal Nehru, Rajaji was appointed first governor of West Bengal.

Disliked by Bengalis for his criticism of Bengali revolutionary Subhash Chandra Bose during the 1938 Tripuri Congress session Rajaji's appointment was unsuccessfully opposed by Subhash's brother Sarat Chandra Bose. During his tenure as governor, Rajaji's priorities were to deal with refugees and to bring peace and stability in the aftermath of the Calcutta riots. He declared his commitment to neutrality and justice at a meeting of Muslim businessmen: "Whatever may be my defects or lapses, let me assure you that I shall never disfigure my life with any deliberate acts of injustice to any community whatsoever." Rajaji was also strongly opposed to proposals to include areas from Bihar and Orissa as part of the province of West Bengal.

Despite the general attitude of the Bengalis, Rajaji was highly regarded and respected by Chief Minister Prafulla Chandra Ghosh and the state cabinet.

Governor-General of India

From November 10, 1947 to November 24, 1947, Rajaji served as acting Governor-General of India in the absence of the Governor-General Lord Mountbatten, who was on leave in England to attend the marriage of Princess Elizabeth to Mountbatten's nephew Prince Philip. Rajaji led a very simple life in the viceregal palace, washing his own clothes and polishing his own shoes.

Impressed with his abilities, Mountbatten made Rajaji his second choice to succeed him after Vallabhbhai Patel, when he was to leave India in June 1948. Rajaji was eventually chosen as the Governor-General when Nehru disagreed with Mountbatten's first choice, as did Patel himself.

He was initially hesitant but accepted when Nehru wrote to him, "I hope you will not disappoint us. We want you to help us in many ways. The burden on some of us is more than we can carry."

Rajaji then served as Governor-General of India from June 1948 until January 26, 1950, and was not only the last Governor-General of India, but the only Indian national ever to hold the office.

In Nehru's Cabinet

At Nehru's invitation, in 1950 Rajaji joined the Union Cabinet as minister without portfolio where he served as a buffer between Nehru and Home Minister Sardar Patel and on occasion offered to mediate between the two. Following Patel's death, Rajaji was finally made home affairs minister and went on to serve for nearly 10 months. As had his predecessor, he warned Nehru about the expansionist designs of China and expressed regret over the Tibet problem.

He also expressed concern over demands for new linguistically-based states, arguing that they would generate differences amongst the people.

By the end of 1951, the differences between Nehru and Rajaji came to the fore. While Nehru perceived the Hindu Mahasabha to be the greatest threat to the nascent republic, Rajaji held the opinion that the Communists posed the greatest danger. He also adamantly opposed Nehru's decision to commute the death sentences passed on those involved in the Telengana uprising and his strong pro-Soviet leanings. Tired of being persistently overuled by Nehru with regard to critical decisions, Rajaji submitted his resignation on the "grounds of ill-health" and returned to Madras.

---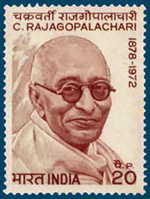 (Right): A postage stamp to commemorate C. Rajagopalachari.
---
Madras State

In the 1952 Madras elections, the Indian National Congress was reduced to a minority in the state assembly with a coalition led by the Communist Party of India winning most of the seats.

Though he did not participate, Madras governor Sri Prakasa appointed Rajaji chief minister after nominating him to the Madras Legislative Council without consulting either Prime Minister Nehru or the ministers in the Madras state cabinet.

Rajaji was then able to prove that he had a majority in the assembly by luring MLAs from opposition parties to join the Indian National Congress. Nehru was furious and wrote to Rajaji saying, "the one thing we must avoid giving is the impression that we stick to office and we want to keep others out at all costs." Rajaji, however, refused to contest a by-election and remained an unelected member of the legislative council.

During Rajaji's tenure as chief minister, a powerful movement for a separate Andhra State, comprising the Telugu-speaking districts of the Madras State, gained a foothold.

On October 19, 1952, an Indian independence activist and social worker from Madras, Potti Sriramulu embarked on a hunger strike reiterating the demands of the separatists and calling for the inclusion of Madras city within the proposed state. Rajaji remained unmoved by Sriramulu's action and refused to intervene. After fasting for days, Sriramulu eventually died on December 15, 1952, triggering riots in Madras city and the Telugu-speaking districts of the state.

Initially, both Rajaji and Prime Minister Nehru were against the creation of linguistically demarcated states but as the law and order situation in the state deteriorated, both were forced to accept the demands.

Andhra State was created on October 1, 1953 from the Telugu-speaking districts of Madras, with its capital at Kurnool.

In 1952 Rajaji put an end to sugar rationing and followed up by abolishing control over food supplies. He also introduced measures to regulate the running of universities in the state.

In 1953, he introduced a new education scheme known as the "Modified System of Elementary Education", which reduced schooling for elementary school students to three hours per day. The plan came in for sharp criticism and evoked strong protests from the Dravidian parties.

The rising unpopularity of his government forced K. Kamaraj to withdraw his support for Rajaji and in 1954, he resigned as president of the Madras Legislature Congress Party.

Literary Pursuits

Following his resignation as chief minister, Rajaji took a temporary break from active politics and instead devoted his time to literary pursuits. He wrote a Tamil re-telling of the Sanskrit epic Ramayana. The episodes were later published as Chakravarthi Thirumagan, a book which won Rajaji the 1958 Sahitya Academy award in Tamil language.

On Republic Day 1955, Rajaji was honored with India's highest civilian award, the Bharat Ratna.

Rajaji was the founder of the Salem Literary Society and regularly participated in its meetings. In 1922, he published Siraiyil Tavam (Meditation in Jail), a day-to-day account of his first imprisonment by the British from December 21, 1921 to March 20, 1922.

Rajaji started the Tamil Scientific Terms Society in 1916, a group that coined new words in Tamil for terms connected to botany, chemistry, physics, astronomy and mathematics. At about the same time, he called for Tamil to be introduced as the medium of instruction in schools.

He was also one of the founders of the Bharatiya Vidya Bhavan, an organization dedicated to the promotion of education and Indian culture.

In 1959 the Bharatiya Vidya Bhavan published his book: 'Hinduism: Doctrine and Way of Life.'

Legacy

In 1954, during U.S. Vice President Richard Nixon's nineteen country Asia tour, he was lectured by Rajaji on the consuming emotional quality of nuclear weapons. The pair discussed spiritual life, particularly reincarnation and predestination. Nixon wrote three pages of notes recording Rajaji's words, claiming in his memoirs thirty-six years later that the afternoon "had such a dramatic effect on me that I used many of his thoughts in my speeches over the next several years."

While on a tour to the United States as a member of the Gandhi Peace Foundation delegation, in September 1962, Rajaji visited President John F. Kennedy at the White House. Rajaji warned Kennedy of the dangers of embarking on an arms race, even one which the U.S. could win. At the end of the meeting Kennedy remarked "This meeting had the most civilizing influence on me. Seldom have I heard a case presented with such precision, clarity and elegance of language.

Rajaji's condition deteriorated in the following years. In his last year, he frequently lost consciousness and he died on December 25, 1972 at the age of 94.

On his death, condolences poured in from all corners of the country.

Richard Casey, Governor of Bengal from 1944 to 1946, regarded Rajaji as the wisest man in India. The best possible tribute to Rajaji was from Mahatma Gandhi who referred to him as the "keeper of my conscience."

Source: wikipedia.org