Environment Friendly:
New Townhomes: Sunnyvale Fair Oaks Collection


Environmentally advanced new home community offers homebuyers cost savings through solar power, pioneering sales and marketing efficiencies.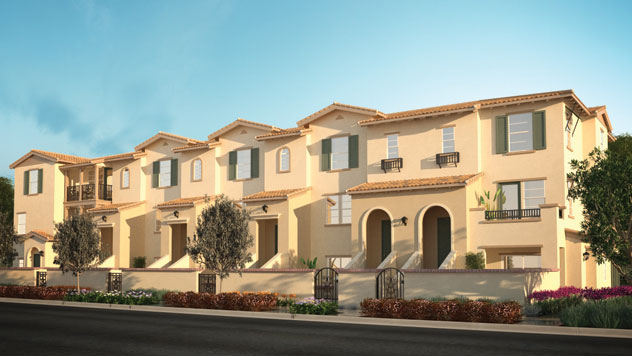 Urban homebuilder City Ventures is now selling the Sunnyvale Fair Oaks Collection, a vibrant neighborhood of new homes conveniently located in Sunnyvale. The Sunnyvale Fair Oaks Collection will feature pioneering sustainable technologies and is projected to receive LEED Gold Certification from the U.S. Green Building Council (USGBC).

At 650 E. Taylor Ave, the Sunnyvale Fair Oaks Collection is on a tranquil, residential street in the heart of Silicon Valley. Homeowners can enjoy a central Bay Area location ideal for work, recreation and a vibrant lifestyle. Commuters will find all major South Bay freeways, shopping and dining just minutes away. The Sunnyvale Fair Oaks Collection features Spanish-style three- and four-bedroom townhomes in up to 1,877 square feet. Unique to many of the homes are private, walled front yards, allowing homeowners to garden or entertain in their own personal outdoor space.
Prices start in the mid $500,000s.

"Sunnyvale is one of the most vibrant and desirable communities, not just in Silicon Valley, but anywhere," said Herb Gardner, LEED AP, president of City Ventures' Homebuilding Division. "Responding to local demand, the Sunnyvale Fair Oaks Collection will offer attractive homes built to the highest green standards, which help keep living costs down. We're bringing to market new homes that are attainable, in a community which people will be proud to call home."

As part of City Ventures' internal mandate to ultimately build only "net-zero" energy communities, a substantial portion of the power required to operate each home will be generated onsite through solar power. All homes will exceed state-mandated Title 24 environmental efficiency standards by at least 30%.

"Energy-efficient homes are good for a green earth and a green wallet," said Gardner. "City Ventures builds the most energy-efficient new homes on the market, and these technologies come standard in each of our homes: There is no extra fee to achieve low energy use. Our homes reduce your impact on the environment, making you less dependent on energy companies, while living in comfort and style."

The Sunnyvale Fair Oaks Collection is located at 650 E. Taylor Ave. Sunnyvale, CA 94085. For more information or to register for updates on home buying opportunities, please visit www.FairOaksCollection.com or call (925) 876-9985.