SUBCONTINENT:
Unnatural Heat: Gays Under Attack in India


By calling gays "unnatural," India's health minister has labeled a community wrong, much like alcoholics or drug addicts, writes Siddharth Srivastava.

---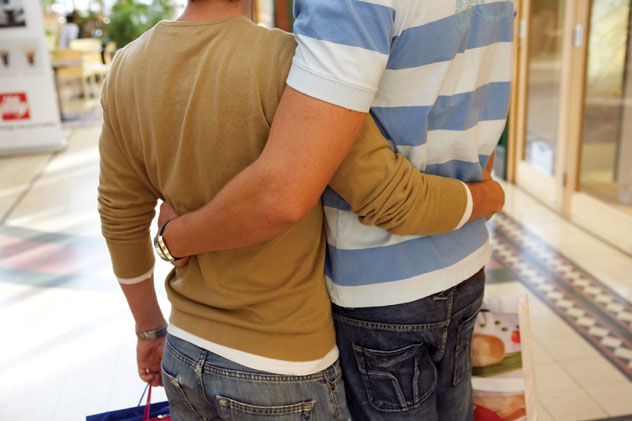 ---
Deep prejudices continue to exist about gays in India, a pre-dominantly conservative country and society.

Two years after a Delhi High Court ruling decriminalized homosexuality in India by revoking Section 377 of the Indian Penal Code, federal health minister Gulam Nabi Azad recently said that being gay was "unnatural and not good for India" and "a disease which has come from other countries," though the minister later backtracked to say that he did not consider being gay a disease.

The remarks have divided opinions in the country with gay activists deriding Azad while others siding with the minister's views that "men having sex with men (or women with women) is against nature's laws of pro-creation and Indian ethos."

Azad's view echoes yoga guru Baba Ramdev who has been leading an anti-corruption crusade in the country over the last few weeks. In the past, Ramdev, who has millions of followers in India and abroad has said that "homosexuality is a disease" that angered many.

Gay activists argue that viewing sex in purely functional terms of procreation and non-reproductive sexual activity as "against the order of nature" does not conform to modern relationships, social and emotional needs. There is ample historical evidence in Indian literature and art of homosexual relationships, the proponents say.

Indeed, irrespective of one's views on the matter, the fact remains that the lesbian, gay, bisexual and transgender (LGBT) community in India has been growing and expressing in various forums, including the media.

Gay parades on globally appointed dates find resonance here as well with hundreds and thousands openly flaunting their sexuality. According to estimates, gays in India could number anywhere between 10 to 100 million.

It is in this context that India's Section 377 was seen as an outdated law formulated during the British Raj in the mid-19th century based on Judeo-Christian moral and ethical standards that same sex carnal intercourse violated the laws of nature.

Following protests, Indian statutes have been amended, even if belatedly, in keeping with the growing and more assertive profile of gays. In July 2009, in a landmark judgment, Section 377 that criminalized gay sex among consenting adult individuals in private, was revoked.
"This is in line with their fundamental rights of life, liberty and equality as guaranteed in the Constitution of India," the Delhi High Court said. "Criminalizing consensual sexual acts of adults in private violates of Articles 21, 14 and 15 of the Constitution (that relate to individual liberty)."

---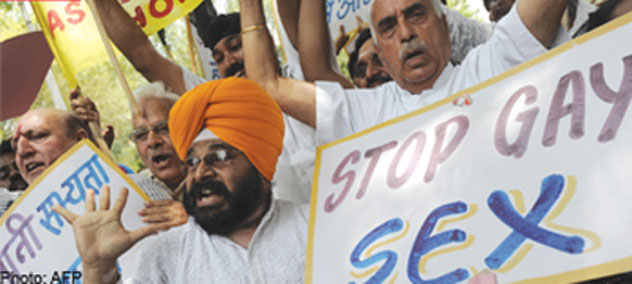 (Above): A protest against Gay couples in India.
---
Indeed, India has done well to remove legally sanctioned discrimination against gays imbued in Section 377 that also served as a weapon by vested police personnel to force detentions, inquisitions, extortion, forced sex, hush money and reinforce discriminatory beliefs towards sexual minorities.

Gays saw themselves vulnerable and open to exploitation by the state machinery. The community was thus driven underground thereby also negatively affecting HIV/AIDS prevention efforts that such communities are particularly vulnerable to.

Section 377 can now be rightly used in instances of grave crimes such as child sexual assault and abuse while preventing unnecessary persecution of the LGBT people in India.

Homosexuality in India has been correctly defined not as a crime or a disease but a sexual orientation that can also be studied as subjects under psychiatry.

Yet, change and acceptance, whether social, economic or cultural can never be easy in multifarious society such as India where kissing couples in public can be frowned upon and girls wearing jeans or skirts or drinking in a pub, invites ire of fringe elements.

It is also true that mainstream Indian population is a tolerant encompassing society that can sustain multiple points of views and ways of life.

However, like religion and faith, it is best to keep matters of personal sexual predilection a matter of personal choice and space.

By calling gays as "unnatural," India's health minister has labeled a community wrong, much like alcoholics or drug addicts. It is best that matters of consensual sex be discussed at levels of individual family and friends. And surely, being gay should not invite punishment under any law.

The state, along with judicial and legislative bodies, should regulate issues at a macro level, based on feedbacks, existential questions and new realities that could include same sex marriage.

At the same time one cannot overlook that the overwhelming majority of people in India and globally are heterosexual. To be one such, should not be construed as being anti-gay, just as being happily married does not mean that one is intolerant to those who may be divorced.