TRAVEL:
Family Reunion: Trip to Minnesota


A mall with a theme park built right inside, a family reunion with members from all over the U.S. and Canada, the combined excitement made this a memorable trip, writes Ras H. Siddiqui.

---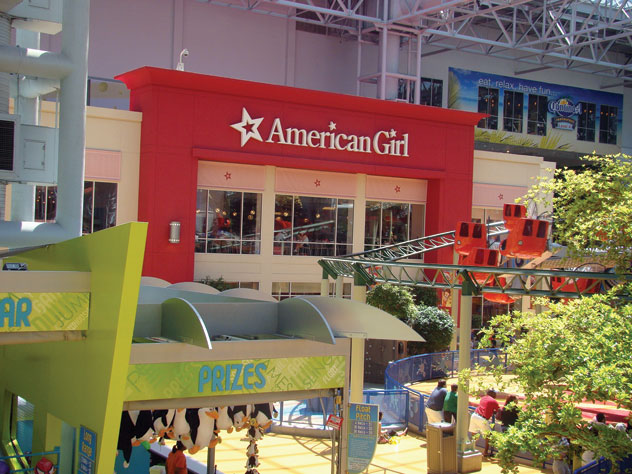 (Above): The American Girl store was a major hit with the kids.
---
While America celebrated its birthday on July 4, 2011, my wife Farah's family participated in a milestone of its own during the same weekend in Minneapolis, Minnesota. The result was an "All American" family reunion with over 60 members participating from California, Minnesota, Texas and the area around Washington DC, along with some members from Toronto, Canada.

We gathered first in Edina then Bloomington and Golden Valley, with a grand finale in Brooklyn Center, all in the Minneapolis area. The reason why the "All American" is in quotations here is mainly due to the handful of Canadians present and that this family also has a strong South Asian and German connection.

One can guess that July 4th weekend was chosen both for convenience of a having that extra day off and to further instill in us the American identity that the family has acquired since Naseem "Nick" Ansari, now the family patriarch reached the United States in 1956.

---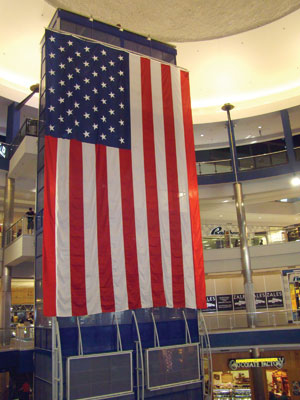 (Right): A giant U.S. Flag at the Mall of America.
---
Nick was then a student from South Asia. He soon met a young lady named Dorit, a visitor from Germany at the YMCA's International Club in Chicago. And the rest as they say is history. They decided to move to Minneapolis area in the mid sixties where they set up and ran an abrasives business and raised a family with two children, Rebecca and Omar.

Nick is Farah's last surviving uncle, so when this family reunion was announced, our Granite Bay bunch just had to go. Farah and I along with our three girls flew out of Sacramento Airport on the afternoon of July 1 and arrived in Minneapolis just before midnight (local time) the same day. We quickly reached the hotel in Edina where the family had reserved and occupied several rooms.

Breakfast, the following morning was both a festive as well as emotional as sentiments ran high with the meeting of some who had not seen each other in decades. People tried to catch up, and also took the opportunity to introduce the next generation, our kids, who had never met before and now got to know each other.

After one of the longest running breakfasts in memory, we had a couple of hours to ourselves during what was one of those warm and humid summer days in Minneapolis.

That afternoon, it was off to an open house at Nick and Dorit's beautiful home in Golden Valley followed by dressing in our formal best for some picture taking.

The evening activity was reserved for us at Poor Richards Commonhouse (banquet hall) near the hotel where we, the majority South Asians with the help of DJ Ray (Riaz) gave the locals at the main restaurant a run for their money with our own Bhangra music and dance.

---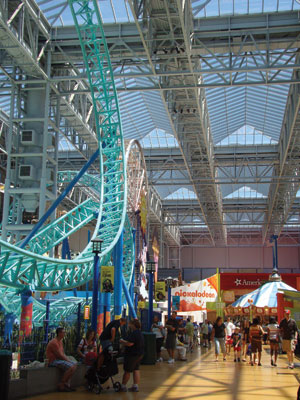 (Right): The Mall of America in Minnesota has a theme park built inside it.
---
From little kids to the seniors, everybody in the family got in on the action as some of us consumed our first Walleye (Minnesota's state fish) dish here. Our colorful attire and dance moves generated quite a bit of curiosity as many regular customers at Poor Richards peeked into the banquet hall to find out what the excitement was all about.

The following day we asked the question, where does one head to in the Twin Cities (let us not forget Saint Paul) under these warm and humid conditions? To the Mall Of America of course, this time just to scope it out for a visit later. We certainly found out that the place is huge and that it required much more time than we had that day. But the kids were already quite impressed and said that we just had to return. And one cannot blame them because, how many shopping malls do we have in this country with a whole theme park inside? When you are the largest mall (we won't get technical here), it is not only possible but it has become a reality. And with stores galore including one our youngest had been tracking for a quite a while all of us looked forward to returning.

Our time at the mall was shortened because the official family reunion party was up next that afternoon. It was a Shamiana Daawat (Tent Party) on July 3 at the location of the old abrasives factory that Nick and Dorit once operated in Brooklyn Center. That old factory is now the home of Surly Brewing Company, a local micro-brewing success story owned and operated by Omar Ansari. The late lunch, complete with north Indian-Pakistani cuisine, a portable Tandoor oven on site baking fresh Naan bread upon request and other fine food along with plenty of refreshments, balloons, face painting and henna really created a festive environment.

The food added to the nostalgia as the Ansari clan looked back at its roots in South Asia and forward to where they lived today. Proud as everyone was of the Surly brewery and Omar's success, the fact that almost all of the family is made up of teetotalers did not escape notice. Besides an excellent pictorial pass down of family history carefully put together by Dorit, the clan got a detailed tour of the brewery conducted by Omar.

---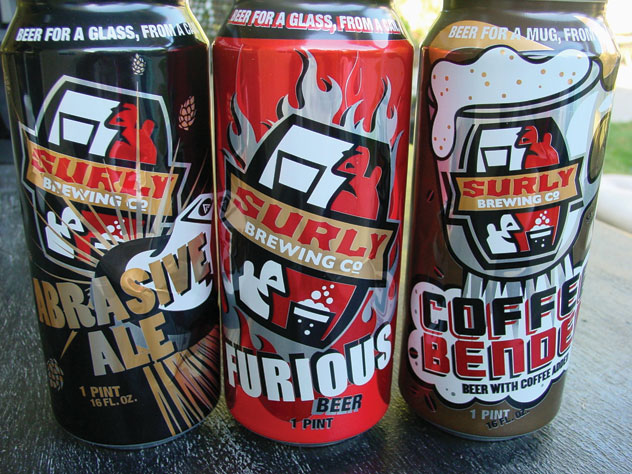 (Above): Surly beer cans.
---
Now we know how "Abrasive Ale" got its name (named after the old family abrasives factory) and how long it takes to make various Surly products including the "Coffee Bender" and the ever popular "Furious." The reunion event went late into the night during which many family stories were shared by Naseem.

The next day, July 4, with the family reunion now over, we quickly checked out of the hotel and headed back to the mall to spend a few hours there till we headed to the airport for our evening flight home.

---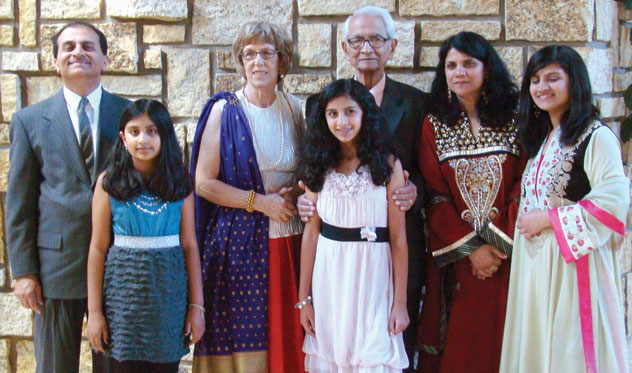 (Above): The Siddiquis with Naseem and Dorit Ansari (center).
---
On a side note the Minneapolis-St. Paul area is huge and delightfully green at this time of the year. There is a great deal to do here with many lakes to explore for those who like the outdoors. And for those that like to shop, a word of caution is necessary. In spite of its budget difficulties, there is no sales tax on textiles-clothing in the State of Minnesota, so if you are taking shoppers to the mall, especially if they are from California, they will be tempted to buy more stuff and impact your budget!

Spending part of the 4th of July at the Mall of America was fun as we were greeted by a huge Stars and Stripes at one entrance. It appeared that people from various other parts of the world were there too. The centerpiece of the mall is the indoor "Nickelodeon Universe" theme park complete with rides, roller coasters and it's "We Want Your Scream" theme (and there was plenty of screaming going on).  It also has a LEGO play area and a large aquarium to visit for a fee.

---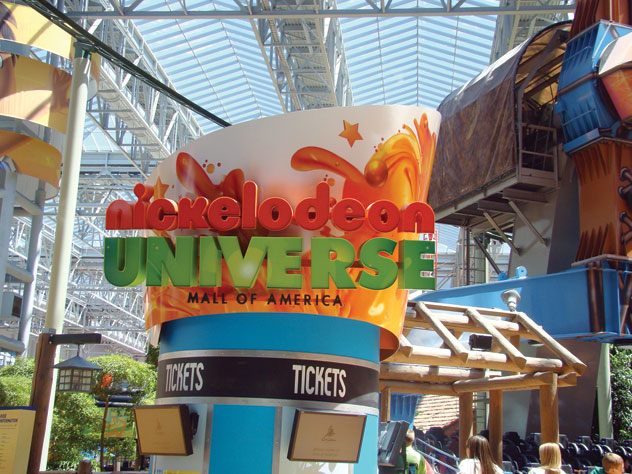 (Above): The Nickelodeon Universe theme park ticket counter. This theme park was right inside the mall.
---
The girls were in the mood for shopping and I wanted to try another Walleye dish before we left. So we had lunch at the Twin City Grill where the Fish Fry was excellent. Our youngest had wanted to visit the American Girl doll store, complete with its doll hair salon, bistro and clothing line. It is quite a specialty outlet which fell right in with the day's theme, because we did buy American.

We flew back into Sacramento via Phoenix at close to 10:00 pm just in time to see fireworks going off at different locations in the valley from the landing plane. It was quite an appropriate ending for our Independence Day weekend trip.

---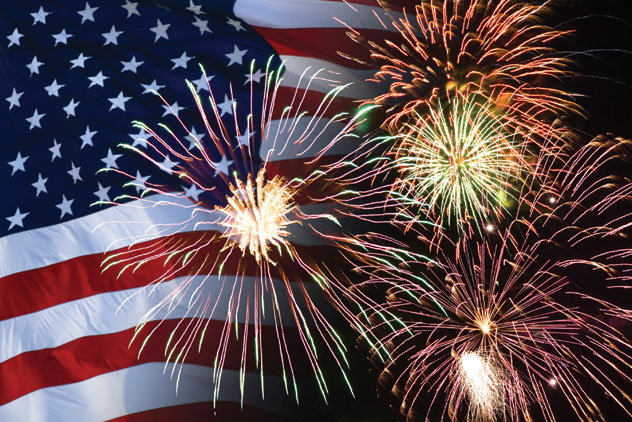 (Above): Fireworks with the U.S. flag in background.
---
| | |
| --- | --- |
| | Ras Hafiz Siddiqui is a South Asian American writer who lives in Sacramento, Calif. |