SUBCONTINENT:
Outsourced Terror: Mumbai Bombings


The latest Mumbai bombings carried out using IEDs, where even a pressure cooker can be turned into an explosive device, are most difficult to track simply because the attack can be broken down to multiple operatives and even outsourced to local criminals. The police needs to be more vigilant and less hungry for bribe, writes Siddharth Srivastava.

---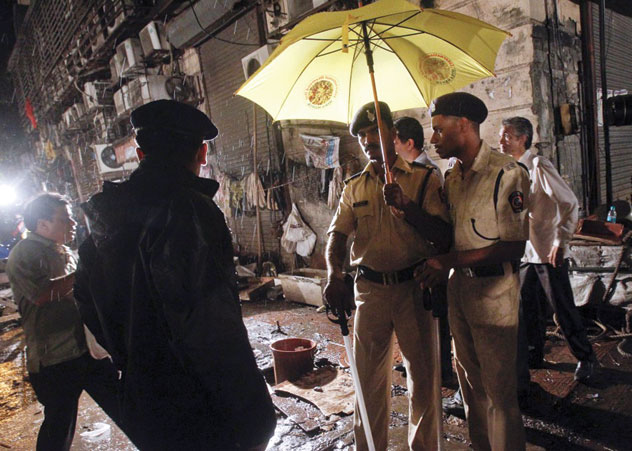 (Above): Policemen at the one of the sites of blasts that rocked Mumbai, July 13.
---
The latest Mumbai serial bomb blasts on July 13, that killed 19 and injured nearly 150 people, many seriously, again highlighted the vulnerability of the city and the rest of the country to repeated terror attacks.

Speaking to this correspondent, senior officials involved closely with India's internal intelligence and security, who spoke on condition of anonymity, said the three blasts that used Improvised Explosive Devices (IEDs) are of the genre that are the most difficult to track, pre-empt and investigate.

In the past, IED's have been used during multiple instances in Delhi, Varanasi, Guwahati, Mumbai, Hyderabad, in Gujarat, to telling effect in terms of big loss of human life and those dismembered by shrapnel, especially in crowded areas such as market places, local trains, places of worship.

Terrorists have also used RDX that can bring down buildings. However, such sophisticated explosives are not easy to assemble and have to be smuggled into the country and can be tracked as happened in the aftermath of the 1993 Mumbai blasts.

Suicide bombers and attackers can be killed or caught as happened with the Delhi Parliament attack in 2011 and the November 2008 Mumbai attacks when armed terrorists infiltrated via boats from Pakistan and stormed elite hotels located alongside the Arabian Sea in which 174 people were killed and over 300 injured.

Satellite or mobile phones, interrogation of Mumbai attacker Ajmal Kasab reveal a lot to investigators.

Jehadi strikes carried out using IEDs, wherein a pressure cooker can be turned into an explosive device, are most difficult to track simply because the attack can be broken down to multiple operatives and even "outsourced" to local criminals, in exchange of money, say the officials.

Thus, a city such as Mumbai that is a hub of several criminal activities indulged by the land grabbing mafia, smugglers of gold, arms and drugs and prostitution becomes especially vulnerable. Proximity to Pakistan makes it that much more at risk.

---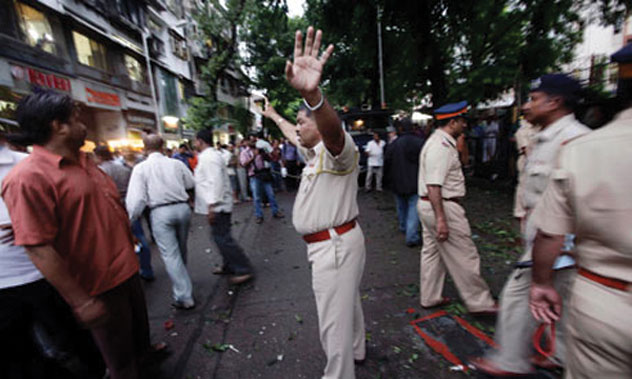 (Above): A policeman in Mumbai at the site of the bombing on July 13.
---
Organized or even petty criminal gangs can be roped in to orchestrate the attacks in return for handsome remuneration, with even the assembly of IEDs and the actual detonation being carried out by different gangs that could be Hindus or Muslims, say the officials.

Over 200 commuters were killed in the space of few minutes when IEDs went off in packed Mumbai local trains in July 2006.

It is already well documented that the 1993 Mumbai attacks happened as several layers of the severely corrupted police, customs and coast guard, let past cargo that contained the deadly RDX, via established and known smuggling routes. Most of the officials did not even know about the contents of the cache that they cleared.

The only solution to effectively take on the "low intensity high impact (in terms of loss of life)" terror attacks is to galvanize local policing that India sorely lacks, say the officials adding that India's security agencies may be protecting obvious targets such as airports and political leaders quite well, they have failed to protect the country's large population against terror attacks.

It is in this context that the statement of Home Minister P Chidambaram that there was absence of any intelligence inputs about an impending attack in Mumbai last week, hits the nail on the head, say the officials.

According to them, the issue goes beyond training hundreds and thousands of commandos that guard the country's numerous important persons and installations, to the local police post that remains woefully inadequate in terms of manpower, technical expertise, training, funds and direction.

It is the local police station that needs to be the ears, eyes and hub of information gathering from multiple sources including private individuals and businesses in the area.

"The one big reason that America has not faced any terror attacks post 2001 is that the obvious security checks at airports and biometric profiles of individuals have been accompanied by a huge revamp of local intelligence gathering and policing. This has meant that the mass of people into regular crime has gone down. In India it has been the other way round with local policing lax, politicized and increasingly corrupt, while criminal gangs proliferate and prosper."

Change in India can come about only if there is a political will and consensus in the matter. "So long as the local police remain a tool of political misuse and appropriation, it will be very difficult to check terror attacks in the country."

There are suggestions to make Mumbai, a huge metropolis run by the Maharashtra state government, into a separate political entity like Delhi to pin responsibility.

Delhi that was hived into a separate state has had some success in thwarting terror attacks. The city was last hit by serial IED blasts in October 2005 that killed 55 people.

India has had success in tackling terrorism in Punjab in the 80s wherein it was the state police under the dynamic K.P.S. Gill that succeeded to eliminate militancy for good.

As the blame game continues, the officials must at least ensure that the existing bodies in the country that monitor criminal activities, work towards what they are expected. They should be working with all other agencies with one focus, to eradicate terrorism, and prevent future attacks on India.

It is their weakness at times that makes India all the more vulnerable to terror attacks.

The country needs to get its act right against "outsourced jehadi terror," apart from ramping up at all levels to guard against the equally venomous suicide and sophisticated bomb attacks.