BOLLYWOOD | Film Review
Soulful Love Story: Mausam


Writer & Director: Pankaj Kapoor
Producers: Sheetal Vinod Talwar, Sunil A. Lulla
Cast: Shahid Kapoor, Sonam Kapoor, Supriya Pathak, Anupam Kher, Manoj Pahwa and Aditi Sharma.
Music: Pritam Chakraborty
Rating: **1/2 (Mediocre)

---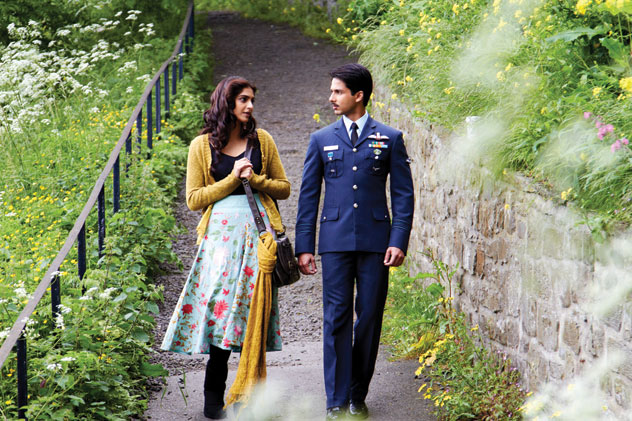 (Above): Sonam and Shahid Kapoor in "Mausam."

---
With its fair share of controversies erupting in the run up to its release Mausam has succeeded in drawing the crowd for its catchy music and nostalgic portrayal of the pristine countryside of Punjab as the initial locale of a passionate, innocent and nubile love story.

The lead pair of Sonam and Shahid has been seen for the first time together and the story revolves around these two protagonists who fall in love as adolescents but keep getting separated due to various fateful circumstances, and finally come together after a decade of agonizing wait.

The sweet and mischievous intimacy between Aayat and Harry may be what numerous Hindi films have been all about but this time the story reveals a character that has been consciously kept away from the tinge of regular B-Town masala.

In the backdrop of romance is the violent happenings of contemporary Indian history: events of 1984-85 Punjab militancy, Kashmir terrorism, 1992 Babri Masjid demolition, 1999 Kargil War, 9/11, 2002 post-Godhra riots and Mumbai strikes – all of which have an indelible impression on the psyche of the protagonists and the course of their lives.

---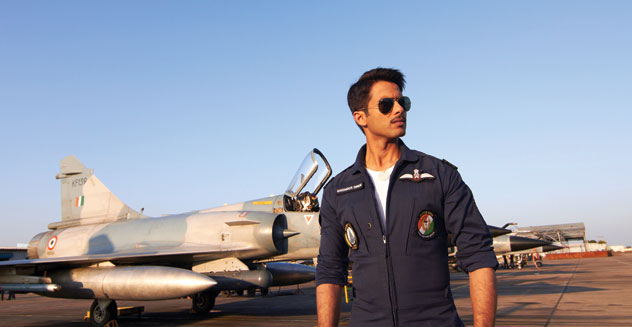 (Above): Shahid Kapoor in "Mausam."

---
That Harry is a Hindu Punjabi and Aayat a Kashmiri Muslim is no hindrance to this totally fictional love account that throws light on the slow and intense embers of love that are sustained despite periods of endless separation.

Fate does play its tricks for throwing the protagonists together at several instances and yet again pulling them apart.

A 'long-long' and ambitious film, it is sure to have a good measure of success albeit for a short time.

The fact that it is Pankaj Kapoor's maiden directorial attempt, expectations from the film are many notches higher than what would have been from other beginners.

This is where the disappointment sets in a characteristically slow and sluggish manner, the pace at which the movie hobbles forward.

Though Kapoor has stuck to a treatment that is remarkably uncomplicated, the long winding, endless and crowded episodes shot at too many locations (Punjab, Nepal, Edinburgh, Switzerland, Gwalior, Agra and ND Studios) mars the essence that could have been drawn from this intimate and soul touching affair.

---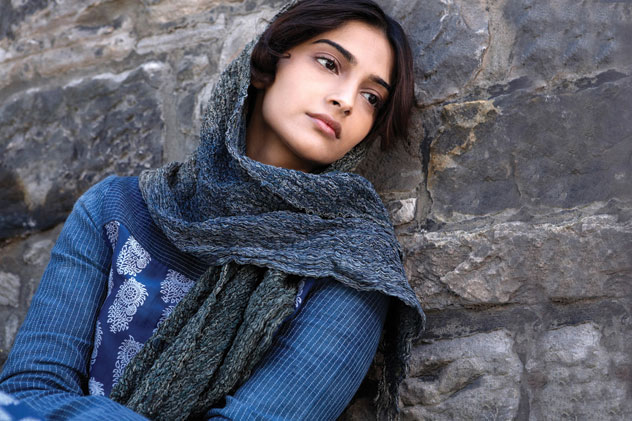 (Above): Sonam Kapoor in "Mausam."

---
The beginning is delightful and predictable, and focuses on the budding love of the pair, and the second half gets extremely tedious, irritatingly flawed and crowded.

The narrative may seem to stand good till the end but then one is left wishing for a quick end to all that is 'happening' around.

What could have improved is the passivity reflected in the approach of the two main leads shown to prefer reticence and pining rather than delivering in their personal matters.

Yet Kapoor can be commended for bringing in his style and sensitivity to skillfully keep the genre romantic even as the story is dotted with onslaughts of communal upheavals.

Whether it be the artistic portrayal of new naïve love, coy glances and teenage dialogue gushing at the instance of first love or the depiction of a gone-by decade, walk through 'gullies' of Punjab's villages, simmering, smoking 'chullahs', conglomeration of homes with adjoining rooftops, the presentation is authentic, nostalgic, unique and artful.

---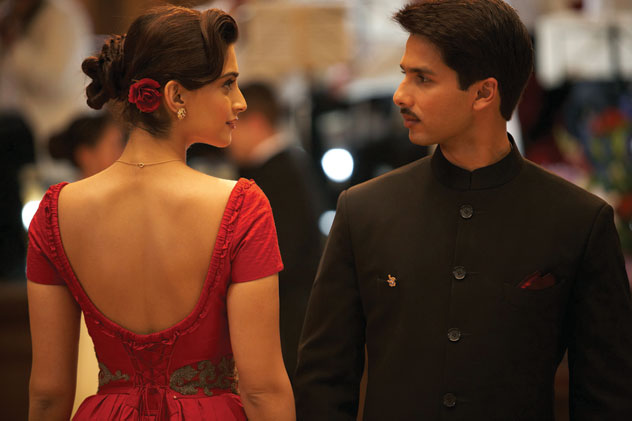 (Above): Sonam and Shahid Kapoor in "Mausam."

---
The character of Harry is confidently essayed by Shahid, who flits confidently from the role of a carefree teenager to one who is madly in love, to a brave and courageous fighter pilot fighting for his country and then a man yearning for his love.

It would not be wrong to say that he is the saving grace and infuses an immense degree of freshness to the role of a fighter pilot that has been so popularly played by yester-heroes.

Real life dad, Pankaj has successfully captured his son Shahid's talent of enacting a range of characters and also raw energy.

Another feather to Shahid's cap is his dancing talent and he glides well to the top domain of this craft.

The part of the female fragile character is finely played by Sonam, though her characterization of the mature womanly part lacks a wee bit.

Cinematographer Binod Pradhan's work is worth applauding though the stunts by Sham Kaushal are average.

On another note, the music is simply fantastic.

Mostly situational, Pritam's music has an excellent and long lasting soundtrack.

---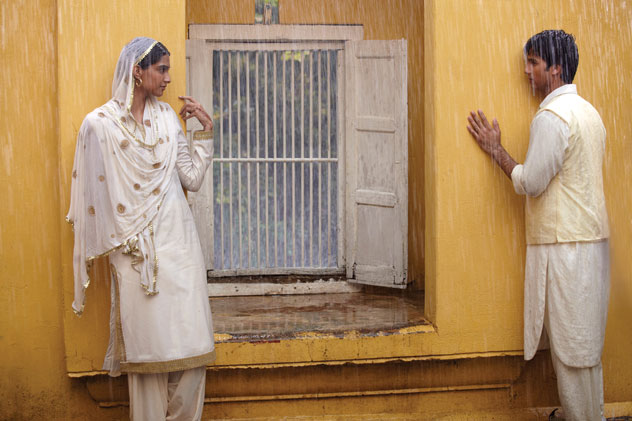 (Above): Sonam and Shahid Kapoor in "Mausam."

---
The familiar appeal of Jab We Met and Kismat Konnection (Shahid's earlier movies) resonates through the movie's musical scores that are brilliantly adorned by Irshad Kamil's lyrics.

Rabba Main Toh Mar Gaya Oye is aptly sung by mellifluous Shahid Mallya and there is another rendition of this composition by none other than the famous Sufi singer Rahat Fateh Ali Khan.

Sajh Dhaj Ke (a lively and funny Punjabi song) has been done in a club mix and desi mix, and then as a bhangra track by Mika and is sure to become a hot favorite in the upcoming festive season.

Ik Tu Hi Tu Hi by Hans Raj Hans, initial background song Poore Se Zara Sa Kam Hainv by Rashid Khan, Mallo Malli by Tochi Raina and a different version of it by Lehmber Hussainpuri and Hard Kaur, and the perky Aag Lage Us Aaag Ko by Karsan Das Sagathia ensure a true Indian catchy and soulful feast.

In an era where 'fast' is the mantra and 'shrewdness' is the dictum the unbelievable love story has all the attractions and heart-warming Indian ethos that find space in the forgotten corners of a human heart.