LITERATURE:
Remembering Faiz: Salima Hashmi in Berkeley


The Center for South Asia Studies at UC Berkeley recently held a talk on legendary Urdu poet Faiz. Speaking at the occasion was his daughter Salima Hashmi. Ras H. Siddiqui reports.

---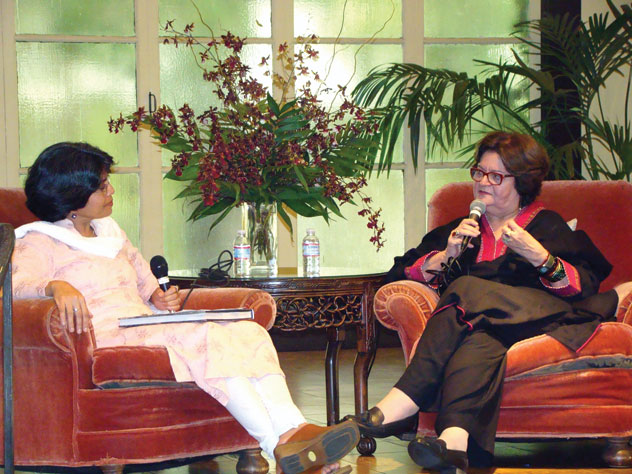 (Above): Saba Mahmood and Salima Hashmi (r). [Photo: Ras H. Siddiqui]

---
When an email arrived from the Center for South Asia Studies at UC Berkeley to help spread word within the community about a September 25 weekend program on the legendary Urdu poet Faiz Ahmed Faiz featuring his daughter Salima Hashmi, what did come to this scribe's mind was hall capacity. That thought has some history behind it because south-Asia related events held at the campus sometimes don't draw large audiences. I can recall one famous Pakistani scholar who gave a talk in front of just seven people, and that number included his wife. But this time the concern was quite the opposite since the draw was Faiz the poet, one with a following that transcends borders and the problem to consider was that the venue might not be big enough!

As expected a very packed hall greeted Salima Hashmi here. She is a scholar, keen observer and critic of art herself, and she proved her knowledge of it while keeping us engaged here on Faiz's ability to inspire artists during his life and several years after his death. Salima, the painter, educator, artist, anti-nuclear weapons activist, one of two daughters of Faiz received a warm welcome at The Bancroft Hotel from members of the faculty, students and some prominent members of the area's Pakistani and Indian community.

---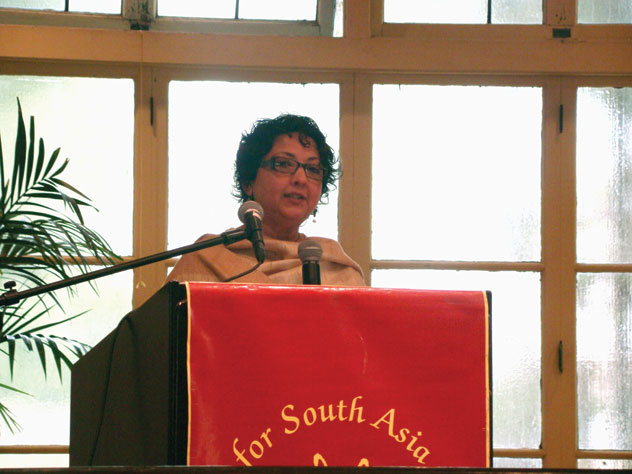 (Above): Raka Ray welcoming the audience. [Photo: Ras H. Siddiqui]

---
A welcome address was presented by Raka Ray, chairperson of the Center for South Asia Studies. She thanked the audience for coming to Berkeley to celebrate the Faiz Centenary. She said that she was pleased and proud to welcome everyone for this triple launch event which included the Urdu initiative, the Pakistan initiative and Guftugu, a series of conversations about Pakistan's culture, history and politics on campus. "It is our good fortune that we begin it all with the great Faiz," she said.

Munis Faruqui, a professor of South and Southeast Asian Studies at UC Berkeley was emcee for the event. He elaborated on the decade long interest in the region at CSAS especially it's highlighting of the Urdu, Pakistan and the south-Asian Muslim experience. He said that the center's 2011 Urdu conference attracted over 600 people. On Faiz, he said that we are continually but not solely inspired by his poetic genius. Dean of Arts and Humanities Antony Cascardi also spoke brief words of encouragement while Qamar Jalil, lecturer in Urdu at Berkeley shared some of his own unique and humorous experiences about meeting Faiz Sahib.

To set the stage, A. Sean Pue, professor of South Asian Literature at Michigan State University spoke next and proceeded to present a comparative analysis on the differing views of Faiz Ahmed Faiz and his contemporary Noon Meem Rashid. Incidentally, Professor Pue is currently writing a book on the latter. A very interesting comparison was made between the two poets by Pue though we know that we have not heard the last of this discussion from the learned professor.

---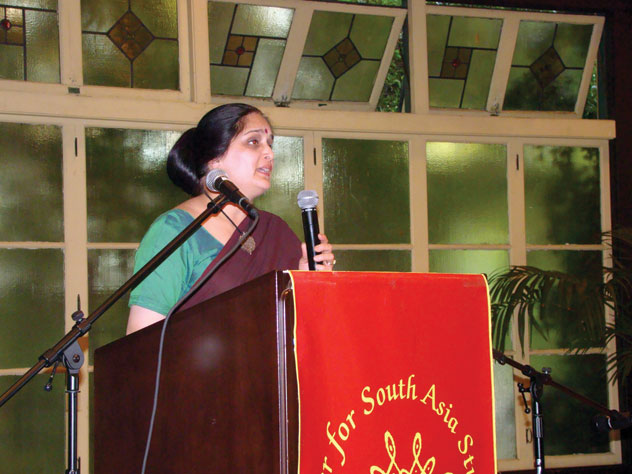 (Above): Nandita Kala Dabral singing "Hum Dikhain Ge." [Photo: Ras H. Siddiqui]

---
And now to the Guftugu (conversation) itself: Saba Mahmood, professor of Anthropology at UC Berkeley while interviewing Hashmi asked her to recall some of the really trying times in Faiz's life. Salima mentioned the Partition of 1947 and the tremendous sadness that seemed to live in their house. "He refused to be jingoistic," she said. Faiz flew from Lahore to Delhi for Mahatma Gandhi's funeral at a time when it was extremely unpopular to do so. Salima especially highlighted the profound sadness of Faiz on losing friends to that murderous period of 1971 that led to the creation of Bangladesh. His visit to Dacca (today's Dhaka) and feeling the new distance created between himself and old friends like painter Zainul Abedin really hurt Faiz. She also spoke of Faiz's exile period in Beirut, Lebanon during some very trying times for that country and his own.

But the conversation was not without its humor. Salima described her father as a pushover whom she and her sister Moneeza would go to for support because her mother Alys kept them in line and ran a very tight ship. She also shared with the gathering how Nobel laureate Pablo Neruda and Faiz once spent some time together on the Black Sea coast and became friends. She recalled that on one occasion after great festivities Neruda recited his poems in Spanish and Faiz Sahib in Urdu and that the two somehow seemed to understand each other perfectly. On another note when someone once asked her mother Alys Faiz, who was English whether she understood her husband's poetry, she replied that she did not."Shayari to nahin samajhti. Shayir jo achchi tarah samajhti hoon" (I may not understand the poetry but I understand the poet all too well!).

The program continued with Faiz Sahib's poetry being recited by Anil Chopra who presented Raqeeb Se followed by Hamida Banu Chopra who presented Sheeshon Ka Maseeha Koi Nahi. Tashie Zaheer presented his own tribute to Faiz, Nazr-e-Faiz that left many in the audience spellbound.

---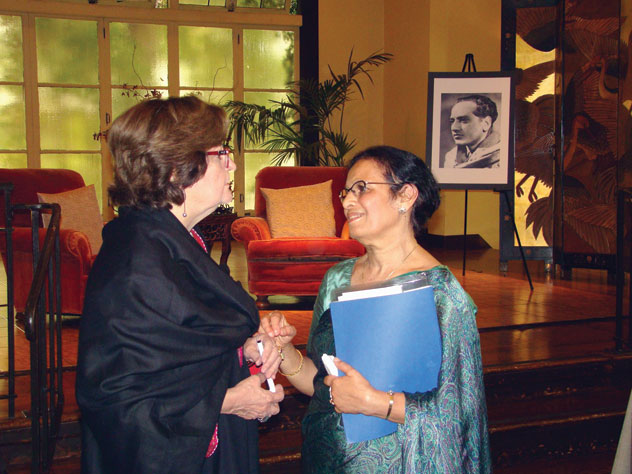 (Above): Salima Hashmi (l) chats with Hamida Banu. [Photo: Ras H. Siddiqui]

---
After a brief interval Salima Hashmi returned to address the audience on the topic of "Faiz and his influence on Art" which highlighted the works of various artists from Pakistan, India and the diaspora. She said that Faiz's connection with the visual arts continued throughout his life and after his death. The great Pakistani impressionist Sadequain was one such artist but many of his works on Faiz had disappeared and she has been unable to locate them.

Salima Hashmi also briefly described the period of artistic rebellion during the Zia dictatorship in Pakistan inspired by Faiz's poems of resistance. Also mentioned were writers Manto and Agha Shahid Ali along with artists including Lubna Agha Shazia Sikandar amongst others, and most recently the work of Imran Qureshi highlighting the continuing suffering of mankind. Salima with her vivid description of these works drove some including Munis Faruqui to tears.

In conclusion and befitting the occasion three singers from the area presented some of Faiz Sahib's greatest poems in verse. Dasht-e-Tanhai was beautifully presented by Anupama Chandratreya. That was followed by a superb "Mujhse Pehli Si Mohabbat Mere Mehboob Na Maang" by Irum Musharraf and last but not least "Hum Dikhain Ge" by Nandita Kala Dabral which produced both goose bumps and old memories of defiance to close the formal program.

To reach an appropriate conclusion here let us revisit a part of a dua by Faiz: "Let's pray that our poisoned today is filled with the sweetness of tomorrow" (translated by the late Khalid Hasan).