COVER STORY
Maharaja: The Splendor of India's Royal Courts


The Asian Art Museum will host the U.S. premiere of 'Maharaja: The Splendor of India's Royal Courts,' Oct. 21. The exhibition, organized by the Victoria and Albert Museum, London, presents nearly 200 important artworks pertaining to the intriguing world of India's rulers over three centuries. Maharaja is accompanied by an extensive schedule of public programming, including a film series, live music and dance performances, artist demonstrations, multimedia and docent led tours, and more. The exhibition is on view through April 8, 2012. Siliconeer presents a curtain raiser.

---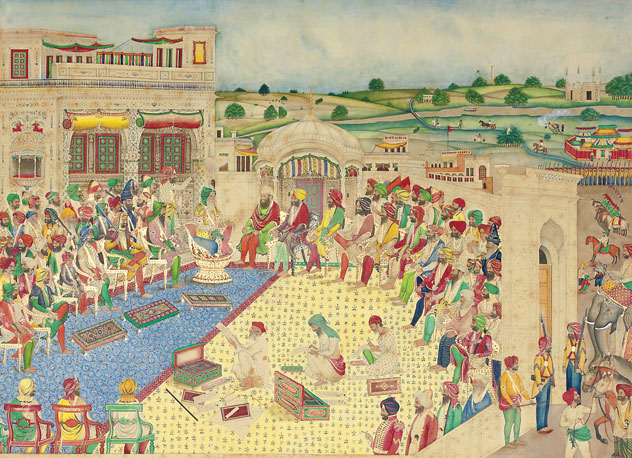 (Above): The court of Ranjit Singh. By Bisham Singh. About 1850. Opaque watercolor on paper. Toor Collection. (Inset, right): Necklace. Cartier Paris, special order, 1928. Reconstructed with some substitute stones in 2002. Platinum, diamonds, yellow zirconia, white zirconias, topazes, synthetic rubies, smoky quartz, citrine. Created for Sir Bhupindra Singh, Maharaja of Patiala.
Nick Welsh, Cartier Collection © Cartier. (Below): Throne. About 1876. Wood, silver, silk brocade. Knebworth House, Hertfordshire (www.knebworthhouse.com).

---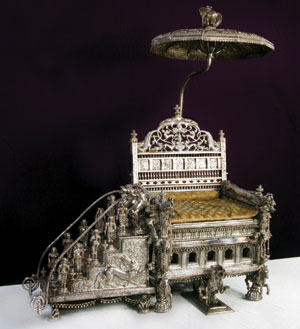 The Asian Art Museum in San Francisco is home to a collection of more than 18,000 Asian art treasures spanning 6,000 years of history. Through rich art experiences, centered on historic and contemporary artworks, the museum unlocks the past for visitors, bringing it to life, while serving as a catalyst for new art, new creativity and new thinking. This October the museum is premiering an exhibition of the intriguing world of India's rulers over three centuries – Maharaja: The Splendor of India's Royal Courts.

From the pomp and circumstance of a royal procession to the inner sanctum of a courtly palace, Maharaja investigates the splendor and magnificence of India's rulers from the 1700s to the mid-20th century, taking visitors on a tour of Indian kingdoms during eras of shifting political powers. Set against a backdrop of the tumultuous changes of the early 18th century through the 1940s, the exhibition brings to life the rich world of India's maharajas, through elaborate jewelry, ornate weaponry, royal costumes, and stunning artworks.

"Maharaja reveals the extraordinary culture of India's kings. It showcases different aspects of royal life through rich and varied objects from India and the West," said Jay Xu, Director of the Asian Art Museum. "With lavish artistry and exquisite craftsmanship, each object in the exhibition tells a story within a broader historical context of royal life and ideals, patronage, alliances, and court culture."

Key artworks in the exhibition include the famed throne once belonging to the Sikh ruler Maharaja Ranjit Singh; elaborately detailed paintings of regal processions; costumes and traditional dress worn by great kings and queens; ceremonial daggers, swords and matchlock guns; and prized photographs by Man Ray, Cecil Beaton, and others. Visitors will discover the Patiala necklace — Cartier's largest single commission in history — and a horse drawn carriage decorated entirely in silver made for the Maharaja of Bhavnagar in 1915, among other stunning highlights.

---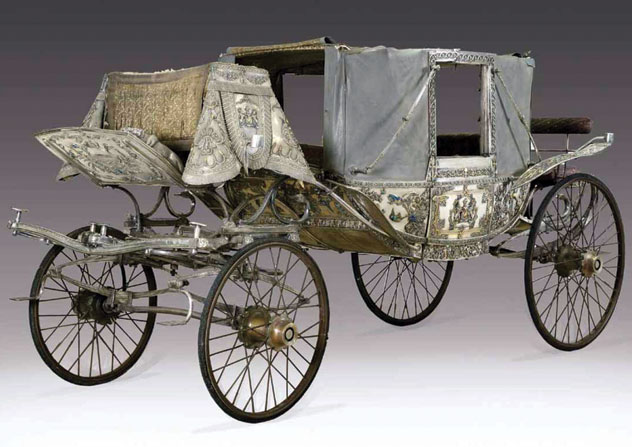 (Above): Silver Carriage made for the Maharaja of Bhavnagar. Fort Coach Factory. 1915. Silver, enamel. Private Collection, Courtesy of Sinai and Sons Ltd, London.

---
The exhibition offers a rare opportunity to view royal treasures gathered from the collections of the Victoria and Albert Museum, British Museum, Qatar Museums Authority, National Gallery of Canada, Virginia Museum of Fine Arts, Cartier, the National Portrait Gallery, London, and numerous private lenders, in addition to works from the Asian Art Museum collections.

Exhibition Presentation and Themes

The word maharaja evokes for many a vision of splendor and magnificence. The image of a turbaned and bejeweled ruler with absolute authority and immense wealth is evocative, but it fails to do justice to his role in the cultural and political history of India. This exhibition re-examines the world of the maharajas and their extraordinarily rich culture.

Qamar Adamjee, the Asian Art Musuem's organizing curator for San Francisco's presentation of Maharaja, explains that the exhibition follows two principal themes: the first explores the secular and religious responsibilities of India's kings. The second traces the changing worlds of maharajas as their status transformed from independent rulers to "native princes" under British colonial rule.

---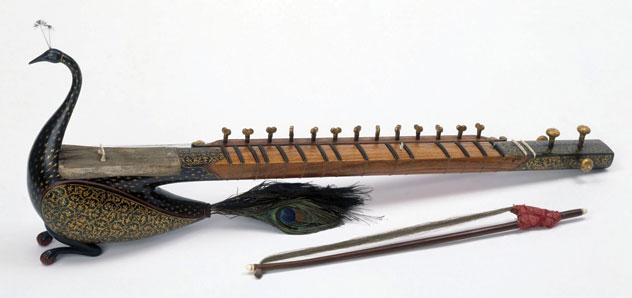 (Above): Peacock shaped instrument. 1800-1900. Wood, peacock feathers. © V&A Images/ Victoria and Albert Museum, London.

---
Maharaja begins with an introduction to the concept of royal duty (rajadharma) in Indian kingship. From military strength to administrative and diplomatic skills, maharajas were expected to adhere to a strict set of behaviors. Maharaja then conducts viewers into a throne room, the focal point of royal authority, in its ceremonial splendor. Visitors encounter ceremonial regalia, turban ornaments, swords, and other symbols of Indian royalty.

The exhibition continues with a view toward the world of Indian royal spectacle, where the maharaja reigns as a public symbol of authority. Paintings and other objects offer glimpses of grand public celebrations and religious festivities, such as the 19th-century painting of the procession of Ram Singh II of Kota, with the lavishly dressed and jeweled ruler riding atop a richly adorned elephant. Also on display are paintings, armor and weaponry.

Maharaja delves into the history and shifting power of kingships, dynasties, and empires over three centuries. The British East India Company, a trading organization founded in 1600, was attracted to India for the lucrative trade in spices, textiles, and other resources. Over the years, its powers extended beyond mercantile activities into political control. By the 1840s, many Indian regional rulers fell under British control; however, the regional powers featured in this section of the exhibition maintained their independent authority and a vibrant court culture for generations. Many of the objects can be associated directly with important Indian rulers of the time.

---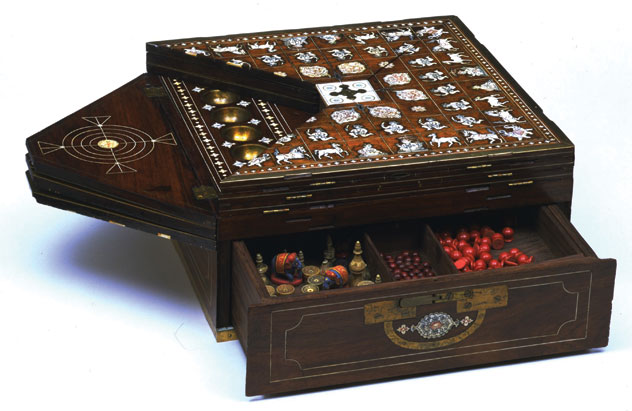 (Above): Games box. 1825-1850. Rosewood, ivory, brass. © V&A Images/ Victoria and Albert Museum, London.

---
Asian Art Musuem
200 Larkin St., San Francisco, CA 94102
(415) 581-3500 • www.asianart.org
Hours: Open Tues - Sun. 10 am - 5 pm. From January through October, hours are extended on Thursdays until 9:00 pm.
Admission for Maharaja: The Splendor of India's Royal Courts: FREE for museum members, $17 for adults, $13 for seniors (65+), $12 for college students with ID, $7 for youth 13–17, and FREE for children 12 and under.


Over time, Indians resisted the increasingly powerful and oppressive Company through regional uprisings, and in 1857, a full-scale rebellion broke out. The conflict ended in 1858 when the British government, with the help of powerful Indian allies, gained command, bringing an end to both the Mughal dynasty and the East India Company. British rule in India was known as the Raj ("rule"), and as the largest, wealthiest, and most productive colony of Britain's empire, India became known as "the jewel in the crown." Under British rule, the maharajas performed the rites and rituals of kingship in a manner that fused traditional royal duty with Western models of governance. Today, many maharajas remain potent symbols of regional identity and continue to exercise their royal duty, acting as guardians of the remarkable culture of India's royal courts.

For a contemporary response to the objects and themes in this exhibition, the Asian Art Museum has commissioned artist Sanjay Patel to create fantastical works of art especially for this showing. Patel's further engagement with the museum collection and the Maharaja exhibition will be explored in a display on view in the Tateuchi Gallery on the museum's second floor beginning November 11, 2011. On the third floor, significant works of Indian courtly art from private collections and the museum's own holdings give an expanded view of this complex historical period.