EDITORIAL: Splendor of the Maharaja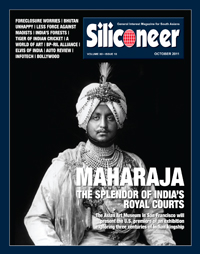 The Asian Art Museum will host the U.S. premiere of 'Maharaja: The Splendor of India's Royal Courts,' Oct. 21. The exhibition, organized by the Victoria and Albert Museum, London, presents nearly 200 important artworks pertaining to the intriguing world of India's rulers over three centuries.

Maharaja is accompanied by an extensive schedule of public programming, including a film series, live music and dance performances, artist demonstrations, multimedia and docent led tours, and more.

The exhibition is on view through April 8, 2012. Siliconeer brings you a curtain raiser to this majestic exhibit as a kick-off to the festive season.

The mortgage crisis created by mortgage lenders, banks, and financial institutions through the use of subprime lending and mortgage-backed securities is uncovering new possible remedies for the homeowners to save their homes from foreclosure and trustee's sales.

Ravdeep Bhasin takes a look at the culprits that caused this mortgage meltdown, and suggests ways for troubled homeowners to get out of their mortgage mess.

The 250 million forest-dependent people in India have been victims of major historical injustices such as continuation of repressive colonial forest laws and are amongst the poorest in the country.

To empower forest communities, India has passed two historic laws in the last 15 years.

However, their effects on the ground have been disappointing. While all of this sounds desultory, a number of "transformations" have been taking place recently, which if harnessed properly, could significantly better the lives of these communities, write Varad Pande and Pranjul Bhandari.

Bhutan, a small Himalayan kingdom nation, sandwiched between India and China, is a country concerned about changing weather patterns that threaten regional water supplies and the Kingdoms plans to harness the energy of the Himalayan snowmelt.

India is also unhappy about being clubbed with China on emission levels, as its contribution is far below the major emitters, the U.S. and China. New Delhi has been quoting global carbon emission figures over the last century, in which the U.S. leads, followed by the EU and China.

There is no doubt that the climate change battle of 'responsibility' and 'accountability' will only get bitter in the days to come, leading up to expiry of the Kyoto Protocol, when emerging economies will be under pressure to accept binding emission cuts that are politically difficult to commit.

Smaller nations such as Bhutan and Maldives could end up being the biggest losers even as bigger countries try and negotiate their standpoints, writes Siddharth Srivastava.

Aristocracy and cricket is a difficult combination to find these days. The death of Tiger Pataudi leaves a space in the Indian Cricket fraternity that will be felt by both the old and the young for years.
Siliconeer looks at his legacy that has been turning point of Indian Cricket.

Also known as Elvis of India, Shammi Kapoor was the one of the finest actors and the guru of romance in the 1950s, 60s and early 70s. Siliconeer takes a look at the life and work of this veteran actor-director who passed away Aug. 14.

The Center for South Asia Studies at UC Berkeley recently held a talk on legendary Urdu poet Faiz. Speaking at the occasion was his daughter Salima Hashmi. Ras H. Siddiqui reports.

Siliconeer wishes all readers a very happy Diwali and thanks all advertisers for their continued support.