REMEMBRANCE:
Elvis of India: Shammi Kapoor (1931-2011)


Also known as Elvis of India, Shammi Kapoor was the one of the finest actors and the guru of romance in the 1950s, 60s and early 70s. Siliconeer takes a look at the life and work of this veteran actor-director who passed away Aug. 14.

---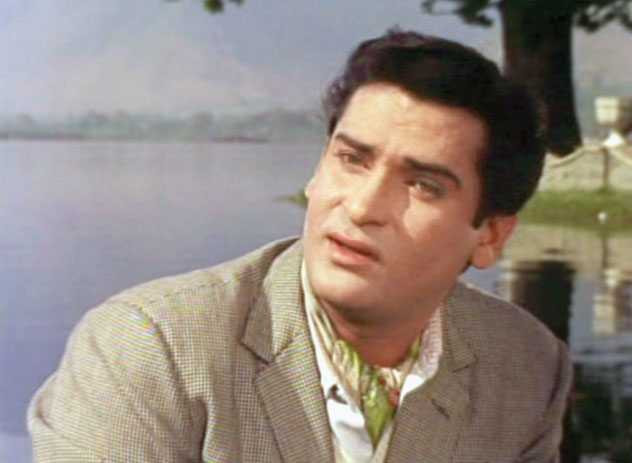 (Above): Shammi Kapoor.

---
Shamsher Raj (Shammi) Kapoor (1931-2011) is hailed as one of the finest actors that Hindi cinema has ever produced. Extremely versatile as an actor, he was one of the leading stars of Hindi cinema during the late 1950s, the 1960s and early '70s. He made his Bollywood debut in 1953 with the film Jeevan Jyoti, and went on to deliver hits like Tumsa Nahin Dekha, Dil Deke Dekho, Junglee, Dil Tera Diwana, Professor, China Town, Rajkumar, Kashmir Ki Kali, Janwar, Teesri Manzil, An Evening in Paris, Bramhachari, Andaz and Vidhaata. The list is endless, with both hits and misses.

He was the second of the three sons born to Prithviraj Kapoor, the other two being Raj Kapoor and Shashi Kapoor.

He made his Bollywood debut in 1953 in Jeevan Jyoti. The film was directed by Mahesh Kaul and Chand Usmani was Kapoor's first heroine.

Kapoor started out with serious roles but after Nasir Hussain's Tumsa Nahin Dekha (1957) and Dil Deke Dekho (1959) he attained the image of a light-hearted, stylish playboy. Tall, green-eyed and fair, Shammi was an instant heartthrob.

With Junglee (1961) this new image was cemented and his subsequent films were all in this genre. He particularly chose Mohammed Rafi as his playback voice.

Early in his career in the fifties, he had often played second fiddle to established heroines like Madhubala Naqab) and Nutan (Laila Majnu).

He accepted serious roles in women oriented films like Shama Parwana (1954) with Suraiya, comedy flick Mem Sahib (1956) with Meena Kumari and thrillers like Chor Bazaar (1954), which were all successful at the box office.

It was only after triple success of Tumsa Nahi Dekha (1957), Ujala and Dil Dil Deke Dekho (both 1959), that he became popular with the audience and became a star.

In the first half of the 1960s, Kapoor was seen in successful films like College Girl, Basant, Singapore, Boy Friend, Professor, Dil Tera Diwana, Vallah Kya Baat Hai, Pyar Kiya To Darna Kya, China Town, Kashmir Ki Kali, Bluff Master, Janwar and Rajkumar.

Although nominated before, in 1968, he received the first Filmfare 'Best Actor' award of his career for the film Bramhachari.

He made a unique place for himself in the industry as he was the only dancing hero in Hindi films from the late fifties till early seventies.

---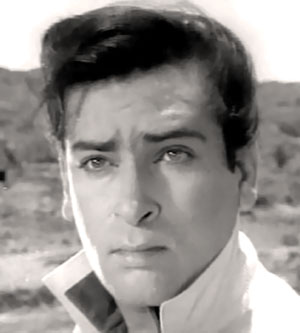 (Above): Shammi Kapoor.

---
Saira Banu said in an interview, "At the time when Dilip sahab, Raj Kapoor and Dev Anand ruled the industry, it was Shammi Kapoor who created a niche for himself with his unique dance moves. He used to say he didn't know how to dance but he would just listen to the music and feel it. He was the only 'dancing hero' at that time."

He used to compose dancing steps himself in the songs picturized on him and never needed a choreographer. This earned him the name of 'Elvis Presley of India.'

His pairing opposite Southern heroines were always a success at the box office. He delivered hits opposite B. Saroja Devi like Pyaar Kiya Toh Darna Kya and Preet Na Jane Reet, with Padmini Singapore (1960), opposite Vyjayanthimala had hits like College Girl and Prince (1969). In the sixties his successful run continued until new romantic icon Rajesh Khanna entered the scene in 1969.

Shammi had successes in late sixties, like Budtameez with Sadhana, Latt Saheb with Nutan and Tumse Achha Kaun Hai with Babita.

In the 1970s, Kapoor's weight problem ended his career as a romantic hero. His last hit film, in which he played the lead role, was Andaz (1971). With time, he moved to character roles and acted in films like Zameer, Hero, Vidhaata, Hukumat, Batwara, Tahalka, Chamatkar, Namak and Prem Granth.

In 1974, he switched hats and as a director and made Manoranjan in 1974 and Bundalbaaz in 1976. However, both the films failed to create magic at the box office though they were critically acclaimed and have a cult fan following over the years. His last appearance as a character actor was in the delayed 2006 film, Sandwich.

In early 2011 he decided to act with his grand-nephew Ranbir Kapoor, the grandson of his brother Raj Kapoor.

Shammi turned into a successful supporting actor in the 1970s, playing Saira Banu's father in Zameer (1974), when he had been her leading man a decade earlier in Junglee (1961) and Bluff Master (1964) and playing Amitabh Bachchan's foster father in Parvarish.

In the 1980s and 1990s, he continued to play supporting roles in many films and won a Filmfare 'Best Supporting Actor' award for his performance in Vidhaata (1982).

He got the opportunity to do some films in other languages such as Bengali and Tamil in the nineties.

He did a social melodrama serial called Chattan that was aired on Zee TV.

---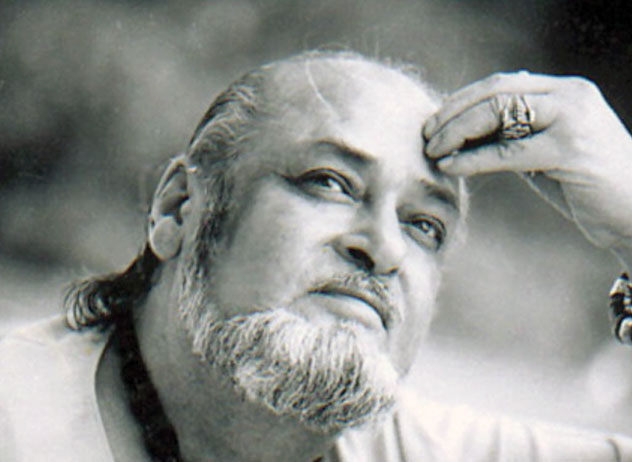 (Above): Shammi Kapoor.

---
He eventually cut down on film appearances by the late 1990s and early 2000s and made appearances in the 1999 Salman Khan and Urmila Matondkar starrer Jaanam Samjha Karo, 2002 release Wah! Tera Kya Kehna and the delayed 2006 release Sandwich. He made his last appearance in Imtiaz Ali's directorial venture Rockstar co-starring his grand-nephew Ranbir Kapoor.

Film director Shakti Samanta directed Shammi Kapoor in six hit films like Kashmir Ki Kali, and An Evening In Paris, once said, "I found Shammi to be a thoroughly good man. Even in his heydays, he was humble."

Apart from films, Shammi had one other passion. The Internet.Shammi Kapoor was the founder and chairman of Internet Users Community of India (IUCI). He had also played a major role in setting up Internet organizations like the Ethical Hackers Association. Kapoor also maintained a web site dedicated to the Kapoor family.

He died of renal failure on Aug. 14 at Mumbai's Breach Candy hospital.