BOLLYWOOD | Film Review
Unjustified Hype: Agneepath


Directed by: Karan Malhotra
Produced by: Karan Johar
Screenplay by: Ila Dutta Bedi and Karan Malhotra
Starring: Hrithik Roshan, Priyanka Chopra, Sanjay Dutt, Rishi Kapoor and Om Puri
Music by: Ajay-Atul

Reviewed by: Joginder Tuteja
Rating: **1/2 (Mediocre)

---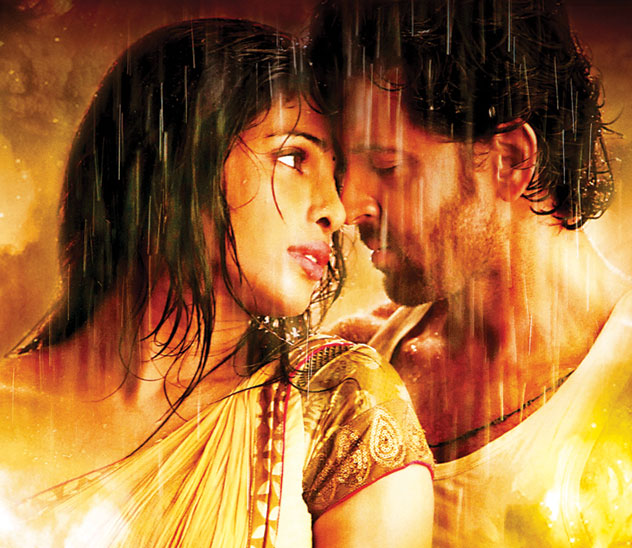 (Above): Priyanka Chopra and Hrithik Roshan in "Agneepath."

---
Now if only the eventual product could have justified the hype surrounding 'Agneepath,' it may have turned out to be one memorable experience. However the truth is (and a sad one at that), 'Agneepath' turns out to be a film that starts off well, builds great momentum, has a wonderful interval point but then starts going down in the second half in a big way. So much so that by the time the moment of reckoning arrives, you have been so exhausted with at least 30-40 minutes of extended storytelling that you don't really give out a cry of euphoria when Vijay Deenanath Chauhan eventually emerges victorious.

The basic plotline of 'Agneepath' is known to one and all. However the point where the film really scores (and for that one must acknowledge director Karan Malhotra and producer Karan Johar to think out of the box) is a completely different script that has been written for this Hrithik Roshan affair. When it was being said that only Vijay, Kaancha and Maandwa remained from the Mukul S. Anand's version, that was indeed true because this is an entirely different film in the offering unlike a 'Bodyguard' or a 'Ready' or to an extent even 'Don' where just a few minor tweaks were made.

---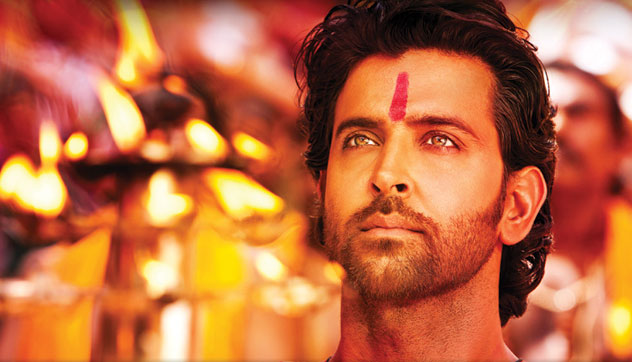 (Above): Hrithik Roshan in "Agneepath."

---
This is the reason why you nod in agreement when Kaancha (Sanjay Dutt) arrives really early in the scene and his menacing ways are detailed to the audience. The sequence of events that follow, right till the time (child) Vijay reaches out to Rauf Lala (Rishi Kapoor) to induct him into his gang; you are completely hooked to the proceedings. Master Deenanath's (Chetan Pandit) gory killing, Rauf's disgusting profession (he is a pimp in the film), his meeting with Dutt where he ridicules him, Vijay killing the cop and then finding refuge at Rauf's place - all such sequences are truly wonderful as these are fresh sequences.

However there is a hitch. Priyanka Chopra's character in Vijay's story is a big speed breaker and though the idea was to bring in relief to the audience, what one actually wants to see is more of power games played by Vijay who uses Rauf and Kaancha for his own benefits. However the songs just come across as unwelcome guests but thankfully the film starts peaking again with the sequences leading to wedding of Rauf's son. Of course all of it is predictable as one has seen such exact sequences before. Still, Karan Malhotra keeps the pace fast enough to ensure that audience looks forward to an engaging second half.

Unfortunately though this is the very point from which the film starts faltering. Frankly, even though you try to keep the comparison factor aside, it is impossible to ignore the earlier 'Agneepath' where the first ever meeting between Amitabh Bachchan and Danny Denzongpa was the best sequence in the film. Here it makes you look at screen with bewilderment because Vijay's treatment at the hands of Kaancha only ends up resulting in an anti-climax of sorts. Pun intended because Katrina Kaif had just gone through her 'Chikni Chameli' act then!

---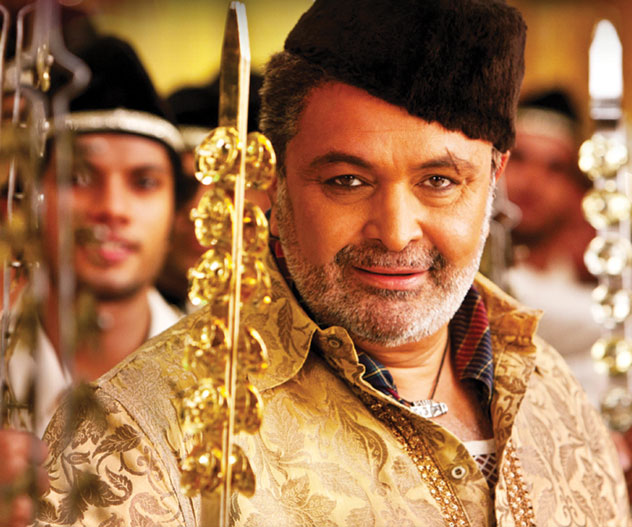 (Above): Rishi Kapoor in "Agneepath."

---
Hrithik's reunion with his sister, the song that follows, his marriage with Priyanka, his meeting with Om Puri - all of this only contributes in extending the film's length and make it all the more difficult for a viewer to search for the revenge angle that somehow continues to get diluted more and more with every passing minute. So much so that when the iconic dialogue 'Naam - Vijay Deenanth Chauhan' eventually comes, it just doesn't cut much ice. More so since it is addressed to a mere henchman!

Yes, the climactic sequence still manages to bring back 'Agneepath' to some extent at the least as Dutt returns on the scene. However a fight like this, where an underdog ends up defeating a much popular villain, needs to be presented in an utmost convincing way, something that not many films since 'Ghulam' (where Aamir Khan took on Sharat Saxena) have been too successful in doing. Frankly, in 'Agneepath' as well, you end up asking for more. No wonder, when the film actually ends, you don't quite sympathize with Vijay's character and wonder what really went amiss in this take of revenge that carried so much scope.

Nevertheless, the fact remains that the major reason for 'Agneepath' to still turn out to be a film that can be given a watch is its performances by Rishi Kapoor, Sanjay Dutt and Hrithik Roshan (in that order). If at all there is a performance which is the most believable of the lot, it is by Kapoor Sr. who goes all out in playing something that he hasn't done in his four decade long career so far. His place in the film is indeed well deserved. Sanjay is every bit the menacing and disgusting character that he was set out to be and though at times he tends to overdo the loud dialogue delivery, you still go with him till the end.

---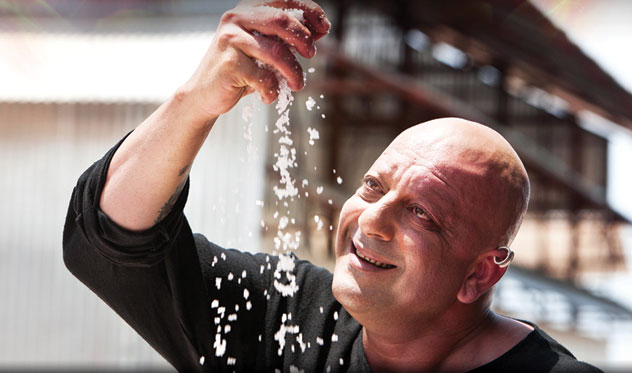 (Above): Sanjay Dutt in "Agneepath."

---
Hrithik is good but then in an attempt to restrain himself instead of playing heroic a la Amitabh Bachchan in the original, he isn't allowed to go the whole hog. Also, in first half especially, some of his character traits come across as a tad confusing. Still all said and done, he is reliable as an actor though if one can't even dream of comparing him with what Bachchan Sr. had managed in 'Agneepath'. Priyanka has hardly a part to play and even in the little screen time that she gets, the characterisation hardly justifies her presence. Om Puri comes across as a caricature again after 'Don 2' while Zarina Wahab too doesn't do much.

Film's dialogues are plain ordinary as they are not even a patch on what Kader Khan had managed in the earlier 'Agneepath'. Here they are flat and though Sanjay Dutt gets some interesting lines, at times even they come across as mumbo jumbo. Cinematography is quite good though, especially when it comes to Kaancha's setting where one can sense all around evil in the air. Background music is loud though good.

Eventually 'Agneepath' turns out to be a film which would see mixed reactions coming its way, both from those who have seen Bachchan's version and the ones who are seeing the story unfold for the first time. While the performances as well as dramatic encounters featuring Hrithik, Sanjay Dutt and Rishi Kapoor would still give them good enough reason to cheer, everything else that falls in between won't quite result in the sense of complete satisfaction.

---
Joginder Tuteja is a Bollywood writer based in Mumbai, India.