EDITORIAL: Education, Meet Technology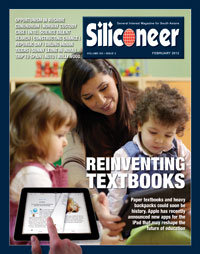 What if you could carry a whole library of books in your hand and still have room for coffee? A few years ago this would sound impossible. Not any more.

Cupertino, Calif.-based tech giant Apple recently introduced iBooks 2 for iPad, featuring iBooks textbooks, an entirely new kind of textbook that's dynamic, engaging and truly interactive.

It promises to replace the good old paper textbooks in the coming years, with a major number of publishing companies already joining the bandwagon.

What this means for us is that our kids will probably have to have iPads, and it goes without saying, there are both good and bad sides to it. Students will be thrilled but parents might be wary in accepting this giant leap in technology.

Siliconeer takes a look at some of the challenges of this new era where education meets technology in this month's cover story.

When four authors participating in the festival read out passages from Rushdie's banned book Satanic Verses at the Jaipur Literature Festival, they were asked to write statements that they did so on their own accord.

Finally on last day of the festival, the controversial author's video address was also disallowed by the government. The government did capitulate to wishes of religious fundamentalists who succeeded in getting themselves heard while stifling the voice of the author, writes Priyanka Bhardwaj.

It was a horrific ordeal for an Indian couple in Norway when their children were taken away from them by Norway's child protection service. The reason for this ordeal was even more confusing. Cultural differences can be lethal in maintaining a healthy family in a distant land.

What's even more disturbing is the fact that these parents had to take the help of media and the politico in India and still face the daunting trouble of being separated from their kids. The Indian mission in Norway was reluctant to act though the kids had Indian passports. So much so that as the parents move back to India, they still do not have custody to their kids. Siliconeer brings you up to speed on this rather shocking ordeal.

India is at a unique crossroads where two-thirds of the commercial and high-rise residential structures that will exist in 2030 are yet to be built. Implementing energy efficiency in buildings that are being constructed in the next ten years thus presents a singular opportunity to lock in energy and cost savings for the next several decades, writes Radhika Khosla.

In the Indian subcontinent, where the poor earn less than a dollar a day, a dead tiger worth $10,000 spells big business and proximity of a traditional Chinese market for tiger's body parts just adds to the ease thus compounding difficulties in conservation, writes Priyanka Bhardwaj.