RECIPE:
Bouquet of Flavor: Chili Paneer


It's February and romance is in the air. Chef Sanjay Patel shows you how to add a spicy yet sweet flavor to your Valentine dinner with this dish that is as appealing to the taste buds as it is to the eyes.
---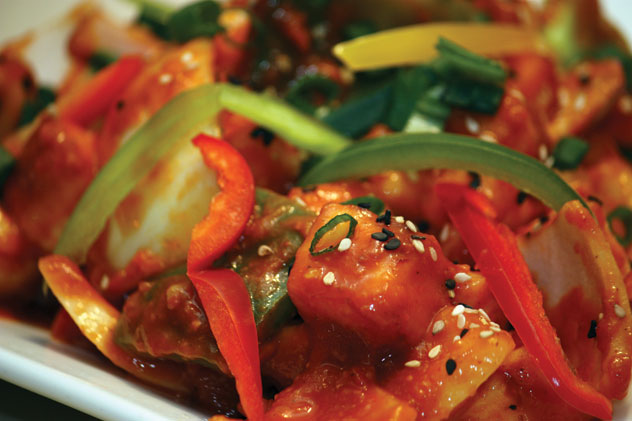 (Above): Chili Paneer [Photo: SILICONEER]

---
Ingredients:

2 cups cubed paneer

1 bell pepper

2 large onions

4 green chilies, slit

1 tsp ginger garlic paste (use freshly ground paste if possible)

1 tbsp soy sauce

1 tsp green chili sauce

1 tsp tomato paste / ketchup

1-2 tbsp oil

½ tsp sugar

1 tbsp corn flour + 3 tbsp water (make a smooth paste)

salt to taste
For the Marinade:

3 tbsp flour

2 tbsp corn flour or corn starch

1 tsp freshly ground pepper

1 tsp minced garlic

pinch of salt

water

Method:

Make a thick paste with the ingredients for marinade. Dunk the paneer pieces in and let them soak in the marinade. It will be instant love, I promise.

Add 3-4 tbsp oil in a pan and shallow fry the paneer pieces, turning them over when the cooked sides are brown.

Drain and set aside. It's okay to slightly burn a few sides. In the same pan, add chopped onions, green chilies, and bell pepper. Cook until the onions turn transparent, about 2-3 minutes.

Next, turn the flame to high and add soy sauce, green chili sauce, sugar and tomato paste. Stir-fry on high for about 30 seconds until well blended and turn the flame to medium-low.Add the fried paneer cubes and the corn flour-water paste. Taste and adjust salt (since the sauces will have salt). Stir and cook for another 3-4 minutes until the sauce comes around and thickens due to the corn flour.

Serve hot straight out of the pan.