WILDLIFE:
Protecting the Wild Cats: Tailing Indian Tigers


In the Indian subcontinent, where the poor earn less than a dollar a day, a dead tiger worth $10,000 spells big business and proximity of a traditional Chinese market for tiger's body parts just adds to the ease thus compounding difficulties in conservation, writes Priyanka Bhardwaj.

---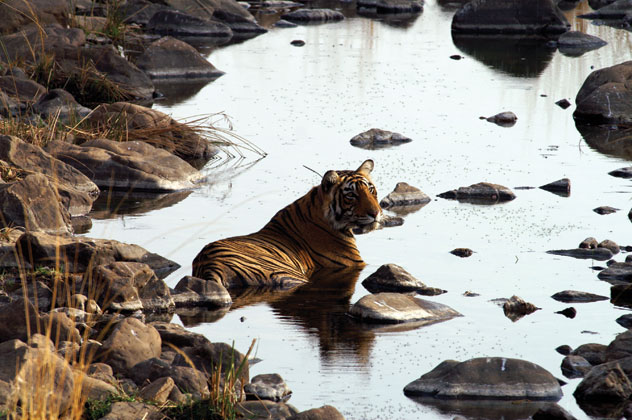 (Above): A Bengal tiger at a tiger reserve in India.
---
Before my chase of 'Machhli,' the grand dame of Indian tigers at Rajasthan's Ranthambhore National Park little did I realize the grip that tigers have on our imagination.

The big cats have always inspired both awe and fear.

And for the same reasons, their power and virility, these wild cats are hunted down to satisfy a twisted human urge thus endangering this species to levels of total annihilation in many environs.

Problems start when geographical homes of wildlife fall in underdeveloped regions marked with notoriously low levels of political will to protect wildlife, presence of a deceitful web of influential lobbies of illegal miners, timber traders, dairy farmers, and other industrial interests as well as unabated poaching activities.

In the Indian subcontinent, where the poor earn less than a dollar a day, a dead tiger worth $10,000 spells big business and proximity of a traditional Chinese market for tiger's body parts just adds to the ease thus compounding difficulties in conservation.

While tiger estimates for South Asian forests are at 4,500, in India they are pegged at around 1,760 (last year).

Countrywide estimation exercises conducted by World Wide Fund-India partnered with National Tiger Conservation Authority (NTCA) and Wildlife Institute of India discovered an increase in numbers by 20 percent from 1,411 in 2006.

But mind you, in the early twentieth century Indian tiger population stood at a good hundred thousand!

This alarming drop in numbers evidently raised concern amongst worldwide and government agencies to look into preservation of this invaluable genetic pool immediately and at every cost.
It is heartening to see government of India making rapid strides in direction of saving jungle cats that have roamed and roared since prehistoric times.

In dense mangrove Sunderbans Biosphere Reserve in eastern India, a first of its kind tiger rescue center has been established.

The director of the reserve, Pradip Vyas, states, "It will allow us to treat injured tigers in the forest itself which will spare them agony of having to spend months at a zoo hospital in Alipore, Kolkata. While they will be able to stay back in forest, tigers will remain protected at center."

The boldest step is however the authorities' decision to take on poaching once and for all and in an organized, modern manner.

A 54-member Special Tiger Protection Force (STPF) team, including rangers, will be trained and deployed in Bandipur and Nagarhole national parks along borders of southern provinces of Karnataka and Tamil Nadu.

"The plan is to induct 54 more personnel, trained in armed and unarmed combat, map reading, field engineering and survival techniques for other three tiger reserves across Karnataka," informs B.K. Singh, principal chief conservator of forests.

Currently Karnataka's six major reserves harbor 300 wild cats though since 2006 poachers have laid claim to about 50.

The mandate to conduct scientific annual census and customary headcount every four years is held by NTCA that has set aside U.S. $890,000 fund to raise, arm and deploy squadrons along lines of STPF in 13 of 39 countrywide tiger reserves.

Member secretary of NTCA, Rajesh Gopal lists these reserves as Dudhwa-Katerniaghat, Corbett, Ranthambhore, Pench, Kanha, Bandhavgarh, Pakke, Bandipur, Nagargole, Tadoba Andhari, Mudumalai, Kaziranga and Simlipal, spread across seven provinces.

---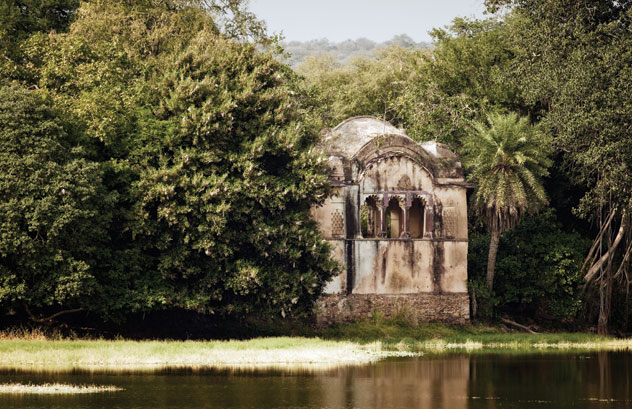 (Above): The Ranthambhor National Park is one of many tiger reserves in India.
---
Wildlife experts however point out the unbreakable poacher-official nexus at all national parks as the main evil.

Shockingly, Sariska and Panna reserves (in 2008 and 2009 respectively) were found to be totally devoid of any tiger even as a tiger program was said to be in progress!

Loopholes and laxity in law enforcement have merely enabled poaching mafia to shift operations to Indian jungles after South East Asian forests were almost emptied of these wild cats.

Non-encouraging attitudes of several provincial governments also have been stumbling blocks in conservation efforts.

Only an intense media pursuit could force chief minister of central province of Madhya Pradesh, Shivraj Singh Chauhan, to correct his late-2010 official communication, which categorically announced his preference for people vis-à-vis tigers.

Here the 'people' meant powerful sandstone and flagstone miners, active in state's reserves.

Current reports suggest inordinate delays in negotiations with 72 villages falling in precincts of Pench reserve for which a 'buffer zone' (semi-exclusive) surrounding exclusive core is most crucial.

In case of tigers buffer zones reduce vulnerability of weaker ones that get pushed to fringes in fight for territories.

Last year a tiger cub and couple of hyenas were trapped by poachers at Pench.

The story of North Eastern reserves is still better in terms of headcount,which rose from 70 in 2007 to 143 in 2011 at Kaziranga, Rajiv Gandhi Orang, Nameri and Manas national parks in Assam.

But habits of villagers and presence of China border in north continue to threaten survival of tigers as poachers killed 22 such wild cats in 2011 alone.

Wildlife experts worry not about headcount that may on a slight rise but 12.6 percent loss in area of tiger habitats.

This aggravates difficulties in dispersal of genetic pool between populations and increase incidences of human-tiger conflict, and reclamation of lost territory and corridors remains just a dream.

The pressure to protect tigers has led successive governments to maintain existing forests.

As a conservation tool, tourism too has kept checks on activities of forest officials and poachers to an extent.

The interests of tourists and benefits to locals because of tourism have managed to keep intact the ecologically sensitive Ranthambhore's dry deciduous dhonk forests carpeting this junction of Aravalli and Vindhya ranges remain intact which would otherwise have been long decimated by outlying silica and stone miners and real estate interests.

Therefore NCTA's petition in apex court to designate tourism as 'inviolate' Critical Tiger Habitats as illegal has to be studied further.

Yet it would not be unwise to ban human presence that is inimical to conservation.

Experts largely agree over broad basing efforts and strengthening capacity and constituency for tiger conservation.

The key to conservation will lie in co-option of those locals who have co-shared these ecosystems with tigers and their entire food chain for thousands of years.