COVER STORY
Reinventing Textbooks: Education Meet Technology


Paper textbooks and heavy backpacks could soon be history. Apple has recently announced new apps for the iPad that may reshape the future of education. Students couldn't be happier and parents need to be savvy enough to handle challenges and policing that comes with such technology. A Siliconeer report.

---
---
A few years ago this would sound too geeky. Not any more. In a major technology leap, Cupertino, Calif.-based tech giant Apple recently introduced iBooks 2 for iPad, featuring iBooks textbooks, an entirely new kind of textbook that's dynamic, engaging and truly interactive.

iBooks textbooks offer iPad users fullscreen textbooks with interactive animations, diagrams, photos, videos and navigation. iBooks textbooks can be kept up to date, don't weigh down a backpack and never have to be returned.

Leading education services companies including Houghton Mifflin Harcourt, McGraw-Hill and Pearson are slated to deliver educational titles on the iBookstore with most priced at $14.99 or less, and with the new iBooks Author, a free authoring tool, anyone with a Mac can create stunning iBooks textbooks.

"Education is deep in Apple's DNA and iPad may be our most exciting education product yet. With 1.5 million iPads already in use in education institutions, including over 1,000 one-to-one deployments, iPad is rapidly being adopted by schools across the U.S. and around the world," said Philip Schiller, Apple's senior vice president of Worldwide Marketing. "Now with iBooks 2 for iPad, students have a more dynamic, engaging and truly interactive way to read and learn, using the device they already love."

The new iBooks 2 app is available at the App Store. With support for full screen books, interactive 3D objects, diagrams, videos and photos, the iBooks 2 app will let students learn about the solar system or the physics of a skyscraper with amazing new interactive textbooks that come to life with just a tap or swipe of the finger. With a fast, fluid navigation, easy highlighting and note-taking, searching and definitions, plus lesson reviews and study cards, the new iBooks 2 app lets students study and learn more efficiently.

---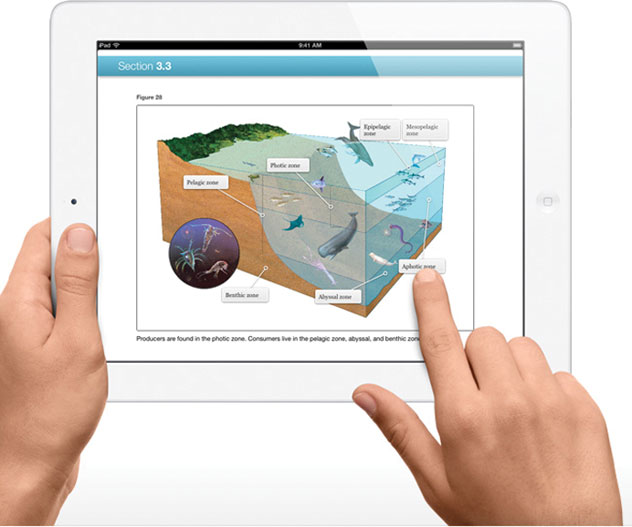 (Above): 3D rendering of drawings on iPad provides a much better learning experience.

---
iBooks Author lets anyone with a Mac create stunning iBooks textbooks, cookbooks, history books, picture books and more, and publish them to Apple's iBookstore. Authors and publishers of any size can start creating with Apple-designed templates that feature a wide variety of page layouts. iBooks Author lets you add your own text and images by simply dragging and dropping, and with the Multi-Touch widgets you can easily add interactive photo galleries, movies, Keynote presentations and 3D objects.

Apple also introduced an all-new iTunes U app giving educators and students everything they need on their iPad, iPhone and iPod touch to teach and take entire courses. With the new iTunes U app, students using iPads have access to the world's largest catalog of free educational content, along with over 20,000 education apps at their fingertips and hundreds of thousands of books in the iBookstore that can be used in their school curriculum, such as novels for English or Social Studies.

The iTunes U app lets teachers create and manage courses including essential components such as lectures, assignments, books, quizzes and syllabuses and offer them to millions of iOS users around the world.

---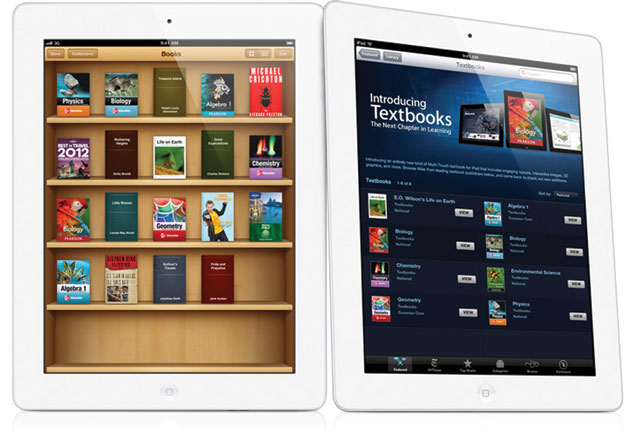 (Above): The iBooks2 Library on the iPad.

---
The iTunes U app gives iOS users access to the world's largest catalog of free educational content from top universities including Cambridge, Duke, Harvard, Oxford and Stanford.

Even a K-12 school district can offer full courses through the iTunes U app, that has already seen over 700 million downloads.

"The all-new iTunes U app enables students anywhere to tap into entire courses from the world's most prestigious universities," said Eddy Cue, Apple's senior vice president of Internet Software and Services. "Never before have educators been able to offer their full courses in such an innovative way, allowing anyone who's interested in a particular topic to learn from anywhere in the world, not just the classroom."

Prior to iTunes U, only students in the classroom at that time had access to educational content from top universities. With the iTunes U app those barriers no longer exist. Students anywhere can take an entire course with complete access to all course materials right at their fingertips.

With the iTunes U app, students are able to access new books right from within the app, and any notes taken in iBooks are consolidated for easy reviewing. In addition to reading books, viewing presentations, lectures and assignment lists, students can receive push notifications so they always have the latest class information.

Educators can quickly and easily create, manage and share their courses, quizzes and handouts through a web-based tool and utilize content and links from the iTunes U app, the Internet, iBookstore or the App Store as part of their curriculum. They can also upload and distribute their own documents such as Keynote, Pages, Numbers or books made with iBooks Author.

---
---
While all this technology is great, it does come for a price. Critics point that with a $500 price tag for each iPad, it might not be available to everyone, and replacing it in case the iPad breaks or gets stolen could mean another $500.

With textbooks, students are more focused on studying, but with an iPad, it is studying, social networking, gaming, in short, multi-tasking.

While the debate is endless, the benefits of iBooks textbooks seem to weigh in more than its drawbacks. Whether it translates to the next big change in our education system, remains to be seen.
Needless to say, with all that is happening at Apple, it is well on its way to becoming the global giant in technologies involved in education, right from kindergarten to the much more sophisticated specialized courses in any university.

The innovations that help build Apple to what it is today can be well described as the pillars to its current and ongoing financial success, even as the industry is not what it used to be a few years ago. For Apple it is a different story.

---
---
Apple posted record quarterly revenue of $46.33 billion and record quarterly net profit of $13.06 billion.

International sales accounted for 58 percent of the quarter's revenue.

"We're thrilled with our outstanding results and record-breaking sales of iPhones, iPads and Macs," said Tim Cook, Apple's CEO. "Apple's momentum is incredibly strong, and we have some amazing new products in the pipeline."

"We are very happy to have generated over $17.5 billion in cash flow from operations during the December quarter," said Peter Oppenheimer, Apple's CFO.

It will be interesting to see if Apple can pull this one off, replacing traditional textbooks and backpacks with one sleek iPad and endless possibilities.