OVERSEAS INDIANS:
Heroes of the Diaspora: GOPIO Awards


The Global Organization of People of Indian Origin recognizes five Non-Resident Indians who have provided significant community and public service or done philanthropic work for the Indian diaspora. A Siliconeer report.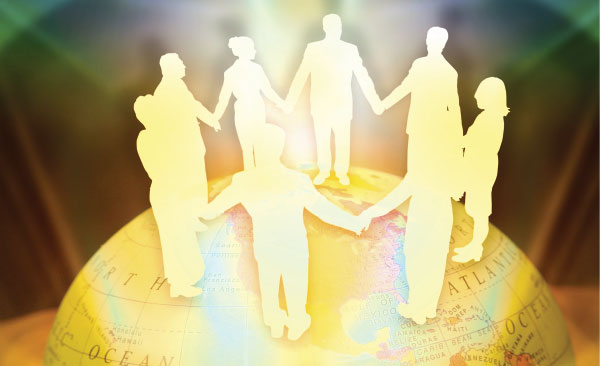 The Global Organization of People of Indian Origin will hold it Annual Awards Banquet Jan. 6 in New Delhi. The banquet will be presided over by Indian Minister of Overseas Indian Affairs Ravi Vayalar. At the banquet, GOPIO will present its community service awards which were established to recognize and honor non-resident Indians who have provided significant community and public service or done philanthropic work for the Indian diaspora and/or to India.

"We at GOPIO feel privileged to recognize NRIs/PIOs who have contributed significantly to the countries of their adoption as well as to India, and have added a special glitter to the resurgence of India," said Inder Singh, president of GOPIO.

"By honoring those who have worked selflessly for Indian Diaspora causes and India , we are providing exposure of such role models to the next generation." "This will motivate more NRIs and PIOs to volunteer their time for community causes," said GOPIO chairman Dr. Thomas Abraham.

The awardees for this year include Dr. Mani Bhaumik, U.S; Ram Lakhina, The Netherlands; P.N.C. Menon, The Middle East; Moses V. Nagamootoo, Guyana; and Baroness Usha Prasher, United Kingdom.

In addition, GOPIO will present the Distinguished Services to Indian Diaspora Award to J.C. Sharma, India . GOPIO will also induct Lord Bhikhu Parekh in its Honor Roll.

Since its inception in 1989, GOPIO has been organizing conferences and conventions in different parts of the world to mobilize the global NRI/PIO community. During the last few years alone, GOPIO has organized nine international conferences. Besides providing a globally recognized platform for dialogue and discussion to the worldwide Indian diaspora, GOPIO's conferences and conventions continue to help bring the Indian diaspora closer to mother India and strengthen the inherent bonds between mother India and the globally spread diaspora. The convention in New Delhi Jan. 6-7, is another of its continuing efforts to mobilize the global Indian community and facilitate their networking.

---

The GOPIO honorees for this year are (above, l-r): Dr. Mani Bhaumik, U.S; Ram Lakhina, The Netherlands; P.N.C. Menon, Oman; Moses V. Nagamootoo, Guyana; and Baroness Usha Prasher, United Kingdom; J.C. Sharma, India; and Lord Bhikhu Parekh, United Kingdom.
---
Following are brief sketches of the GOPIO honorees.

Dr. Mani Bhaumik, United States. Dr. Mani Bhaumik spent his early childhood living in a mud hut with thatched roof and slept on rags. He came to the United States in 1959 with a Sloan Foundation Fellowship for post doctoral research at UCLA. Dr. Bhaumik achieved international recognition as a co-inventor of the laser technology that made Lasik eye surgery possible.

Dr. Bhaumik shared his blessings by contributing to all the schools and colleges he attended in India by funding scholarships, recognizing excellence and to finance building of new facilities. A modern auditorium at his alma mater Scottish Church College bears his name. He has provided full financial support to over one hundred brilliant but underprivileged students for pursuing university education in science, engineering and medicine. He has been funding a revolving annual trophy through the U.S.-based Indian American Heritage Foundation, and has instituted annual Mani Bhaumik Consciousness in Healing Award at the UCLA Medical School . He has written many articles for scientific journals and is the author of the Los Angeles Times bestselling book "Code Name God."

Ram Lakhina, The Netherlands. Ram Lakhina was one of the founders of the Global Organization of People of Indian Origin, served as the chairman of GOPIO Constitution Committee and served as its first chairman from 1994 to 2004. He was one of the pioneers in identifying NRIs/PIOs as a great national asset for India and in articulating the role which they can play in accelerating India 's development.

In 1980 he started the Foundation for Critical Choices for India to mobilize intellectual and material resources of NRIs/PIOs for identifying critical problems facing India and for suggesting policy options for the solutions of those problems. He was the president of the foundation from 1983 to 1991 and then again from 1994 to 2003. He is the founder and executive president of the Netherlands India Chamber of Commerce and Trade from 2002 to date. Earlier he was the president of the Indo Dutch Chamber of Commerce from 1979 to 2001.

P.N.C. Menon, Oman, The Middle East. P.N.C. Menon had to drop out of Kerala Varma College in Thrissur to earn a living for the family. In 1976, a chance meeting with Brig. Suleiman Adawi, a captain in the Army of the Sultanate of Oman, changed Menon's life forever. Menon reached Muscat with Rs. 50 in his pocket and partnering with Brig. Suleiman, started an interior decoration business. He later expanded his business to U.A.E, Bahrain and Qatar . In 1995, he founded Sobha Developers in Bangalore and has developed 29 projects with over 5 million sq. ft. of built-up area while 30 major projects are in progress. In 1997, Oman government granted Menon citizenship of the Sultanate, a rare honor for a foreigner. He has won several accolades and awards.

Menon is engaged in numerous charitable causes. His philanthropic activities include Sobha Construction Academy which trains skilled tradesmen from the economically weaker section of society; Sobha Hermitage, a unique senior citizens' and widows' home with world class amenities; Sobha Health Care, a primary healthcare centre with high quality amenities for specialty treatment; Sobha Academy, an exclusive educational institution for the underprivileged children and social rehabilitation scheme for the people of two backward villages in Kerala.

Moses V. Nagamootoo , Guyana. Born 60 years ago in a fishing village in Guyana, South America, Moses V. Nagamootoo joined the struggle for independence of the then British Guiana at the age of 14. He served as an educator, journalist, attorney-at-law, parliamentarian, and minister of government, and contributed to the literary/ cultural life of Guyana as a poet/ author.

Nagamootoo has been in the forefront of efforts to defend press freedom and restore majority rule in Guyana . His work to promote participatory grassroots democracy and introduce major constitutional reforms is widely recognized.

The Rt Hon. Baroness Usha Prashar of Runnymede, CBE, United Kingdom. Baroness Prashar has made an outstanding contribution in public policy and public administration, particularly in the fields of social justice, human rights, criminal justice, education, equality of opportunity and race relations. Her career includes being the director of the Runnymede Trust, the director of the National Council of Voluntary Organizations, chair of the Parole Board of England and Wales, chancellor of De Montfort University and chairman of the National Literacy Trust. Prior to her current appointment as the inaugural chairman of the Judicial Appointments Commission she was the first Civil Service Commissioner. She is also the chairman of the Royal Commonwealth Society and a non-executive director of ITV. She was elevated to the House of Lords in 1999 where she sits as a crossbencher. In 1994 she was awarded the title of CBE.

J.C. Sharma, SM, IFS (Ret'd), India. Former Secretary, Ministry of External Affairs and Member Secretary of the High Level Committee on Indian Diaspora, he has made significant contribution in formulation of India 's policy towards its diaspora. He was the organizer of first and second Pravasi Bharatiya Divas. He played an important role in granting NRIs overseas citizenship status and Pravasi Bhima Policy for Indian workers. Sharma headed Indian consulates in Vancouver and Chicago and the Embassies in Cambodia and Vietnam. He has written several articles on diaspora issues and has authored two books on Cham temples in Vietnam .

Lord Bhikhu Parekh , United Kingdom. Educated at the Universities of Bombay and London, Lord Bhikhu Parekh is a fellow of the Royal Society of Arts and of the Academy of the Learned Societies for Social Sciences and a professor of political philosophy at the University of Westminster . Lord Parekh was chair of the Runnymede Commission on the Future of Multi-Ethnic Britain (1998-2000), whose report, The Future of Multi-Ethnic Britain, was published in 2000. He is vice-chairman of the Gandhi Foundation, a trustee of the Anne Frank Educational Trust, and a member of the National Commission on Equal Opportunity.

Parekh is author of several books and has received many awards throughout his career: the Sir Isaiah Berlin Prize for lifetime contribution to political philosophy by the Political Studies Association (2002); the Distinguished Global Thinker Award by the India International Centre Delhi (2006); the Interdependence Prize from the Campaign for Democracy (New York, 2006), and the Padma Bhushan in the 2007 Indian Republic Day Honors list.

Parekh has been a great supporter of GOPIO since GOPIO's European Regional Convention in Stuttgart in 1991. Since then he has addressed several GOPIO conferences and conventions and has been serving as an advisor to GOPIO all these years.