TAMIL CINEMA:
Strong But Crude: Mirugam


Director: Sami
Cast: Aadhi, Padmapriya, Sona, Banuchander, Kurandi Lakshmi Ammal, Kanja Karuppu.

---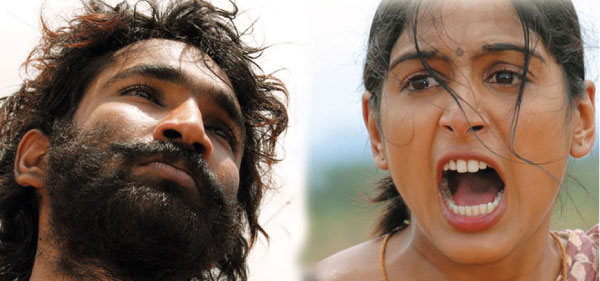 (Above): A scene from "Mirugam."
---
The film begins promisingly enough and moves at a steady, interesting pace. Set in a village in Ramanathapuram, it centers on Ayyanar (Aadhi), the local stud. Arrogant and brazen about his virility and masculinity, his is a wayward, debauched life, given to women and alcohol. With scant respect for women, he physically and verbally abuses his mother. No one is spared from his sexual aggression, be it a neighbor's wife or a mentally imbalanced roadside beggar. Ayyanar even snatches money from prostitute Savitri (Sona) for wasn't it a pleasurable experience for her too, he argues.

Azhagammal, whom he marries, gets a taste of his ugly attitude when he brutally rapes her on their wedding night. A gutsy, sturdy woman, after the initial shock, she retaliates when he is brutal with her. Realizing soon that he was a victim of a deprived childhood, Azhagammal, with her love and devotion, tries to patiently set him on the right path. But a life of such depravity has to have its backlash.

Shades of films like Paruthiveeran and the Rajkiran-starrer Rasavin Manasile are apparent. The presence of an actress of the status and caliber of Padmapriya lends a semblance of respectability to the film, the actress playing her part with sensitivity and understanding. Lakshmi Ammal, who plays Ayyanar's mother, is a natural.

But the performance that stands out for its sheer brilliance is that of debutant Aadhi (son of Telugu filmmaker Raviraja Pinnisetty) as Ayyanar. Aptly cast, Adhi brings conviction and realism to the character of Ayyanar.

It's not just in physically gaining and losing weight, as Ayyanar moves from his ups to his downs, that Aadhi scores. It's also in his body language while depicting Ayyanar's sexual misdemeanors, and later the man's mental torment, loneliness and regret over his wayward ways, when Ayyanar realizes the dangerous consequence of his errant lifestyle.

A tighter rein on the narration would have brought in more clarity and focus to the film. The director's daring to take on such a theme deserves credit, but the finesse is missing, Mirugam's message does come through strongly. If only it weren't so crudely executed.


— Malini Mannath/Chennai Online.