AUTO REVIEW:
Luxury Sans Pretension: 2008 Acura MDX


The Acura MDX has plenty of luxury features on board, but it's not a pretentious ride, writes
Sally Miller Wyatt.
---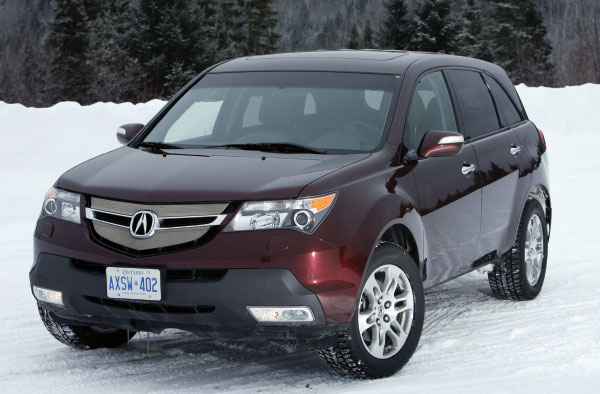 (Above): Exterior view of the 2008 Acura MDX.
---
I've always kind of thought that the term "luxury SUV" was an oxymoron. Seriously, if you're going to spend the equivalent of a four-year college education on a car, are you really going to take it off road in the mountains and leave it at a trail head while you go backpacking? Isn't this the ride you should take to navigate around city street potholes on your way to the opera?

While that may be true for some luxury SUVs we have had the opportunity to drive, it is not really the case for the Acura MDX. Sure, Acura deems it a luxury vehicle. And, sure, the MDX certainly has plenty of luxury features on board, but it's not a pretentious ride. It's really just an all-wheel drive vehicle so packed with safety and performance features that it assures you that you could go all places in comfort. In other words, it's not a prima donna, it's a well-dressed workhorse.

---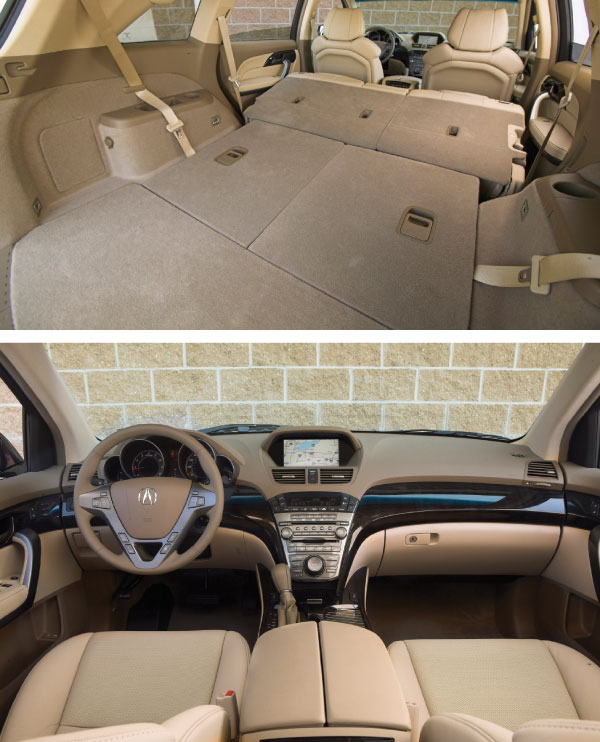 (Above): Interior views of the 2008 Acura MDX.
---
The Acura MDX was completely re-engineered in 2007, Acura notes, to "set new standards for luxury, style and technology-enhanced performance and control in the premium SUV segment." What that means is that the MDX has the largest and most powerful V-6 engine in the segment, a specialized handling platform that expands performance yet keeps the car's ride quiet and controlled, and has just enough of the latest bells and whistles to satisfy those who must "have it all."

It can also accommodate seven passengers, and that is a flat-out luxury to us moms who are always driving kids to and from scout meetings, music lessons, baseball practice and birthday parties.

---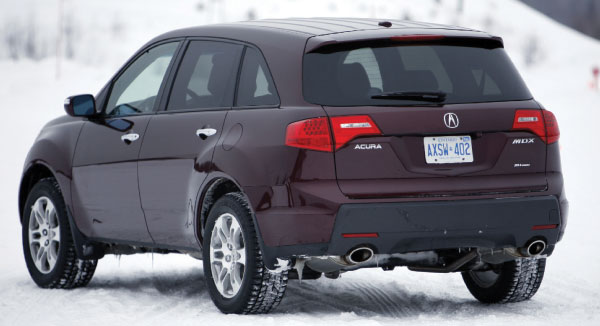 (Above): Exterior view of the 2008 Acura MDX.
---
The Acura MDX's 300-horsepower VTEC V-6 engine is as powerful as some V8 engines, Acura notes, yet it is also ultra-low emission and Acura says it is among the most fuel-efficient in its class. Acura's Super Handling All-Wheel Drive system is a full-time, all-wheel-drive system that distributes the optimum amount of torque between front and rear axles as well as left and right rear wheels. This package improves traction and cornering ability. When working in conjunction with the MDX's Vehicle Stability Assist, the MDX can adeptly handle roads that are rutted, rocky, wet, dry, covered in snow or are icy. If you opt for the Sport Package, the MDX will be equipped with an Active Damper System, that uses a high-tech system of dampers to individually adjust shock absorbers, which in turn smoothes out those rough roads even further.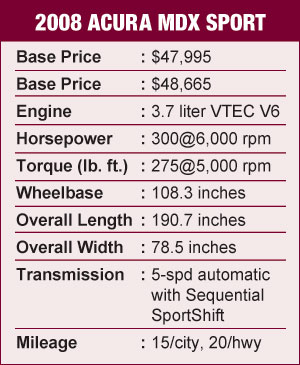 Safety features start with Acura's Advanced Engineering Body Structure, or ACE. It uses a network of interconnected front frame structures to absorb and redirect crushing forces away from the passenger cabin. ACE also has improved its crash compatibility with vehicles of different sizes in frontal crashes. Designers added a special frame below the MDX's front bumper so that fender benders between cars of different sizes won't be so damaging. Your insurance company should love that. There are also side air bags, side curtain air bags with rollover sensors, front active head restraints to minimize whiplash risk, and side impact door beams. All this has earned the MDX a five-star rating in government's front, rear and side impact crash tests, and a "Top Safety Pick" rating from the Insurance Institute for Highway Safety.

Inside the passenger cabin, you'll find plenty of leg room for your seven passengers, and comfortably firm leather seats. Seats in the second and third row can fold down to reveal 83.5 cubic feet of total cargo space.

Standard electronic features include a tri-zone climate control that includes humidity control and an air filter, an information display, Bluetooth HandsFreeLink wireless telephone interface with Bluetooth phones, for hands-free calling. Also standard is an eight-speaker premium sound system that includes AM/FM, CD, MP3, and XM Satellite Radio.

Overall, we found the Acura MDX to be a comfortable, accommodating SUV that was packed with many nice-to-have touches, and lots of family-friendly safety features. Whether at freeway speed or on rutted roads, the MDX was a pleasure to drive, and would be equally at home in the mountains or in the city.