SUBCONTINENT:
Shipbuilding: India's New Boom


Indian shipyards have registered an almost 2000 percent hike in orders (from Rs 8 billion to Rs 155 billion) over the last five years according to industry estimates, writes Siddharth Srivastava.
---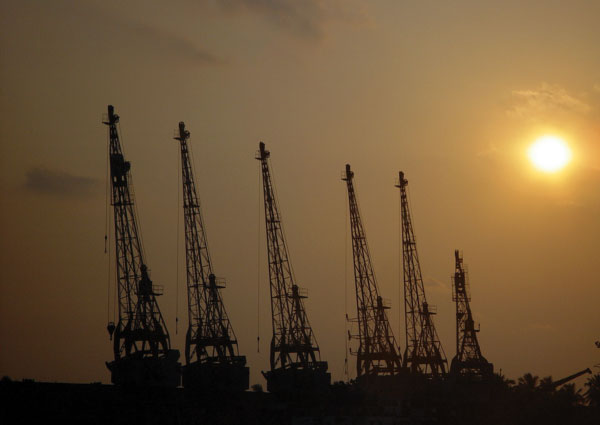 (Above): Government-owned shipyard in Kochi, Kerala.
---
Industry estimates show that Indian shipyards have recorded an almost 2000 percent hike in orders (from Rs 8 billion to Rs 155 billion) over the last five years, thanks to high global demand for cargo ships, along with the inability of market leaders China, Japan and South Korea to respond adequately.

According to London-based Clarkson plc, the world's biggest shipbroker, ship owners have spent almost $160 billion on new vessels in the first 10 months of 2007, 25 percent more than the $124 billion invested for whole of 2006.

Though India's global share in shipbuilding is miniscule at present, the jump in orders has been quite huge, with big expectations for the future.

India's share has been estimated to reach $25 billion (over 5 percent) by 2020 due to cheap labor and skilled manpower. The labor cost per worker in South Korea or Singapore is 10 to 20 times in India.

The high local demand is due to massive investments in the energy sector requiring manufacture/docking/service of deepwater rigs, modernization efforts by the Navy and transport of greater quantities of crude oil and gas shipped from foreign locations such as Africa and the Middle East.

Global orders are due to scarcity of space at foreign yards as well as closure of facilities in Europe and other developed countries.

There is an international demand of rigs due to vigorous exploration efforts given the high crude oil price. Indian companies such as ONGC and Reliance have been shelling out huge amounts to rent out rigs.

Indian shipbuilders should be looking to occupy the fourth spot behind the market leaders in terms of orders replacing some of the competition from countries such as Vietnam.

The key is to enhance the ability to build bulk carriers which fleet owners are seeking in order to reap economies of scale in transport.

It is expected that almost $3 billion is going to be invested in Indian shipyards in the near future to add to the capacity and numbers of the existing 28 shipyards.

Indian firms have been negotiating with global leader South Korea and others to build capacity for ships of over 100,000-ton displacement to double the current abilities. Recently plans were mooted by India and Singapore to form joint ventures to build warships and shipping vessels of more than 45,000 tons.

A recent Citigroup report says: "The Indian shipbuilding sector offers attractive value with fundamentals remaining strong, driven by continued tightness in the global shipbuilding sector, the robust E&P (exploration and production) cycle and strong global economy fundamentals.''

Though state controlled units (Cochin, Hindustan, Goa Shipyard Ltd, Mazagon Dock Ltd) have dominated shipbuilding, private players (L&T, Adani Group, SKIL Infrastructure, ABG and Bharti Shipyard Ltd) are acquiring new capability and expanding capacity. The Tata Group is also looking closely at the sector and reportedly planning an entry.

The federal government through the state-controlled Shipping Corporation of India has announced the setting up of two shipyards expected to attract investments of over $1 billion.

Domestic shipping company Mercator (owned by the HK Mittal family) recently announced two new shipyards in Gujarat and Maharashtra with investment of $400 million.

Construction and engineering giant L&T is looking to invest $500 million as it expects orders to build ships worth $1 billion. It has reportedly short-listed a location in the Tamil Nadu. The company moved into shipbuilding last year.

ABG, India's biggest private shipbuilder with orders of close to $2 billion, is investing $250 million at its new yard at Dahej in Gujarat. ABG has plans to invest $500 million, including capacity expansion at its Surat yard.

Marine company Dolphin Offshore Ltd is looking at a $100 million green field project, either at Maharashtra or Gujarat. Good Earth Maritime Ltd is looking to build a facility in Tamil Nadu investing $500 million.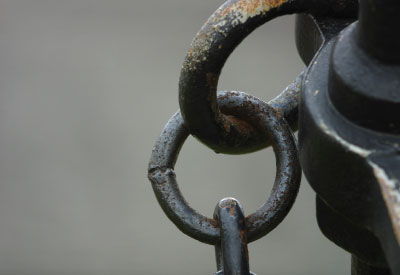 Bharti is building a new yard in Mangalore to add to facilities in Maharashtra and Goa. There are plans to build a new yard in Orissa at a cost of $500 million. Pipavav Shipyard Ltd, backed by SKIL Infrastructure, will start building ships from January in Gujarat.

Chairman of the state controlled Mazagon Docks, Mumbai, Vice Admiral S.K. Krishnan recently spoke about the search for an international partner to design warships. Mazagon will also look to function as a global design center, offering high quality facilities at cheaper rates.

Garden Reach Shipbuilders and Engineers in Kolkata is looking at a similar solution. According to GRSE Chairman, Rear Admiral T.S. Ganeshan, the GRSE Design Center should be functional within a year.

One major reason for delay in shipbuilding is rapidly changing technology that forces redesign of warships to prevent them from being obsolete even before they are inducted. The shipyards complain that constant redesign delays shipbuilding immensely.

Global shipbuilders, including Northrop Grumman from the U.S., DCN from France, Hyundai from Korea and British shipbuilder Bath Iron Works are expected to try and partner in India's modular shipbuilding.

The Defense Ministry is also looking to equip each of its three shipyards — MDL, GRSE and Goa Shipyard — with specialized know-how to build particular warships. For this, the ministry is consulting an international authority. While MDL can build larger destroyers, the smaller craft are split amongst all three.

But there is a long way to go for Indian shipbuilders, who have not been able to meet the exponential jump in demand yet, especially for oil and gas rigs and large vessels.

Recently, India's Navy chief Suresh Mehta warned: "Despite our defense public sector undertakings being full from naval orders for the next decade, we are unable to meet the demands of warship replacements. Unless spare warship construction capacity is created, the demand-supply gap will continue to expand."

"Globally, shipbuilding yards are running choc-o-bloc. We cannot take delivery of ships till 2011," SCI chief S.C. Hajara recently said.

It could be difficult for India to maintain current naval force levels as aging ships are being decommissioned at a faster pace than that of new ones being inducted.

It is estimated that there is an immediate need for 25 oil and gas supertankers. A reflection of the paucity is that Essar Oil recently placed an order of $390 million from China's STX (Dalian) Shipbuilding Co Ltd for six bulk carriers.

India's abilities have suffered a setback due to a gap in shipbuilding in mid-1980s due to inadequate investments by the government and minor private sector role. Today it has a lot to catching up to do.

---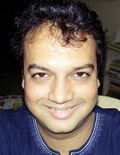 Siddharth Srivastava is India correspondent for Siliconeer. He lives in New Delhi.
---