BOLLYWOOD:
HNDI FILM REVIEW:
Superb Effort: 'Taare Zameen Par'


PVR Pictures present
Aamir Khan Productions'

Taare Zameen Par

Produced and directed by: Aamir Khan
Music: Shankar-Ehsaan-Loy
Starring: Harsheel Safary, Aamir Khan, Sachet Engineer, Tanay Cheda, Tisca Chopra, Vipin Sharma and others
---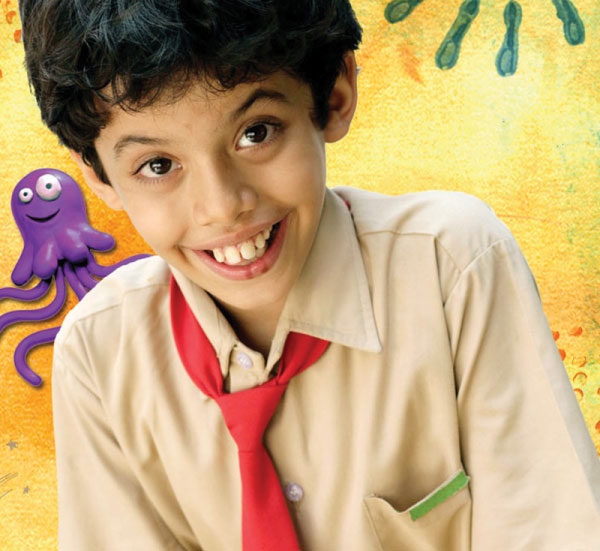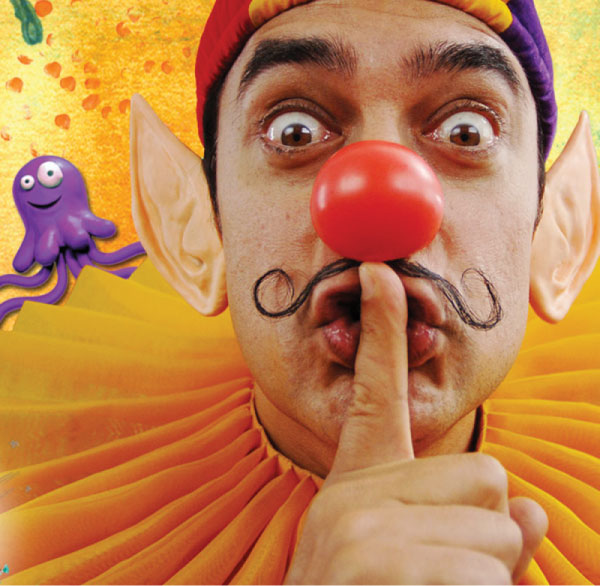 (Above, top): Harsheel Safary and (Bottom): Aamir Khan in "Taare Zameen Par."
---
You have to hand it to Aamir Khan. The man brings total commitment to his art, whether it is acting, directing or production. Bollywood has always has its share of talent, but in Aamir it also has an artist with unparalleled commitment to his craft. Not for Aamir the rat race to make money and to rake in as much moolah as possible while the going is good.

A perfectionist whose hallmark is a maddeningly meticulous attention to detail, Aamir's work habits remind you of the famous Renaissance artist Michelangelo's attitude.

There is a story about Michelangelo where a friend saw him working on a sculpture for days. After a few days, the friend asked the artist what on earth he was doing.

"But I am working on the sculpture!"

"What sculpture? It looks the same!"

"It may look the same, but look at more closely. I changed the nose here, tweaked the eyes a bit and added a few more wrinkles."

"But Michelangelo, these are mere trifles!"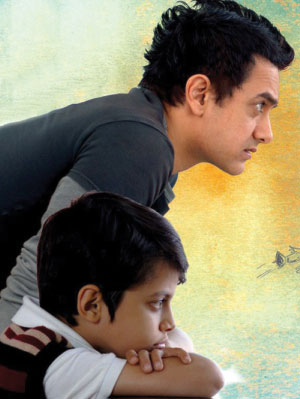 "Trifles? Maybe. But remember, my friend, it is these little trifles that bring about perfection. And perfection is no trifle."

That sums up Aamir's attitude. Taare Zameen Par is a film where Aamir Khan makes debut as director. (A little bird tells us that Aamir had ghost edited films before — strong candidates include Mangal Pandey and Rang De Basanti).

The first thing about the film that strikes you is his sheer guts. Not for Aamir the much-treaded path of a sure thing. Regardless of how much is riding on his directorial debut, he disdainfully eschews the variety of masala formulas that current Bollywood potboilers use to ensure the cash registers keep ringing — multi-star melodramas, boy-meets-girl musicals, grisly gangster dramas.

Instead, he chooses a topic that is anything but conventional.

In fact, here's Aamir making his directorial debut and there isn't even any romance in the film. A Bollywood film without pyar muhabbat? That's like Mallika Sherawat in a burqa.

But what his film has in spades is something rare in a Bollywood film — for that matter any film. The film has heart, and lots of it. That, with Aamir's talent, skills and meticulous care lavished upon it, makes the film soar.

The moment I tell you the film is about a little kid, you are going roll your eyes heavenwards , who can blame you? Like most things in life, Bollywood, alas, also has stereotypes for child stars. Again, like all things Bollywood, these stereotypes have little relation with real life.

Consequently a Bollywood bachcha is perfection personified. Loved and admired by his parents, he has the best manners in the world. His teachers think the world of him, and he sings in the nightingale voice of the latest female playback singer.

Well, I don't know about you, but this certainly doesn't describe me as a child. My exercise books were riddled with exasperated remarks of frustrated teachers, my father was in the habit of looking at me in bemused despair, and my singing could wake up the dead.

In a masterstroke of counter-intuitive genius, Aamir chooses as a protagonist someone with which you (no offense) and I can identify. It's a regular kid, who messes up in school, and feels lousy about it.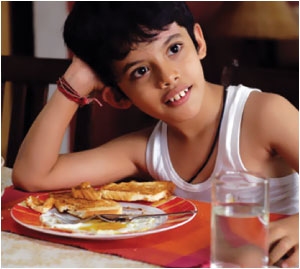 What's magical is where he goes with it. The film's message is a simple one: Every kid, no matter how apparently unsatisfactory, has a special gift. The responsibility of an adult/ guardian/ teacher is to recognize the special gift of that kid, and nurture it, and in the process allow the child to develop his skills, confidence and self esteem. Aamir's point, made with enormous grace, compassion and power in the film, is that in the rat race for grades in today's competitive world, parents must not lose sight of this important fact.

Meet Ishaan Awasthi (Harsheel Safary), the enfant terrible of his school. Clumsy, and carefree, he is an unhappy child who is encumbered by his poor performance. While his teachers and parents are frustrated, "temporary" art teacher Ram Shankar Nikumbh (Aamir Khan), armed with the belief that that every child is special, whether dyslexic or otherwise challenged, takes on the task of bringing out his talent.

Backed by an unforgettable performance by Safary, Aamir not only brings to life what might seem to be an overly didactic story, but does this with style, grace, consummate storytelling grace and most of all heart.

To all Bollywood filmmakers: Guys, watch this film and learn from it. This is how it should be done.

Take a bow, Aamir.


— Rating: 4 Stars | Superior