EDITORIAL:
A Tribute to An Unsung Heroine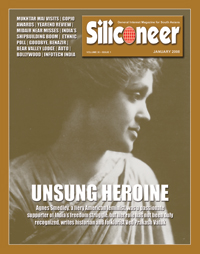 There are many ways in which to assess how a nation measures up. Surely one of the more substantive ways is to take a good look at how a nation honors the heroes who served it during its time of need or the friends that came to its assistance.

India's record seems at best mixed. During its difficult years of colonial rule, it had many a Western friend who passionately supported India's freedom struggle, but can one honestly say that Annie Besant or Sister Nivedita is a household name in India?

Even less known, surely, is Agnes Smedley, a fiery American feminist who supported and befriended Indian revolutionaries who wanted to free India of British colonial rule.

She took considerable risk to support the cause of Indian freedom in the early 20th century when it was neither fashionable nor popular.

In this month's cover story, historian, poet and folklorist Ved Prakash Vatuk reclaims this heroine for today's deshbhakts to cherish.

As Vatuk shows, there is more to Agnes Smedley's involvement with Indian freedom fighters than political support, and not all of it is pretty. We South Asians are too apt to deify our leaders, Vatuk's account is a useful corrective. We discover in this account the limitations of the middle-lass expatriate revolutionary who tended to talk the talk more easily than walking the walk; in their midst lofty ideals shared room with typical middle-class hypocrisy and sexist bias that, alas, is all too common among desis even today.

Smedley moved on to other things after her involvement with Indian revolutionaries. She became a great friend of the Chinese revolution, and it is in China that her ashes are buried. The Chinese government published a commemorative stamp to recognize her contribution in 1985. Contrast that with the fact that few in India have remembered her contribution to its freedom struggle.

Those for whom courage conjures up an image of a swashbuckling hero will surely be surprised by the gentle humility of Mukhtar Mai. This unassuming Punjabi village lady belongs to the Seraiki tribe in Pakistan. Her gentle smile belies the horror she has been through. A bizarre tribal tribunal obliged her to submit to gang rape. This horrible punishment was carried out despite the village imam's objection.

What is so inspiring about the Mukhtar Mai story is that she didn't accept this outrage without protest. She took her rapists to court and tenaciously fought for her rights. Today, she has become a cause celebre for human rights activists.

It's a long way to Sacramento from Punjab. Yet this is where Mukhtar Mai found herself recently, thanks to the generosity of spirit of several mainstream American individuals and organizations who wanted to celebrate her spirit of freedom and her goal to help other village girls develop self esteem and confidence.

Our correspondent Ras Hafiz Siddiqui offers a detailed report of Mukhtar Mai's visit, including her trips to a bookstore, an Islamic school and several other gatherings. It's a heartwarming story not only of the humility of a woman who doesn't feel obliged to wear her courage on her sleeve, but also of how compassion and a commitment to human rights and justice can break ethnic and linguistic barriers and bring together Caucasians, South Asians — in fact people of all ethnic groups — to celebrate a Pakistan village woman's triumph in her battle for justice and dignity.

I suppose we may be beginning to sound a tad repetitious, but the issue is important enough to bear repetition: Just beyond the incandescent glow of India's economic growth are dark shadows of serious deficiencies which keep getting lost in what seems like obsessive navel gazing by the Indian media and an inexplicable cult of self congratulation.

As we move from Shining India to Incredible India, the fact remains that despite India's blistering growth for nearly a decade now, huge swathes of the world's most populous democracy lack even the most basic health care and education.

More specifically, even in the metropolitan areas, there are serious infrastructural bottlenecks that could spell disaster in the not-too-distant future.

This month our India correspondent Siddharth Srivastava writes about the serious threats posed by the exponential growth of air travel in India.

As air traffic volume rises at an exponential rate due to growing business and tourist travel, the incidence of near air misses has grown to a point where there is a near-miss air collision every 15 days, government data show. And that's only government data. The actual picture is quite possibly even grimmer.

Keep in mind that the civil aviation sector is expected to generate 3 million jobs in the next 10 years, while the number of commercial aircraft in India is estimated to grow from 350 to 1,000 in five years.

With so much riding on the smooth functioning of airports, airport safety must be given top priority.