SUBCONTINENT:
Midair Near Misses: Air Traffic Crisis in India


As India's robust economic growth spurs an exponential growth in air traffic, a missed mid-air collision happens every 15 days, writes Siddharth Srivastava.
---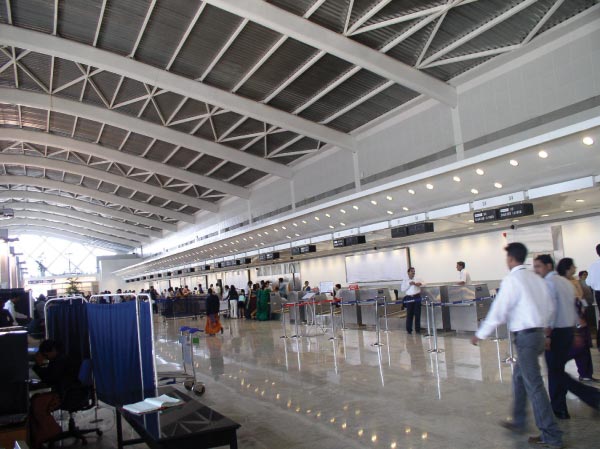 (Above): The check-in area at Mumbai's Chhatrapati Shivaji International Airport.
---
A flip side to the growing Indian aviation sector is air congestion that has resulted in an alarming rise in midair near misses of aircraft collisions.

As air traffic volumes rises at an exponential rate due to growing business and tourist travel, the incidence of near air misses have grown to a very worrying two-a-month in the last couple of years, government data show.

Officially, there were 21 near-miss incidents in 2005, which went up to 26 in 2006 and 15 have already been reported this year. About 83 air misses have been recorded between 2002-2006, many involving foreign airlines.

The issue was highlighted recently when a special plane carrying Congress Party president Sonia Gandhi and Home Minister Shivraj Patil from Delhi to Srinagar reported a near miss.

The technical standard of an air miss is when two planes flying lower than 29,000 feet violate the mandatory 1,000-feet deviation limit.

It needs to be noted that the above-mentioned are official figures, which generally mask a more grim ground situation.

Commercial hub Mumbai and political capital Delhi handle almost 700 flights daily. Both have reported higher number of near misses.

In one of the deadliest mid-air collisions in 1996, two passenger aircraft of Saudi Airlines and Air Kazakhstan crashed near Delhi airport killing all 350 on board the two planes.

Indian Civil Aviation Minister Praful Patel, however, recently said that none of the near-misses could have been disastrous.

He said every aircraft flying in Indian airspace is fitted with Traffic Alert and Collision Avoidance System that enables pilots to track flights in the vicinity.

But industry observers say that there could be a major disaster waiting to happen, given the over stretched air traffic controllers, lack of maintenance engineers and facilities such as multiple runways and rapid exit taxiways.

According to the government-run Airports Authority of India Indian airports handled over 90 million passengers, domestic and international, during the calendar year 2006, up from 68 million during the same period in 2005.

The overall passenger load has been estimated to have increased by almost 30 percent in the first three quarters of 2007.

Indeed, plane misses are only one of many teething issues that need to be addressed very quickly.

Safety measures are compromised during the winter months November-February due to fog.

In the absence of special instruments called CAT-IIIB landing systems in airports (apart from Delhi now) and lack of training that require considerable investment, pilots have to rely on the naked eye for landings despite very low visibility, which can be very dangerous.

Due to inadequate runway upgradation, there have been several reports of plane skids and overshooting during the monsoons (June-September), though, thankfully, no major accident has happened.

The situation on the ground at most airports is a traffic nightmare with several incidents of aircraft collisions and accidents, some fatal, involving ground staff, passengers and vehicles.

Recently a heavy vehicle killed a female flight engineer at the Delhi airport, considered particularly chaotic.

Flight delays are common and planes have to often circle over airports for long periods before landing clearance, which, given expensive air fuel, hikes costs. This has forced airlines, most making losses, to include a congestion charge in fares.

Indeed, aviation infrastructure has not kept up with growth, driven also by many low cost airlines such as Air Deccan, IndiGo, Go and SpiceJet, that sometimes compete with rail fares.

These airlines have provided a major boost to family travel in India, for leisure or otherwise. This is apart from full value airlines such as Jet, Kingfisher and the state-owned Indian that cater to business travel.

The big question is whether, given the demand, the supply bottlenecks are going to be removed so that passenger safety does not continue to be jeopardized.

According to Patel, India's air travel industry will need $50 billion in investment in infrastructure over the next decade to cope with rising demand.

Patel said the sector, which has seen almost frenetic plane buying and airline launches in the past 3-4 years, would grow by 25-30 percent in the near future.

To the credit of the government, efforts are underway to improve the infrastructure and decongest air routes, though there is a long way to go.

The number of operational airports in India has grown from 50 in 2004 to 80 today, with the government looking at a target of more than 500 airports to meet future needs, still way off from the U.S. with over 5,000 operational airports.

New state-of-the-art airports are being built at Hyderabad and Bangalore while Mumbai and Delhi are being considerably expanded with latest technology.

Privatization of the latter two, which was operated by the AAI is being pushed despite stiff left wing opposition.

Recently, members of a parliamentary consultative committee, linked to the civil Aviation Ministry, called for a re-think on existing policy to permit multiple airports in metro cities that are the biggest hubs.
Governments of Uttar Pradesh and Haryana have proposed new airports near Delhi, but the issue is yet to be decided upon.

The government has earmarked investment of almost $9 billion to develop about 100 green field airports during the 11th Plan period (2007-2012), under the private-public participation model that is being implemented for highway construction as well.

The private sector is expected to pitch in about $6 billion while the AAI could dole out $3 billion.

The PPP is an effective model as it builds lobbying pressures by private players keen to do new business, unlike the lethargy of government functioning while implementing big projects.

A strong independent regulatory mechanism is, however, needed to monitor the interplay.

Airports are slated to be developed in the states of Karnataka, Maharashtra, Rajasthan, Gujarat, Bihar and the Northeastern states.

Indeed, rapid action is urgently required.

According to a projection by Airbus SAS, the world's biggest commercial-plane maker, air travel in India will grow at an average of 7.7 percent annually through 2025, compared with 7.2 percent growth for China and 4.8 percent globally.

Indian aircraft carriers, both private and state owned, are expected to buy nearly 300 new planes by 2010, valued at $15 billion, and spend another $15 billion in the following decade.

According to latest reports, state-run Air-India is contemplating to buy 100 new passenger aircraft.

The civil aviation sector is expected to generate 3 million jobs in the next 10 years, while in the next 3-5 years the number of commercial aircraft in India is estimated to expand to 1,000 from the existing 350.

With so much riding on the smooth functioning of airports, it is imperative that airport safety is given top priority.