NEWS DIARY | AUGUST:

Killer Floods in Bihar Kills 800, Maroons 1.2 Million | Herbal Medicines Have a Heavy Metal Problem | Food Crisis | Judges Reappointed | Nepal PM Returns | Fuel from Waste | New CM | Diplomat Escapes Attack


---
Killer Floods in Bihar Kills 800, Maroons 1.2 Million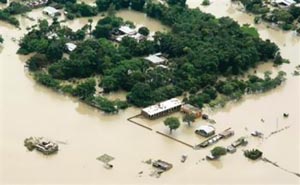 An aerial view of flood hit Madhepura district in Bihar, India.

Indian officials rushed soldiers and air force helicopters to flood-ravaged parts of northern India to provide aid to the more than 1 million people stranded by a surging river, officials said.

The death toll from this year's monsoon has already climbed past 800, and now 1.2 million people have been marooned and about 2 million more affected in the impoverished state of Bihar, where the Kosi river has burst its banks, breached safety embankments and submerged all roads leading to the region.

Roughly 120 soldiers have joined government aid workers in the area and another 240 are preparing to help, said Prataya Amrit, a senior official at Bihar's disaster ministry.

Four Indian air force helicopters were dropping food and medicine to the stranded, he said.

The state government has set up 300 relief camps to house people evacuated from the flooded areas, Amrit said. He said the rescued people may need to stay in these camps for several months as new embankments are built and the devastated areas regain some semblance of normalcy.

Pictures from the region showed entire villages submerged and women wading through waist-high muddy waters, sacks of belongings balanced on their heads.

Families perched on the roofs of their houses waited for aid while others piled into overloaded canoes.

"Save your lives and reach relief camps and other safe places. There is very little time to escape the death and destruction," the state's Chief Minister Nitish Kumar said in a radio announcement broadcast Tuesday.

India's monsoon season, which lasts from June to September, brings rain vital for the country's farmers but also massive destruction. Floods, mudslides, collapsing houses and lightning strikes kill hundreds of people every year.


---
Herbal Medicines Have a Heavy Metal Problem
A "substantial proportion" of Ayurvedic herbal "medicines" from India contain lead mercury and arsenic, according to research published recently in the Journal of the American Medical Association.

The team behind the work says the Food and Drug Administration should start putting the screws on the industry.

"Current regulations governing the quality of herbal supplements made and sold in the U.S. and India are inadequate," author Robert Saper told Reuters. "We recommend strictly enforced government-mandated daily dose limits for toxic metals in all dietary supplements."

Saper's team tested 193 Ayurvedic "medicines" purchased via the Internet in 2005 and tested them for contamination. Just over 20 percent of products contained toxic metals.

This number is clearly not helped by the practice rasa shastra, where herbs are combined with metals and minerals. Of rasa shastra "medicines" 41 percent contained metals, compared to 17 percent of non-rasa shastra "medicines".

"All metal-containing products exceeded one or more standards for acceptable daily intake of toxic metals," write the authors.

This isn't the first time a JAMA paper has raised concerns about such "medicines." In 2004 a paper from many of the same team found "One of five Ayurvedic HMPs produced in South Asia and available in Boston South Asian grocery stores contains potentially harmful levels of lead, mercury, and/or arsenic."

According to the Los Angeles Times, "Ayurvedic practitioners lashed out at the research as alarmist, saying that it only showed there were problems with mixtures from India, not with U.S.-made products."


---
Food Crisis
A Bangladeshi fruit stall in Dhaka. Spiraling food prices have pushed an estimated four million Bangladeshis below the poverty line, the World Bank has said

Spiraling food prices have pushed an estimated four million Bangladeshis below the poverty line despite the country's strong economic growth, the World Bank said.

World Bank senior economist Vinaya Swaroop told AFP the price of rice had nearly doubled over the past year, caused by rising inflation and shortages due to floods and a devastating cyclone last year.

"Food price inflation has caused enormous hardship in Bangladesh by eroding purchasing power of the poor," he said.

"Four million people have been pushed back into poverty this year because of rising food prices."

Strong economic growth between 2005 and 2008 was expected to reduce poverty in Bangladesh by five percent — from 40 percent to 35 — but projections had been scaled up to 38 percent because of the higher prices, he said.

"If there was no food crisis, the poverty numbers would have looked very different in 2008," he said.

The figures were compiled using the definition of poverty as those living on less than a dollar a day.

In its annual report, issued this week, the Consumer Association of Bangladesh said the price of food and other essentials had risen 45.5 percent in the past year.

The latest data reported inflation at 10.14 percent for the month of June. However, many financial experts say the actual figure is about 20 percent.

World Bank country director Xian Zhu said the bank was helping Bangladesh come up with measures to enhance food security.

"Increasing productivity is the only option where every year over two million people are added to the population, while the availability of cultivatable land is decreasing by one percent," he said.


---
Judges Reappointed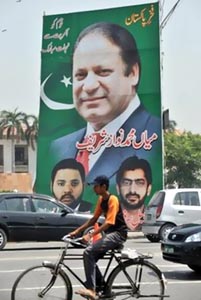 A Pakistani cyclist rides past a billboard of former Prime Minister Nawaz Sharif in Lahore Aug. 25, who has quit the government. Eight judges among dozens sacked by Pakistan's former President Pervez Musharraf have been reappointed by the government, a move condemned by many lawyers as a political stunt.

Eight judges among dozens sacked by Pakistan's former President Pervez Musharraf have been reappointed by the government, a move condemned by many lawyers as a political stunt.

The decision comes two days after former Prime Minister Nawaz Sharif quit the government over differences with leading coalition partner Asif Ali Zardari over the issue of the sackings, which set off months of political turmoil.

The legal community described the move as a "conspiracy" to harm their demands for the restoration of all judges, including independent-minded chief justice Iftikhar Muhammad Chaudhry.

Chaudhry was among dozens of superior judges fired by Musharraf last year under emergency rule.

"Eight former judges of the Sindh High Court took oath today," provincial law secretary Agha Rafiq told reporters in Karachi.

They have not been reinstated but freshly appointed, he said, a technicality that allows the government to hold off on any change to the status of the sacked judges.

"This is a conspiracy aimed at dividing the judges and lawyers," Karachi bar council leader Rashid Razvi told AFP.

The judges had previously refused offers to return to their jobs, insisting on reinstatement of all including Chief Justice Chaudhry.

"We are deeply sad and disappointed," he said, said Aitezaz Ahsan, the president of the Supreme Court Bar Association and a leader of the lawyers' movement.

He said the eight who took office "gave up when our victory was in sight."

Musharraf, who seized power in a bloodless coup in 1999, deposed dozens of judges under a state of emergency last November when it appeared they would challenge his re-election as president the previous month.

|TOP|

---
Nepal PM Returns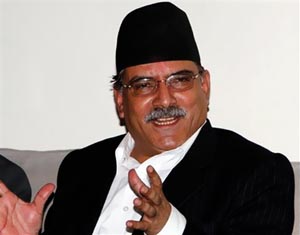 Nepal Prime Minister Pushpa Kamal Dahal Prachanda

Nepal's new prime minister has said Indian leaders should not be concerned about his visit to China, his first foreign trip since assuming power earlier this month.

Prime Minister Pushpa Kamal Dahal Prachanda visited China to attend the closing ceremony of Beijing Olympics, where he met top leaders. He has returned home.

The visit sparked media reports in India that leaders there were concerned. Nepalese prime ministers traditionally visit India after they take office.

India, which borders the tiny Himalayan nation from three sides, has a major influence on Nepal's political and economical matters, while China keeps its distance.

"The visit should not be interpreted in any other ways. This was not a political visit but a trip to attend the closing ceremony of the Olympic Games," he told reporters upon arrival in Kathmandu.

He said his next trip would be to India but did not specify the date.

Nepal gets all its oil products and most of its consumer goods from India. Landlocked Nepal also has to depend on India to move cargo and passenger traffic.

|TOP|

---
Fuel from Waste

Scientists in Bangladesh have developed ways to produce petroleum from degradable organic municipal waste and are now studying its feasibility before going to commercial production.

"We have developed petroleum products from organic municipal wastes and we are looking into its commercial viability," said Yunus Miah, principal engineer of the state-run Bangladesh Council of Scientific and Industrial Research.

Miah said the scientists were using husk of paddy and oil seeds besides wastes. First they decompose the garbage and produce bio-oil from these wastes. Then they upgrade the bio-oil to petroleum products.

"We will have to have an economic analysis of the finding before going to commercial production," he said.

Dhaka daily produces around 15,000 metric tons garbage and the cost of collecting it is only nominal, he said, adding that there are still obstructions, poverty being the most important of them, in the way ot taking technology to the field.

Miah said: "We as a poor country will face many difficulties to go into commercial production," he added.

"If the cost of producing the petroleum products is at break-even point, we will be the gainer," said Naimul Haque, chief scientific officer at the BCSIR that falls under the science and information ministry of Bangladesh.

|TOP|

---
New CM

Jharkhand Mukti Morcha president Shibu Soren was sworn in Aug. 27 by Governor Syed Sibtey Razi as the sixth chief minister of Jharkhand, a state formed eight years ago.

Soren was sworn in along with 11 ministers at a ceremony held on the historic Morahbadi ground.

This is the third government in the state in three years of tenure of the present house which ends in March, 2010.

The 11 who took oath are Sudhir Mahato, Nalin Soren, Dulal Bhuyan (all JMM), Bandhu Tirkey, Joba Manjhi (United Goan Democratic Party), Kamlesh Singh (NCP), Enos Ekka (Jharkhand Party), Aparna Sengupta (Forward Bloc) and independent MLAs Stephen Marandi, Harinarain Rai and Bhanu Pratap Sahi.

This is the first time two women members — Manjhi and Sengupta — have found a place in the Jharkhand ministry.

The 64-year-old Soren took over the reins for the second time heading a UPA coalition within three years of tenure of the ongoing Assembly. The Arjun Munda-led NDA government and the Madhu Koda-led UPA government were the other dispensations which had taken charge after the March 2005 Assembly elections.

|TOP|

---
Diplomat Escapes Attack

The top U.S. diplomat in northwestern Pakistan narrowly escaped an attempt on her life when two men with AK-47s jumped in front of her armored vehicle and sprayed it with bullets, staging a brazen attack that raised fears other foreigners could be targeted.

The attack — which the driver eluded by jamming the vehicle into reverse and speeding away — came just hours after the collapse of the governing coalition that drove Pervez Musharraf from the presidency as Pakistan grapples with escalating violence by Islamic militants.

A late nighttime bombing at a cafe on the outskirts of the Pakistani capital killed seven people and wounded 20, police reported.

Lynne Tracy, an Ohio native who heads the U.S. consulate in restive northwestern Pakistan, left her home in an upscale and heavily guarded area of Peshawar with a bodyguard provided by the local anti-terrorism squad about 8 a.m., police chief Arshad Khan said.

Moments later, the vehicle came under heavy gunfire, Khan said. He said no one was hit by bullets but a rickshaw driver was hospitalized after his three-wheeled taxi was hit by the consulate vehicle during its rapid retreat to Tracy's home.

A spokesman for the U.S. Embassy in Islamabad, Lou Fintor, declined to identify or describe any of three consulate employees in the vehicle, including where they were from or what role they played in what he would only refer to as a "security incident."

|TOP|