AUTO REVIEW:
Eco-friendly Luxury: 2008 Lexus RX 400h


The 2008 Lexus RX combines the best of both worlds by earning Super Ultra Low Emission (SULEV) certification in California while retaining all the bells and whistles of a luxury sport utility vehicle, writes Sally Miller Wyatt.
---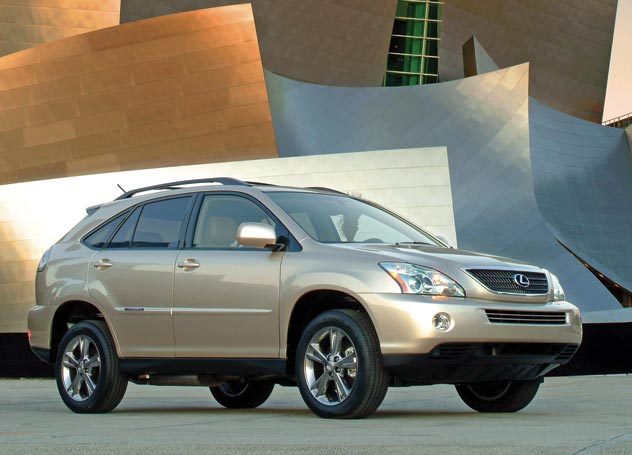 (Above): Exterior view of the 2008 Lexus RX 400h.

---
Many upscale cars with navigation systems have a dashboard display that not only provides you with a map of where you're going, but a wide variety of other functions, such as backup cameras or a readout of what — and who — is playing on your radio station. The dashboard display on the 2008 Lexus RX 400h has something a little more interesting, especially to my environmentally conscious children: a continuously updated display of how the engine is being powered — either by gas engine or battery — and how well-charged that hybrid engine may be.

The Lexus RX 400h is one of three hybrids that Lexus is offering this year, and the selection we liked on the dashboard screen highlights the interaction between the batteries and gas engine as you go about driving. You can see what is being drawn from where, all while you brake, stop and accelerate. We kept the display on all the time, because the kids — and my other adult passengers — were fascinated with the visuals.

What you're seeing here is the interaction between the V6 engine and an electric drive motor. The vehicle can run in either electric-only or gas engine-only modes as well a combination of both. The engine has also been designed to run on electric mode for extended periods of time, such as when you're slowly rolling along in stop-and-go commute traffic. Hopefully that should make you feel better about fuel usage if you're a regular commuter.

Yes, the Lexus RX 400h may be a hybrid vehicle, and these are all the rage these days, especially with gas prices hitting the stratosphere. But the Lexus RX 400h is also a luxury sport utility vehicle, and so you also have all the bells and whistles on board what is ultimately a very fuel- and environmentally efficient vehicle. Your eco-conscience can be clear when you realize this vehicle achieves Super Ultra Low Emission (SULEV) certification in California, and that means it emits nearly 70 percent less smog-forming emissions than the average new car. It is also certified as a zero-evaporative emissions vehicle in California.

---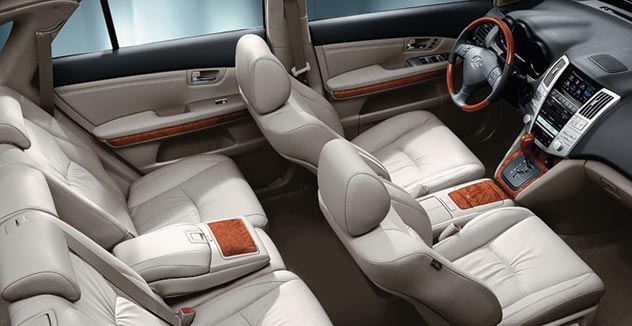 (Above): Interior view of the 2008 Lexus RX 400h.

---
Low emissions does not translate to a sluggishly responsive vehicle, in case you were wondering. The RX 400h has a 3.3-liter, 24-valve DOHC V6 engine, which turned out to be more than responsive when accelerating to freeway speed.

And, because it is a sport utility vehicle, you can navigate slippery and muddy roads with plenty of traction and transport plenty of equipment in a generously sized rear cargo area.

Safety features on board include dual advanced front air bags, a driver's knee air bag, front and rear side curtain air bags, and front seat mounted side-impact air bags. Also standard is the four-wheel anti-lock braking System with Electronic Brake Force Distribution, Brake Assist and Electronically Controlled Braking, crumple zones and side door beams. Our test car also had the optional Dynamic Laser Cruise Control. This feature alerts you to the fact that you may be traveling too closely to the car ahead of you by automatically slowing down, or even sounding an alarm and instantly applying the brakes for you, if traffic ahead is slowing more quickly than you are. It's a little strange to experience this, as the car seems to have a mind of its own.

---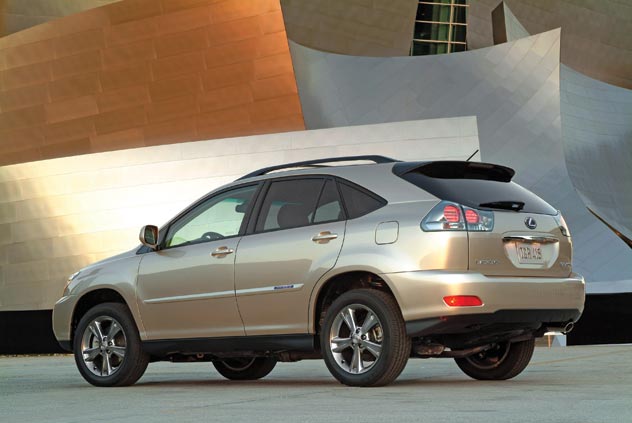 (Above): Exterior view of the 2008 Lexus RX 400h.

---
On the road, we found the seats to be generously sized, comfortable and supportive. Visibility for the driver is excellent in all directions. Rear seat passengers can recline their seat backs, which is a feature sleepy teens really seem to enjoy. They also liked the premium audio system with eight speakers.

Overall, you can go about your daily errands or commute to your work comfortably in the Lexus RX 400h, knowing you're saving fuel as you ride in luxurious comfort.

Today's Test Drive:
2008 Lexus RX 400h

Base Price: $$43,480
Price as tested: $50,515
Engine: 3.3-liter V6 DOHC with VVT-I
Transmission: ECVT (Electronic Continuously Variable Transmission)
Horsepower: 268 hp
Hybrid Battery Warranty: 96 months or 100,000 miles
Mileage: 26/city, 24/hwy

---
Sally Miller Wyatt is a freelance writer who writes family-oriented auto reviews for newspapers, magazines and the Web.