FILM REVIEW:
Lost Metropolis: Streets of Karachi
Reviewed by Ras Hafiz Siddiqui.
Rating: *** (Good)

Streets of Karachi
Directed by: Shoieb Yunus and Jawad Qureshi
Starring: Adil Murad, Munawwar Saeed, Noman Habib and Nadia Hussain.

---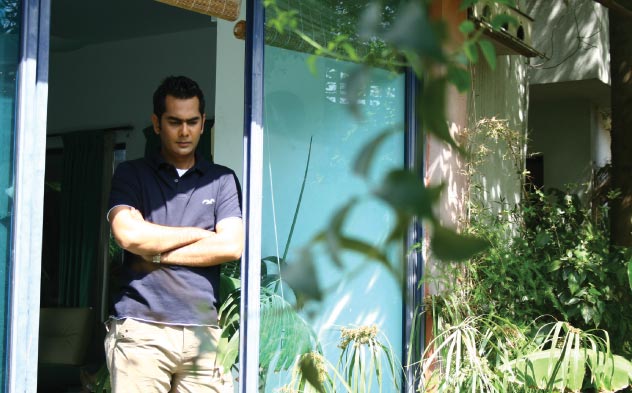 (Above): Adil Murad in "Streets of Karachi."

---
When a Pakistani movie holds its world premiere here in America, not only is such an event a rarity but a welcome change as well. With Streets of Karachi and its opening at the Aquarius Theatre in Palo Alto, Calif., Aug. 16, a long drought of Pakistani inspired entertainment has ended (ever since Hassan Zee's Night of Henna premiered in San Francisco a few years ago). The only other Pakistani movies of note that have been screened here in Northern California for the South Asian diaspora have been Shoaib Mansoor's Khuda Kay Liye and Hassan Zaidi's Raat Chali Hai Jhoom Kar and the icing on the cake, Sabiha Sumar's Khamosh Pani.

Mumbai's Bollywood rules the hearts and minds of our community here. Lahore's Lollywood is rarely seen or heard from. And while we anxiously wait for Mehreen Jabbar's Ramchand Pakistani to arrive at local desi theatres, this screening of Streets of Karachi carried with it a sense of anticipation. Karachi used to be home for many of us who live on nostalgia today and wanted to revisit some of it in celluloid.

We could somehow relate to the main character Zakir (played by Adil Murad), the naïve idealist who misses his Karachi home while living in America. The same dilemma exists whether one is from Karachi, Dhaka or Delhi; What should we do with the baggage of our childhood ideals we carry? Zakir is the son of Dr. Pasha (Munawwar Saeed in another convincing role) a retired professor. With them lives their youngest member, the special-needs son Babar (Noman Habib) who is quite a big responsibility. There is no mother figure present in the family.

---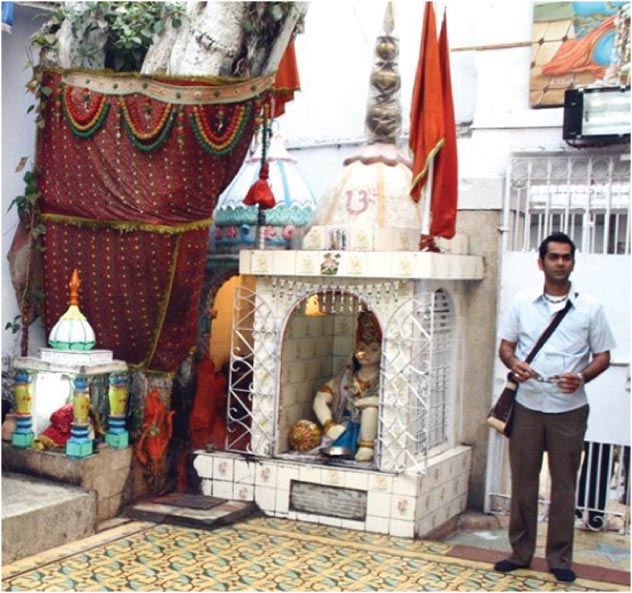 (Above): A Hindu Temple visited in "Streets of Karachi."

---
Zakir is in search of something. Writer Shoieb Yunus successfully grasps growing up in a multi-religious Karachi of yesteryear where one lived in harmony with all communities especially the Christian, Parsi (Zoroastrian) and Hindu whose imprint on the life of the city was immense. The fact is that this legacy still continues.

With a limited number of roles (this is no Bollywood type extravaganza), Streets of Karachi gives its main female character Maheen (played by a convincing Nadia Hussain) quite a powerful voice. She is strong, opinionated and a pillar of strength as opposed to Zakir who is a dreamer and considerate of all others (just like the Karachi we once grew up in). Maheen is also Zakir's love interest.

Up to this point in story development, the screenplay writer Shoieb Yunus — who also wears a number of other very important hats in this project — deserves kudos. Not only did he successfully grasp our nostalgia and longing for the once peaceful City of Lights that we miss today, but his pen takes our emotions literally for a ride.

The conversations between Zakir and his father are all too familiar. The days of going out to eat ice cream at midnight without caution or a care for one's well being are not the reality today. But they were real for many Karachi-ites just a couple of decades ago.

Na jane is roshniyon ke shaher ko kis ki nazar lag gayi? (We just don't know whose evil eye has cast its dark spell on this City of Lights?)

---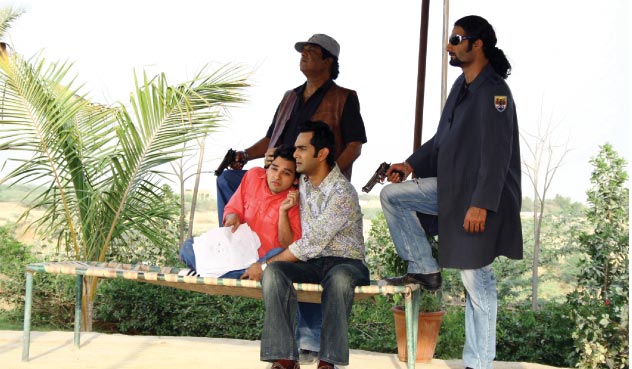 (Above): Kidnapped in "Streets of Karachi."

---
The groundwork was well prepared in this movie to entice and hook the audience. The bait was our nostalgia and the dialog expressed feelings that we have for what was once a home which may have changed in our absence.

But then the story takes a couple of different turns. Zakir and Maheen are robbed and then Babar is kidnapped for ransom.

Welcome to the real world. And a disappointing one, at that. The bad guys are a bit overdone and we are in for some adapting and transformation. Streets of Karachi does burst the nostalgia bubble of the audience with a dose of grim reality, and this review will have to leave it there.

Overall, congratulations are in order to Shoieb Yunus and Jawad Qureshi of Precept Productions for branching out of their world of software to make this film. The viewer will notice that this movie teleplay written all over it (with Umair Leghari's and Shaheryar Zaidi's roles especially) and that it was made on a limited budget. There is no song and dance here. Nonetheless, this is a movie that the whole family can watch. It cannot compete with some of the quality output of Bollywood, but one has to encourage the Yunus-Qureshi team to continue their filmmaking efforts. They captured our attention very well during the first half of Streets of Karachi. They had all the necessary ingredients of what life was like for many of us. But the action-adventure in the second half is something that left room for improvement. Or maybe we just wanted the nostalgia to continue?

---

Ras Hafiz Siddiqui is a South Asian American writer who lives in Sacramento, Calif.
---