EDITORIAL:
Financial Meltdown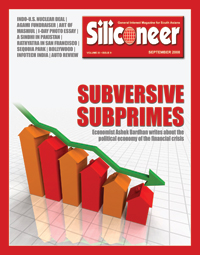 You don't have to be a rocket scientist to figure out that all is not well with the financial health of the U.S. Stockton, Calif., is now the U.S. capital of foreclosures. Major banks are crashing like nine pins. The Fed is at its wit's end on how to revive the credit market. The U.S. dollar is facing a crisis.

How did it all come to pass? What are going to be the repercussions of it all? This is a moment when we need a hefty dose of the dismal science — economics — which is about as pleasant as a spoonful of castor oil.

Yet the issues are vitally important, and could hit our pocketbooks sooner rather than later. Its implications are global — notice how far-flung banks in the world are quaking in their boots after the British bank Northern Rock went belly up and the British government had to rush to its rescue.

Gone is the machismo of the intrepid buccaneers of the free market as signs grow of an impending perfect storm in the financial market. Free marketers have developed an unheard of — and touching — affection for government that's beginning to look each day a little bit more like little kids looking for nanny.

Economist Ashok Bardhan casts a sharp critical eye as he dissects the unholy mess and puts the entire financial crisis in political and historical context in this month's cover story.

Safdar Sarki is a peaceful human rights activist fighting for self-determination of his people. His movement is totally opposed to violence, but his adversaries are not, as he had the misfortune of being born in Pakistan.

Hounded out of the country once, Sarki, a Sindhi nationalist, was abducted by Pakistan's intelligence agencies and was kept in illegal custody for 20 months before being declared detained.

A graduate of Sindh University Medical College, Sarki got involved with the Sindhi national rights movement when he was 17. In 1992 Sarki was elected general secretary of Jeay Sindh Qaumi Mahaz. Sarki says Jeay Sindh is non-violent in its core and nature. "It believes in non-violent resolution of conflicts. It is very secular because of Sindhi ancient history and teachings. Its philosophy is based on 'let and let live.'

"Sindhis are Christians, Muslims, Hindus, Sikhs, and Buddhists. They have been living there since thousands of years. I come from that nation. We are peace-loving. We have hate for nobody and we believe all religions are for us. We are anti-fundamentalism.

"In our 5,000 years of history we never invaded any country, any nation. We have been invaded, but we never invaded anyone."

In 2004 Sarki went back to Pakistan and was again elected Jeay Sindh's general secretary in 2005. His nightmarish ordeal began Feb. 24, 2006 when he responded to a knock on the door at his apartment in Karachi.

What happened next resembles a bad Cold War movie. Tortured sadistically, kept incommunicado for months, he lost weight and went on a hunger strike.

Bay Area-based Pakistani American poet and commentator Ali Hasan Cementdaur writes about his ordeal in this month's issue.

Last month, we carried the first installment of an article that took a reasoned, probing look at the implications of the U.S.-India nuclear accord. Amid all the hoopla about the deal and its alleged benefits, few people are asking the core question: What is India's past record in nuclear power?

Indian Americans, driven by national pride and a hunger to see the old country become a global player, have been the most complicit in their neglect of this point.

This is the reason we asked Bangalore-based analyst M.V. Ramana to take a close look at the core issue. In a detailed, fact-based overview, Ramana presented a disquieting picture.

In the first installment, published here last month, Ramana discussed the public debate around the deal in India thus far, and pointed out that several key questions remain unaddressed. He provided a historical background and context that led to the deal in its current form, and presented a realistic assessment of India's nuclear energy program, which is nothing short of scandalous. He debunks the popular notion that nuclear power is capable of addressing India's growing energy crisis.

The recent approval of the Indo-U.S. nuclear deal in the Indian Parliament occurred amidst much melodrama, very little of it edifying and a lot of it downright squalid. Lost in the shuffle were details of the agreement. While the debate has been dominated by pride and nationalism, there has been little serious discussion of substantive issues. In our two-part series, Ramana examines the fundamental choices that India makes by entering this deal, and what they portend for the future.

In the concluding section presented this month, the author discusses the fallout of this deal on the subcontinental peace process, and its impact on the safety and security of the South Asian people.