CULTURE:
Rhythm Sorcerers: Banerjee Brothers


New York-based percussionist brothers Rakesh and Chandan Banerjee add incredible richness to a musical recital, writes Partha Banerjee.

---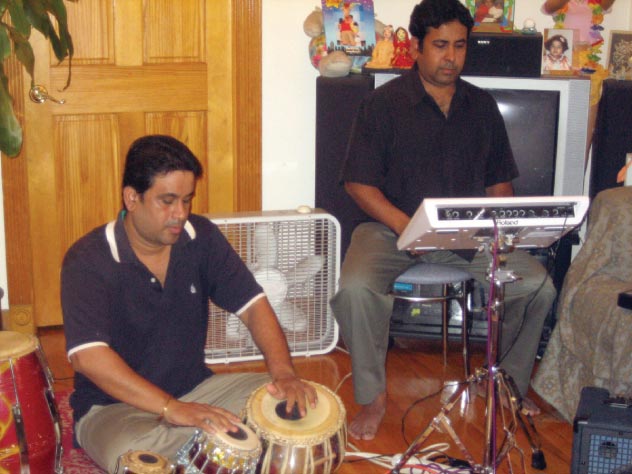 (Above): Percussionist Rakesh (r) and Chandan Banerjee.
---
If you're looking for superior percussionists for your next Manna Dey, Runa Laila or Bappi Lahiri concert, look no further: The Banerjee Brothers are available. Call them in Queens, New York.

You might be puzzled when you meet them for the first time. In this day of self-promotion and shameless arrogance of the less-skilled, how can one be so unassuming and humble? But then you hear them play away on the tabla, dholak, pakhwaj, mandira and octopad — and you know you've come to the right place. Rakesh and Chandan are two rhythm sorcerers. They talk to their drums with their fingers.

Now in their thirties, the Banerjee brothers came from Kolkata in the 1990s. Both were quite well-known in music circles in the cultural capital of India; both played on Doordarshan and All India Radio's youth programs as pre-selected artists. Rakesh, the older brother, was a rising star in particular with his diverse talents on various percussion instruments. In 1988, the government of Tripura, in its annual music conference, recognized Rakesh as the best tabla player.

Younger Chandan would always play along with dada: after some fifteen years of living in the U.S., the picture hasn't changed much. Rakesh and Chandan are inseparable on and off the performance podium.

As an ardent admirer and performer of Indian music – particularly North Indian classical and folk music – I've been to numerous recitals in and around New York and New Jersey where I've had the opportunity to hear the duo play. I've been amazed to see the high level of skill, harmony and cohesion they bring in to the recital; they add incredible richness even to the most average performances. What amazed me more is that they never attempt to surpass the lead singer, sitarist or dancer.

Rakesh and Chandan Banerjee have performed across the U.S., Canada, and beyond. Over the past decade, Rakesh has played with Ghulam Ali, Bhupen Hazarika, Sabina Yasmin and many other famous vocalists, instrumentalists and dancers. Just this August, Rakesh and Chandan both accompanied music legend Manna Dey at the India Day Parade in New York.

Presently, the Banerjee duo has established a band called New York Harmony to involve second-generation youth of South Asian origin in the musical traditions of the subcontinent.

How's the new effort turning out for the youngsters? "They love it," Rakesh said in his usual soft and humble manner. Younger Chandan nodded in agreement to dada's comments.

Let's hear the rhythm sorcerers play.