TAMIL CINEMA:
Tale of Friendship: Kuselan

Direction: P. Vasu
Music: G.V. Prakash
Cast: Rajinikanth, Pasupathy, Nayantara, Meena, Mamta Mohandas, Sona, Vadivelu, Vijayakumar, Livingston and Santhanam

---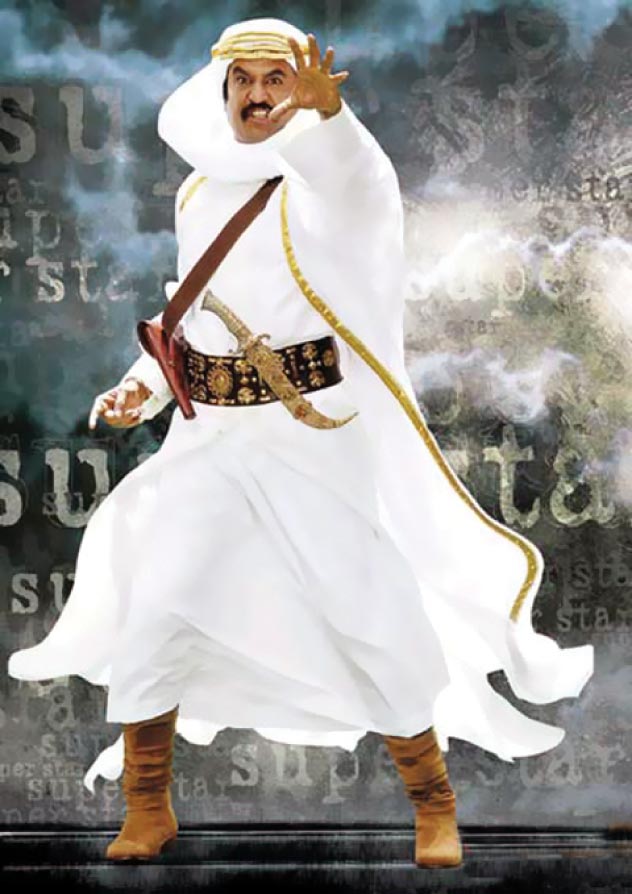 (Above): Rajinikanth in "Kuselan."
---
Kuselan reminds us strongly of the legendary friendship between Kuselan and Krishna from the epic Mahabharat. The story revolves around a poverty-ridden Balakrishnan (Pasupathy) and his childhood friend Ashok Kumar (Rajnikanth). The core story is about the incidents that follow when Ashok, the superstar of Kollywood, visits Balu's place to shoot for one of his films.

The film unfolds with the barber Balu's shop run in a small town where he leads a life of penury along with his wife Sridevi (Meena) and three children.

News of the superstar's visit to the village spreads like wildfire; the people and Balu are brimming with excitement to meet the man of their dreams. Balu could hardly go near Ashok - now the superstar - due to the heavy cordon of security thrown around the larger-than-life star.

Balu makes repeated attempts to meet Ashok, mainly because of the relentless pressure applied on him by the school authorities, his wife and Kuppusamy. Each time, he gets humiliated and insulted by the police and the unit members. The story is about how the meeting of the friends take place.

The amazingly practical and moving story, written by Sreenivasan for "Katha Parayumpol" in Malayalam, has been adapted deftly in Tamil by director P. Vasu to suit the needs and aspirations of millions of Rajni fans. Vasu has tactically taken advantage of the magnetic aura that surrounds Rajni and his unmatched screen presence to make a 'different' Rajni film.

Whenever Balu's attempt to meet the star comes a cropper, the expectation of his meeting with Rajni grows in the audience's hearts. The incomparable friendship that bonds the star and the barber has been depicted in the most natural manner in a stunning climax scene.

Thankfully, Vasu hasn't gone overboard: the film is not too long or boring, the characters have a strong base and the film is compelling. Kuselan, sans violence and obscenity and full of lively and practical characters, could very well be termed another feather in Rajni's cap.
— Courtesy Chennai Online.