HUMAN RIGHTS:
A Sindhi's Ordeal: The Incarceration of Safdar Sarki


Sindhi nationalist Safdar Sarki was recently in the San Francisco Bay Area where he spoke about his 20-month ordeal of incarceration and torture in the hands of Pakistan's murky intelligence agencies, writes Ali Hasan Cementdaur.
---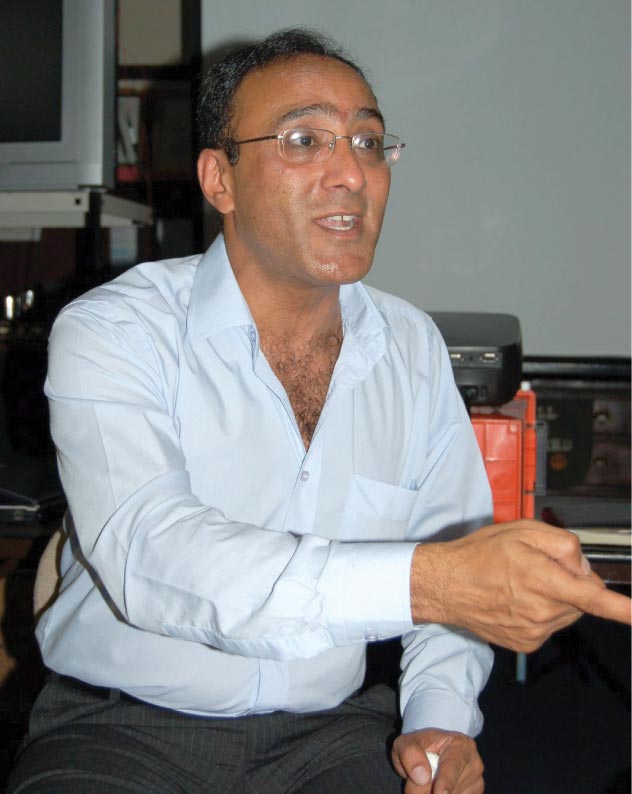 (Above): Sindhi nationalist Safdar Sarki. (Ali Hasan Cementdaur photo)

---
Friends of South Asia, a Bay Area peace group, celebrated 61st independence year of Pakistan and India by hosting the South Asian Human Rights Film Festival. The festival opened with the screening of Missing in Pakistan, a 29-minute documentary capturing Pakistan's gross human rights violations tacitly supported by the U.S. government. The film was followed by a talk by Safdar Sarki, a Sindhi nationalist who was abducted by Pakistan's intelligence agencies and was kept in illegal custody for 20 months before being declared detained.

Sarki, a graduate of Sindh University Medical College, got involved with the Sindhi national rights movement when he was 17. In his student days he was put in jail by the military regime of Gen. Zia Ul Haq, and was tortured.

In 1992 Sarki was elected general secretary of Jeay Sindh Qaumi Mahaz. Sarki described Jeay Sindh as non-violent "in its core and nature. It believes in non-violent resolution of conflicts. It is very secular because of Sindhi ancient history and teachings. Its philosophy is based on 'let and let live.'

"Sindhis are Christians, Muslims, Hindus, Sikhs, and Buddhists. They have been living there since thousands of years. I come from that nation. We are peace-loving. We have hate for nobody and we believe all religions are for us. We are anti-fundamentalism.

"In our 5,000 years of history we never invaded any country, any nation. We have been invaded, but we never invaded anyone."

Sarki said in 1989 he survived an assassination attempt on his life "by the underground network of intelligence agencies" where he was shot with seven bullets.

After becoming the secretary general of Jeay Sindh, Safdar Sarki started receiving threats — party affiliates and friends suggested Sarki to move to the U.S.

Sarki came to the U.S. and "started working for human rights through the platform of the World Sindhi Congress, a registered non-profit in the U.K. and the U.S. The World Sindhi Congress lobbies against human rights violations in Sindh and Balochistan" and is for "the right of self-determination of Sindh."

In 2004 Sarki went back to Pakistan and was again elected Jeay Sindh's general secretary in 2005.

Safdar Sarki's nightmarish ordeal began Feb. 24, 2006 when he responded to a knock on the door at his apartment in Karachi. On opening the door he found around 25 heavily-armed men. Sarki was asked to put his hands up.

Sarki was put on the floor, handcuffed behind his back, and was blindfolded. They put a mask on him that suffocated him. He fainted. Sarki's tormentors gave him some air and brought him back to senses.

Sarki was put "in a 3x3 cell where you cannot sit and you cannot lay down. You can feel the walls with your arms." Sarki was kept in that position for two days until he lost consciousness.

His feet got swollen and he was soaked in his own urine. "They started torturing me on my feet. You cannot imagine what pain it creates when your feet are swollen and they hit you with a stick on those swollen feet."

He was asked why he had come back from the U.S. and what hidden agenda he had. Sarki replied, "The U.S. is with you guys, the U.S. is your partner. Why don't you ask the U.S.?"

Sarki believed "they" wanted to make an example of him so that Sindhi and Balochi nationalists who move to other countries would never come back.

Besides waterboarding, he was subjected to another form of torture in which the handcuff that tied his wrists behind his back was hooked and then pulled away from his body. He said he could bear the pain only for a few minutes and then would lose consciousness.

After a month's interrogation, Sarki was moved to another cantonment area. "That cell was 5x7, dark, no air passage. You cannot tell if it is day or night." The only time he was taken out of the cell was for defecation.

The interrogation continued for six months. "I was skinny, I was sick." He thought he might lose his mind because "no one is allowed to talk to you. You are not allowed to talk to anyone.

"I was very angry. They never got anything out of me. And I never asked for any mercy. I preferred to die honorably, with dignity, than to beg for my life. I had not done anything. Jeay Sindh is not an outlawed or banned party. It is the organization of Sindh, for Sindh's national rights, its ownership, its resources.

"With that weak body I started a hunger strike till death." He soon ended up in the Combined Military Hospital. "I was in semi-coma. When I came back to senses I saw the chart where I read 'CMH Lahore'. I realized I was in Lahore.

---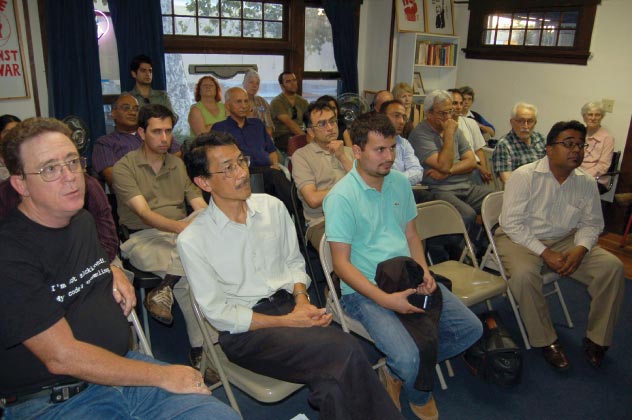 (Above): A section of the audience listening to Sindhi nationalist Safdar Sarki talking about his harrowing, 20-month ordeal in the hands of Pakistani intelligence agencies. (Ali Hasan Cementdaur photo)

---
Sarki said that after his twenty months' custody by military intelligence, one day a major came and started taking his measurements. Sarki asked, "Are you going to make my coffin?"

"No, we will get new clothes for you," came the reply. "But you have to start eating."

Sarki remembered at that time, "I was unable to walk, unable to stand up, I could only crawl." Then, for the first time in 20 months, Sarki was allowed to take a proper shower.

After three months of slightly humane treatment Sarki was again taken on a long journey, for almost forty hours, his face covered with a mask. They told him he was being taken home.

Sarki was brought to Karachi. It was the month of Ramzan. One day his captors came at 11 p.m. Sarki was asked to get ready, "You are now going home." Sarki was taken in a car, and let go at 1:00 or 1:30 in the morning on a narrow road in a deserted place.

A heavy contingent of police came and told Sarki he was being arrested. Sarki argued that he had been under arrest for the last twenty months. The police paid not attention. A false case was filed on Sarki, but the good thing was that after 20 months of "disappearance" Sarki was finally officially in the custody of the Pakistani authorities.

This style of initial illegal abduction followed by a "legal" arrest of Safdar Sarki was followed in the case of Dr. Aafia Siddiqui who "disappeared" in 2003 in Karachi, but was claimed to be arrested in Afghanistan by the FBI in July this year.

A session judge granted him bail, "but within two hours they transferred the judge, and said that because the judge was transferred we cannot release this man (cannot obey the orders of a transferred judge)."

On Nov. 3 President Pervez Musharraf declared emergency. Sarki was transferred to Zhob.

Sarki was kept there in an isolation cell for five months. The session court granted him bail, but on the petition of the attorney general, Balochistan's new chief justice, Yasin Zai, dismissed the order of the session judge.

It was around that time that Benazir Bhutto was assassinated. A few months later, elections were held. The new government that came to power released Safdar Sarki, "Akhtar Mengal and nine other political prisoners."

The new government has released 300-400 people, but still there are thousands missing; thousands in Balochistan, hundreds missing in Sindh, and thousands missing from other parts of Pakistan, Sarki says.

Sarki accused the Musharraf government of trying to "camouflage this whole issue under the umbrella of war on terror. The West is pouring in billions of dollars, (and this is) what the Pakistani regime and military is doing (with that money). Safdar Sarki has nothing to do with fundamentalism. All those Sindhi and Balochi nationalist people have nothing to do with fanaticism and fundamentalism. Besides those other guys (pursuing a corrupt form of Islam), they (the Pakistani establishment) started crushing national movements of Sindh and Balochistan. Whoever they did not like was called a terrorist, and vanished."

In Pakistan the only entity that makes up the Pakistani establishment is the Pakistan Army. And the Pakistani establishment has its own ideas about Pakistan, the "Pakistani nation," and the loyalty to the "ideology of Pakistan." In that muddled philosophy Pakistan and Islam are intertwined and anyone emphasizing regional identity over the "Pakistani identity" is an enemy of the state. The war on terror not only gave carte blanche to the Pakistani establishment to go after the Islamic fundamentalists, it also provided the establishment an opportunity to settle scores with what it calls the enemies of the state, the original targets, Sarki says.

---

Ali Hasan Cementdaur is a Pakistani-American activist, writer, and filmmaker, who lives in Santa Clara, Calif.