COMMUNITY
Eid in the Family: Joint Celebration


San Francisco Bay Area residents of Indian and Pakistani descent came together in a heartwarming gesture of fraternal camaraderie at an Eid celebration, writes Ras H. Siddiqui.
---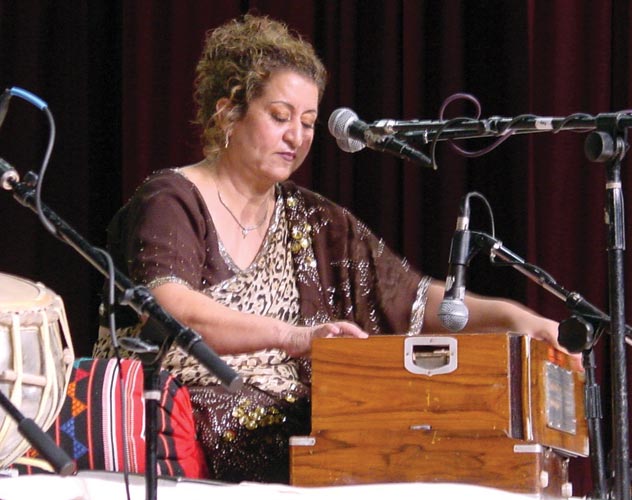 (Above): Doyenne of ghazal Munni Begum, who enthralled the audience with her songs, herself represents the hybrid, interconnected nature of South Asian culture—nominally Pakistani, she was born in India's West Bengal, raised in Bangladesh, lived in Pakistan, and now moved, like al desis here, to the Land of the Brave and the Home of the Free.
---
It is not just an idea that has just caught on, since such events used to occur on a smaller scale when our populations were much lower and the mainstream world here in America was less familiar to us. Indian and Pakistani-Americans are themselves a part of the mainstream now and in this country events like Diwali and Eid draw large numbers of participants in major cities across the U.S. Indian and Pakistani Muslims have jointly celebrated Eid under the Muslim banner here for years but it was refreshing to be invited to a "joint country" event Oct. 4 because this was a collective effort from our people here in the San Francisco Bay Area.

The program itself was held at the India Community Center in the city of Milpitas and the participants were South Asians from Afghanistan to Bangladesh, and both the entertainment and food was "Pakistani," resulting in a hugely successful mix. The inclusion of quotation marks here becomes important because if one takes just the example of the star entertainer for the evening, Munni Begum and her own life, she was born in India (West Bengal), lived in Bangladesh first, then Pakistan and like all of us is now settled permanently in the United States (in her case, Chicago). And some of the best "Pakistani" food this reporter has had was on the periphery of the Jama Masjid in Delhi, India. Now, I cannot question where some of Karachi's best cuisine originates from. In other words cultures are much more fluid than borders and cannot be stopped there.

One can ask "Who came up with the idea first?" but since (in alphabetical order) the Aligarh Muslim University Alumni Association, the India Community Center (ICC) and the Pakistani American Culture Center jointly celebrated Eid here, all three deserve full credit for creating bridges between our communities openly. The AMUAA (www.amualumni.org) has been dedicated to not just its alma mater in Aligarh, India for a number of years here, but its annual Sir Syed Day banquet and International Mushaira has been a resounding success locally for the past decade. The ICC on the other hand is a regional success story with its huge facilities which cater to the needs of Indians of all ages and has succeeded in its goals to Unite, Serve and Celebrate. And last but not least the PACC, which is the new kid on the block, and serving the cultural needs of Pakistani-Americans, needs to be commended for adding its color to Pakistani culture in Northern California. And let us not leave without mentioning the idealists of FOSA (Friends Of South Asia) who have kept the little dia (lamp) of Indian-Pakistani peace lit here for quite a long time, and the local chapter of the DIL organization which has added another dimension to mutual co-operation.

---
(Above): Children were dressed in their best Eid dresses at the Eid celebrations jointly hosted by Indians and Pakistanis in the San Francisco Bay Area.
---
The evening started off with a fine food in the Mughlai tradition from Mehran. Emcees Huma Abidi and Omair Farooqui kicked things off as the invocation was presented by Maulana Abdurrahman Anwar who explained the significance of Eid and especially fasting which he said is something that is common in varying forms in all major religions, not only the three Abrahamic ones but Hinduism as well. He said that an example was the fasts that Gandhiji himself utilized in his non-violent campaigns. He also quoted Mahatma Gandhi's words of praise on the Prophet of Islam.

U.S. President Barack Obama's Ramadan message to the world's Muslims was next shown on screen followed by introductions of the work that the evening's three sponsor organizations (AMUAA, ICC and the PACC), which was applauded by all.

Next, the kids program was quite a moving and colorful affair. First kids who kept their first Roza or fast were recognized, followed by a fashion parade organized by Shazia Imran which presented children in their best Eid clothing inclusive of many regions in India and Pakistan.

---
(Above): Nothing adds pure joy and pleasure like a bunch of effervescent, happy kids. That's exactly what they did at the Eid celebrations at the India Community Center in Milpitas, Calif.
---
And last but not least vocalist Munni Begum accompanied by Omaid Hussain on tabla mesmerized the audience with their performance to close the show. Munni (meaning little) is forever young. She started off with Lazzat-e-Gham Barha Deejeyay (Increase the painful joy of our love) to just holding hands with Hatth Diya Us Nay Meray Hath Mein, and the end of rebellion with ... Jawani Ka Zamana Guzar Giya, Ab Aa Giya Burhapa Sudhar Jaana Chahyey ("The time for youthful frolic has ended, better mend your feckless ways" — certainly words of wisdom). And none of Munni Begum's performances is without mention of the saqi (server of the forbidden spirits) and the alcohol consuming sharabi along with the ensuing ishq (Love). Mein Nazar Say Pe Raha Hoon (I'm drinking with my eyes), is a popular saying amongst abstaining Muslims, but some of our Urdu poets often say that with a wink and a nod.

If one can put aside for a moment the nuisance of competing "agencies" of India and Pakistan and look at our people as a cultural collective inclusive of borders, one can reach out and find startling similarities. South Asians as a people are also quite aware of their limitations in expressing open friendships. The killers of Mumbai (November 2008) and their backers always seem to be waiting in the wings to poison any such efforts. But in the continued interest of South Asian peace Munni Begum's song Aik Baar Muskura Do (Smile for Once Please) just might most aptly describe the best advice for the quarreling governments there. So on our very human level "Eid Mubarak" from the ICC and AMU, and we look forward to the PACC inclusion in the next Diwali celebration.

(This report is dedicated to the memory of Maharaj Kaul, a founding member of the Pakistan-India Friendship Society who passed away just recently).