RECIPE:
Delicious Favorite: Chicken Tikka


From the kitchen of chef Sanjay Patel here's a recipe for a delicious marinated chicken that will make the mouths of meat lovers water.
---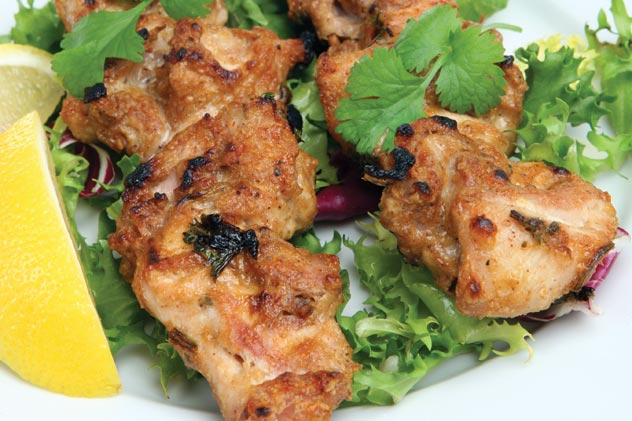 (Above): Chicken Tikka [SILICONEER photo]

---
Ingredients

3/4 tsp cumin seeds, toasted

3/4 tsp coriander seeds, toasted

2 cups whole-milk yogurt

4 garlic cloves, chopped

1 (1 1/2-inch) piece fresh ginger, peeled and chopped

3 tbsp vegetable oil plus for greasing pan

2 tbsp fresh lime juice

1 1/2 tsp salt

3/4 tsp ground turmeric

1/2 tsp garam masala (Indian spice mixture)

1/2 tsp black pepper

1/4 tsp cayenne

5 pounds skinless boneless chicken breasts, cut into 1 1/2-inch cubes

Special equipment: 20 (12-inch) wooden skewers

Accompaniments: mango and red pepper chutney and mint raita

Garnish: lime wedges

Method:

Purée all ingredients except chicken in a blender until spices are well ground.

Put chicken in a large bowl, or divide between 2 large sealable plastic bags, and add yogurt mixture, stirring or turning to coat. Marinate chicken, covered and chilled (turning occasionally if using bags), at least 4 hours.

Soak skewers in water 30 minutes. While skewers are soaking, bring chicken to room temperature.

Preheat broiler for 15-20 minutes to 350 degrees and brush a broiler pan lightly with oil.

Divide chicken among skewers (about 5 cubes per skewer), leaving a 1/8-inch space between cubes, and arrange about 5 skewers across pan. Broil chicken about 4 inches from heat, turning over once, until browned in spots and just cooked through, 9 to 12 minutes total.

Transfer cooked skewers to a large platter and, if desired, cover loosely with foil to keep warm. Broil remaining chicken in same manner. Remove chicken from skewers and serve warm or at room temperature.